Dear Friends of Wales Awakening:
We spent our second week in Israel on Mt. Carmel at the 10th Celebration for the Nations, an event that started here in Wales in 2007. It was seven days of intercessory worship together with saints from around the globe.
Anointed worship groups from many nations led each segment, and it was wonderful to see such variety of expressions from different cultures all exalting God's glory and sovereignty, and yet all with one heart to call down revival for the nations of the earth, and especially Israel!
The sounds, the colors and pageantry were majestic. There was a pervasive joy of His presence that was gloriously tangible, and there were many times when the travail of hearts for His visitation to the unsaved was deep and powerful.We knew that the heavens were moved by the worship of God's people in this strategic place.
It was in this mountainous area just south east of modern day Haifa that Elijah prayed his bold prayer in the presence of Ahab and the 850 prophets of demonic false gods. "... Lord God of Abraham, Isaac, and Israel, let it
be known this day that You are God in Israel and I am Your servant, and that I have done all these things at Your word. Hear me, O Lord, hear me, that this people may know that You are the Lord God, and that You have turned their hearts back to You again." 1 Kings 18:36-37
And this indeed was the same plea of our hearts and our worship, that the nations might know that He is God, and there is no other. Acts 4:12 says, "... for there is no other name under heaven given among men by which we must be saved."
The worship itself was spirited and varied. You can see a sample at this video link. And there were plenty of opportunities at meals and other times to meet and fellowship with people from many places. And we ran into several friends we've met over the years. It was also a delight to connect people with one another and see how the love of God just moved so
openly. Prayer flowed spontaneously as people shared hearts and needs, and it was really special to see that happening so freely.
It was also a treat for Gladys and I to see the flag of Guatemala in among the many others. And although there was nobody else actually present from there, on a morning excursion to small monastery built on
the supposed spot where Elijah had his encounter with Ahab and the prophets, we actually met an indigenous couple from Totonicapan very close to where we spent our last five years in Guatemala!

There was much more that we experienced in the two and a half weeks in Israel, and I will follow up with a further update soon, before things happening back home in Wales take over again!

As always, thank you so much for your continued interest and prayers for Wales and the nations. And now with a much fuller heart, we can boldly say, pray for the peace of Israel!

Dick & Gladys


------------------------------


Dear Friends:
It's almost still hard to believe that here we are in Israel! We arrived nine days ago and were very warmly received by our new friends Chaim and Ruthie Singerman at their small Hotel/B&B, the Jerusalem Hills Inn on the western outskirts of Jerusalem. To be outside the bustle of the city itself with such wonderful hosts whose love for Israel is contagious, and biblical knowledge about every place they show us is so insightful, helps make this place a real spiritual oasis, and we can't recommend them highly enough.
I have wanted to visit the Holy Land since I was saved 43 years ago. And now that we are actually here it is almost surreal. Just the experiences of the first couple of hours would fill far more space than I have available here.
At this point we have seen so many things and met so many wonderful people and experienced so much that there's no way I can ever catch up! I hope that these few photos will convey something of the essence of this place, but it just seems like anything that I could say would be a gross understatement.
Our first day out took us to the Dead Sea where you couldn't help but float in the water that is one 1/3 salt and minerals. I knew that it was below sea level but I had no idea it was 1400 feet lower! From this overlook you can get an idea of size and the beautiful colors of this amazing body of water.
From there we visited the nearby Qumram where the famous Dead Sea Scrolls were found in the late 1940s. Quite amazing to look at replicas of parchments written so many centuries ago that provide unequivocal material evidence of the veracity of the scriptures that we have today.
There is an excellent website at this link that you will no doubt find interesting.
Our next stop was at the Jordan River baptism site, one of several proposed by historians over the years. What seems to be the important matter about these places is not so much the specific location but rather what happened here that really counts. And it is precisely what happened here nearly 2000 years ago that continues today happening around the world, changing lives and eternities forever!

At the hotel we met our new friend Zoe, who came along with us on our first excursion. She, along with our friends Stan and Sue who we are traveling with, were all baptized while we were here.

The amazing joy and miracle of salvation and eternal life is the unspeakably glorious fruit of the birth, life, death and resurrection of Jesus our Messiah, Yeshua Hamashiach as he is called here by Jewish believers. This city at the heart several millennia of the turbulent history, and where Jesus will return to rule for a thousand years at the end of the age, makes this land a very special place indeed!.

So let's blend our hearts and prayers with those of the prophet in Jeremiah 22:29 "Oh land, oh land, oh land, hear the word of the Lord!"

Dick & Gladys


------------------------------


Dear Friends:
This morning I was reading in Acts 2:41-42 where we see the wonderful workings of the Holy Spirit on the day of Pentecost. "Then those who gladly received his word were baptized; and that day about three thousand souls were added to them. And they continued steadfastly in the apostles' doctrine and fellowship, in the breaking of bread, and in prayers.
Then fear came upon every soul, and many wonders and signs were done through the apostles.
Now all who believed were together, and had all things in common, and sold their possessions and goods, and divided them among all, as anyone had need."
Now that is a pretty radical change in lifestyle. But it should be because it reflects an even more radical change–the eternal destiny of each person! That is the power of the convicting and transforming work of the Holy Spirit. God's sovereignty can change lives for the better, and forever. And that is the type of revival we are praying for and desperately need.
From time to time questions arise of how churches will handle the influx of new believers when revival really breaks loose here. How will they they be followed up on, pastored and discipled? Are there systems in place and leaders trained and ready? These are important questions. Were the apostles ready back then? Thankfully the Lord had a plan for then, and it is still the same today.
We read in verses 46-47, "So continuing daily with one accord in the temple, and breaking bread from house to house, they ate their food with gladness and simplicity of heart, praising God and having favor with all the people. And the Lord added to the church daily those who were being saved."
What was it what kept the change in people's lives ongoing? In a word–fellowship. That meant worship, teaching, prayer and relationship. There were 12 apostles and about 120 disciples according to Acts 1:15. Several of them had spent daily time with Jesus, and they were empowered by the Holy Spirit to pass on what they learned and lived through fellowship.
As a new believer over 40 years ago, along with many others, it was daily fellowship in an Acts 2 style Christian community that nurtured and prepared us to be followers of Jesus. Many of those friendships are still ongoing and continue to strengthen and encourage us today. (You can view or download the 27 minute documentary at this
link.)

During our time in Wales, we have watched how God is building relationships among leaders and church members in a wonderful way. And we believe it is in this context of the Body of Christ building relationships that the Lord is preparing a great net for the incoming harvest. In this light the much-used term "networking" takes on a wonderful significance. There is a great Family being prepared to take in adopted brothers and sisters in the Lord!

We would like to invite you join us praying for Wales that the Lord continue strengthening bonds of fellowship across this land as it says in Ephesians 4:15-16. "...but [we], speaking the truth in love, may grow up in all things into Him who is the head—Christ—from whom the whole body, joined and knit together by what every joint supplies, according to the effective working by which every part does its share, causes growth of the body for the edifying of itself in love."

Dick & Gladys


------------------------------


Dear Friends and Pray-ers:
This 1806 poster provides some valuable wisdom for our times. Nelson, Duncan and Howe were British war heros, and they gave credit where credit was due. And the conclusion is still articularly significant. One could substitute the names of the nation and the men mentioned for anything else, and the words still ring true.
The dust is still settling here after the UK's Brexit vote to leave the EU, and it will be a long process. Parliament is in the process of electing a new Prime Minister after the incumbent David Cameron's resignation. Now the other major parties have leadership issues as well, so things are very much up in the air.
At the same time, the US Presidential election scene is churning along with lots of waves too, if news reports and Facebook comments are any indication of things. And so on and on the story goes of humanity trying to govern itself without the proper reverence for the Living God and His ways.
"The fear of the Lord is the beginning of wisdom, and the knowledge of the Holy One is understanding" says Proverbs 9:10. Solomon had it right as long as he stayed on course, but sadly he went off the rails like everyone else. And just as he said in Eccesiates 1:9, "...there is nothing new under the sun."
From one viewpoint the whole process of civilization doesn't seem to point to a brighter future. And as one well known phrase puts it, "The only lesson we learn from history is that we do not learn from history." And this is why, as I mentioned last week, we best spend our energies seeking the city "...whose builder and maker is God."
Meanwhile, in the midst of much not-so-encouraging world news, we know that the Kingdom of God is steadily making advances. God's people are seeing fruit of the Gospel in many parts of the world. I mentioned a few weeks ago the activity in Reading near London that has now seen more than 2000 souls come to Christ.
We've also heard the news of recent blessings in West Virginia and North Carolina where hundreds have been saved. And there is other evidence of God's work in such diverse places as France and Tibet.
So as this precious verse says in 1 Corinthians 15:58, "Therefore, my beloved brethren, be steadfast, immovable, always abounding in the work of the Lord, knowing that your labor is not in vain in the Lord." There is much to be encouraged about concerning the Kingdom of God!
Another verse that I found specially significant earlier this week comes from Isaiah 68:9. "'Shall I bring to the time of birth, and not cause delivery?" says the Lord. 'Shall I who cause delivery shut up the womb?' says your God."
On a lighter note, Sunday afternoon we took advantage of a very welcomed sunny day to meet with some friends in Aberystwyth. Afterwards, we went for a walk along the beach
by the south jetty and were surprised to see lots of parked cars and trucks, and hear the sound of some large activity in the distance.

Getting closer we could hear the familiar sound of a race being called over a loudspeaker. Gladys and I worked with the Louisiana Race Track Chaplaincy in New Orleans before moving to Wales, and so were delighted to find a harness racing meet going on by the seaside! For the curious, you can catch the last part of one race at this link. James Brown was feeling good!

As always, thank you for your interest and prayers, and your labor of love for His name's sake. We know that as we continue to work together for the fulfillment of what Isaiah refers to above as "

delivery

", in due time we will see what he says towards the end of the chapter. "

...the time is coming to gather all nations and tongues. And they shall come and see My glory ... they will declare My glory among the nations ... All mankind will come and bow down before Me, says the Lord.

"

Dick & Gladys


------------------------------


Dear Praying Friends:
What a privilege to belong to the eternal Kingdom of God and have Jesus, the Prince of Peace, as our CEO! Meanwhile, here we are just five days after the UK voted to separate itself from the European Union after 43 years, and peace has become a very rare commodity in political circles here. And the rest of the Europe and the business world are still reacting.
A very respectable 72% of the electorate took part in EU Referendum last Thursday, and the "Leave" campaign won with 52% against "Remain"'s 48%. Suddenly it seemed like everything had gotten turned upside down and not left quite as neat and tidy as these rows of hay. It is reminiscent of the hotly disputed U.S. Bush vs. Gore election in 2000.
It is not pleasant to see the nation in such a state, but hopefully things will settle down before too long, and hindsight will show it to have been the right choice. Meanwhile, it serves to highlight that the true welfare we all seek is not to be found in earthly alliances and kingdoms.
Hebrews 11:8-9 and 16 very clearly lays out the correct long-term perspective. "By faith he dwelt in the land of promise as in a foreign country, dwelling in tents with Isaac and Jacob, the heirs with him of the same promise; for he waited for the city which has foundations, whose builder and maker is God... But now they desire a better, that is, a heavenly country. Therefore God is not ashamed to be called their God, for He has prepared a city for them."

Our prayer is that throughout whatever unrest and instability that is still to come, many people's hearts will be turned to seek deeper meaning to their existence than security and comfort in this transitory earthly life. 1 Timothy 2:1-4 is a good guide for our prayers. "Therefore I exhort first of all that supplications, prayers, intercessions, and giving of thanks be made for all men, for kings and all who are in authority, that we may lead a quiet and peaceable life in all godliness and reverence. For this is good and acceptable in the sight of God our Savior, who desires all men to be saved and to come to the knowledge of the truth."

We also have a special request for prayer for our landlord and his family. You may recall that last fall he was diagnosed with cancer, and underwent extensive surgery in December. After what seemed at first a positive outcome, the tumor has reappeared and his condition has deteriorated severely. Both he and his wife prayed with us and accepted Jesus as Lord, but it hasn't gotten any farther than that. Now it seems his days are numbered, unless God intervenes with an absolute miraculous healing. Would you please pray for them, and also that we would now have an open door to minister God's words of life and hope to them?

Thank you very much. May God bless you and your loved ones,

Dick and Gladys


------------------------------


Dear Friends of Wales Awakening:
My readings yesterday included this encouraging portion from Isaiah 52:8-10,
Listen! Your watchmen lift up their
voices, they shout joyfully together;
For they will see with their own eyes
When the Lord restores Zion.
Break forth, shout joyfully together,
You waste places of Jerusalem;
For the Lord has comforted His people,
He has redeemed Jerusalem.
The Lord has bared His holy arm
In the sight of all the nations,
That all the ends of the earth may see
The salvation of our God.
This is just plain outstanding news for us believers in today's world. If we look around with our natural eyes, we see this temporal world with a certain heaviness. But as we let this amazing declaration from God's word settle into our spirit, a much different picture emerges.
As I reflected on the first phrase about the watchmen lifting up their voices with joy, the Lord brought to mind the many prophetic words that have been spoken over Wales throughout the years. And there are a few recent ones that I want to highlight a few portions of here. It would be well worth your time to read them in their entirety on this linked page, Words About Wales. There are many listed there, and they all seem to point to the fulfillment of Isaiah's prophecy - REVIVAL!
A word was given in February by our friend Steve at the Ffald-y-Brenin prayer day which said, "I saw the land of Wales being broken open... I saw was a very big angel blowing like a trumpet... I saw this word, the word was "intercession"... God is requiring people in intercession..."
Another very recent word from our friend Elaine says, "I see a picture of Wales and below the surface of the land into the earth. It is rich soil but the unusual thing about it is that it contains multitudes of seeds in the earth below...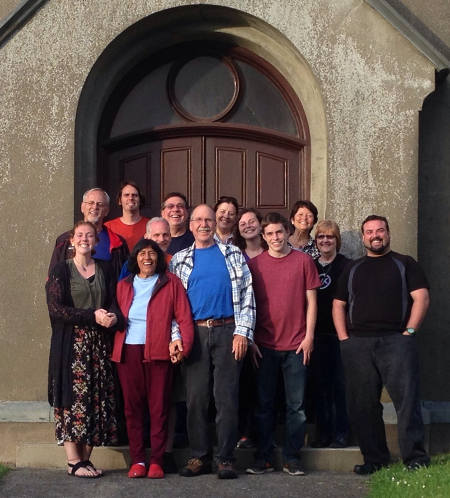 These seeds are of the people involved with the Revival's of the past in Wales... There are many, many seeds in the ground – dormant... Pray for these seeds to grow. It's our prayers they are waiting for..."

Yesterday we had a visit from a group of saints from Ft. Wayne, Indiana. Their church has been connected to Wales for many years, and they came with a team to pray and worship and do evangelism in the streets while they are here. It was our privilege to spend time with them both at nearby Blaenannerch and also in our Cilfowyr Chapel.

These are now regular places we take visitors that come to make a connection the past places of revival, and to pray for the next one that is coming ever closer. As we look back over the years, there are so very many people that have come from all over the world with hunger in their hearts for God's outpouring. They have come to answer this call for prayer.

Those prayers are building up and up, and the time is ever closer for God's answer to released in the land, and touch the nations of the world with His grace and power.

A final note: Please remember to pray this Thursday, June 23rd, for the important UK vote about staying in or leaving the EU! Thank you, and God bless,

Dick & Gladys


------------------------------


Dear Friends:
No matter how much we explore and how long we live, we simply can never discover all the beauty in the natural world that surrounds us. In the very same way, we can never plumb the depths of the word of God. There is always something new at each turn, always greater revelation and realization of His eternal realm that nourishes our soul and spirit. What a treasure!
This morning reading in Isaiah 45 I found verse 8 to be a great stimulus and guide for prayer.
"Rain down, you heavens, from above,
And let the skies pour down righteousness;
Let the earth open, let them bring forth salvation,
And let righteousness spring up together.
I, the Lord, have created it."
What a powerful plea for a world that becomes more needy with each passing day. How desperately do we need an outpouring of God's intervention in the affairs of men. Nationally and internationally we see the ugly fruit of an increasingly Godless world. Isaiah continues in verse 9, "Woe to him who strives with his Maker!" We see "woes" all around us these days.
The Lord is our only safe haven, and our prayers are that people will continue to turn to Him in increasing numbers. We just heard of a church in Reading in the last couple of weeks have brought over 700 people to Christ by taking the gospel to the streets and asking people where they are going if they die. So let's just ask the Lord for more!

In just 10 days, June 23rd, the citizens of the United Kingdom - England, Wales, Scotland and Northern Ireland - will be going to the polls to vote on the referendum of whether they should remain a part of the European Union or withdraw. There is a lot of politicking on both sides, and it is all over the news and social media.

The EU is totally godless, if not even anti-God and anti-Israel. It seems most Christians are leaning towards getting out from under that influence, but you won't see anything about that in the main news. If you search "Brexit + Christians" online you'll find plenty!

Please make a note in your calendars and join in prayer with us and many thousands of believers for God's will for Great Britain and Europe. Please pray every day about this, and especially on the 23rd. We really do want to see "salvation and righteousness spring up together." We know that this can only come from God, not a vote. But in my mind a government historically favorable to His ways would seem the better option.

Thank you for your prayers for Wales and the rest of the UK,

Dick & Gladys


------------------------------


Dear Friends and Prayers:
On our drive home from North Wales last Sunday, it was such a beautiful day we decided to take a smaller road and enjoy some new scenery. You can imagine our delight to find this amazing view on the way. The promises God's word and the power of cross are magnificent indeed!
Mercy and truth have met together;
Righteousness and peace have kissed.
Truth shall spring out of the earth,
And righteousness shall look down
from heaven.
Yes, the Lord will give what is good;
And our land will yield its increase.
Righteousness will go before Him,
And shall make His footsteps our pathway.
Psalm 85:10-13
This place is called "Bwlch y Groes", "The Gap of the Cross", near Bala Lake. It was the pilgrim's route from north Wales to St. David's in the south west. A cross was placed a little way down the southern side of the pass as a symbol of faith and strength, and has comforted lonely travelers since medievel times. It was most recently replaced in 1989, but surely several have stood there down the centuries.
As I read about the significance of this place on the information board at the top of the pass, I was reminded yet again how our prayers for this nation are connected those of many saints in years gone by. And these words from Psalm 85 above clearly reflect the objective and the strength of those prayers. They are a recipe for revival!
We were invited to spend Gladys' birthday with friends on a narrow boat on the Llangollen Canal. We crossed two aquaducts and went through two tunnels - all floating on water! It was our first experience doing this and quite an adventure.
It was fascinating to get a taste of what travel must have been like back in the days before steam-powered trains took over as the predominant system of commercial transportation. These boats were pulled along by horses, and the pace of life was far slower than what we are accustomed to.

The scenery was absolutely beautiful, and we are thankful for such an opportunity to enjoy a totally different perspective on the world around us. It was a good reminder to intentionally slow ourselves down, disconnect from the business of life, and "Taste and see that the Lord is good."

Dick & Gladys


------------------------------


Dear Praying Friends:
This past week has been full of more encouraging activities. Pisgah Chapel in Loughor was re-dedicated after being rescued from demolition, and totally renovated by our friends from Cornerstone Community Church of Singapore.
This beautiful little chapel was a church plant of Moriah Chapel, of the 1904 Welsh Revival fame. The construction was overseen by Evan Roberts himself, who lived just a few hundred yards away. It was also a special place of prayer for him and others, and many say that it was here where the revival was forged.
I didn't know this place existed 12 years ago. On one of our several visits to Wales before moving here, we stayed in Island House B&B where Evan grew up. I had a marvelous experience praying along the nearby river before dawn where surely he had walked and praying many times, and I felt strongly connected to his prayers. You can read more about that in the October 29th entry here.
Tuesday we had the priviledge of spending time with a group that came from Singapore for the graduation of the second class at the restored Bible College of Wales in Swansea. They were also at the dedication service at Pisgah where we met face to face since making arrangements through email.
After a wonderful time in a place that had been saturated by prayers leading up to the 1904 revival, it was a special blessing to bring them to another unique place of prayer. The tiny St. Govan's chapel was built into the cliffs by the sea on the south coast of Pembrokeshire, where the Celtic Monk spent the last years of his life preaching the Gospel praying for the land in the 6th century.
It is always a joy for us to share these significant places in West Wales with so many saints that come from other places with a hunger for God. Most people know of the herit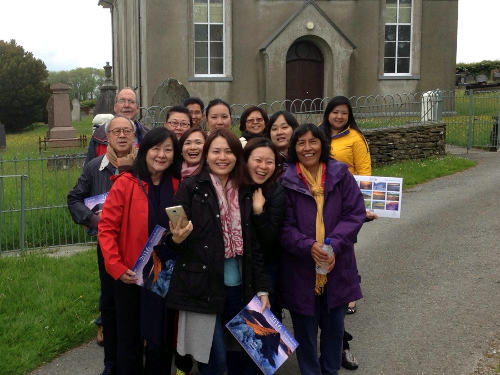 age of prayer and revival here, and are eager to add their prayers to those of the past. This particular place is great to just come soak in the atmosphere where prayers have been offered up for over 1500 years.

Yesterday we met them at two more local historic places: the "Bend me" chapel in Blaenannerch, and the small church by the sea at Mwnt. And then after lunch we came and spent some wonderful time praying at our Cilfowyr Chapel. This is always the highlight for us, as we feel constantly strengthened and encouraged by reenforcements from afar.

It is also a blessing to be able to pray for those that come, and know that what they have been absorbing here in Wales will stick with them and empower their prayers. And they will continue praying for the coming move of God in Wales because they know it will have repercussions their own countries also.

"In days to come Jacob will take root,
Israel will bud and blossom
and fill all the world with fruit."
Isaiah 27:6

Thank you for your continued interest and prayers. May God bless you abundantly,

Dick and Gladys


------------------------------


Dear Friends of Wales Awakening:
Saturday morning we drove to Abergavenny to join with friends for the Crossing Wales event that we mentioned last month. It was a grey and windy start to the day, which made it a comfortable climb to the top of the Blorenge, the mountain just south of the town.
There was a fair number of brave souls that undertook the climb, and hats of to Emyr who carried the cross the whole way from the starting point. It was a time to sing out praises, to pray together and to prophesy and make scriptural declarations over the area.
Abergavenny has a long history and many great preachers have come from the area in years gone by. But in more recent times it has been sort of a dark place, and people have grown hardened to the Gospel. As we finished up and were coming down again, the clouds thinned out and the sun came shining through, as if to confirm that there was a result of our reclaiming the territory for the Kingdom of God!
At lunchtime a good many more people from several area churches met together for a picnic in the local castle grounds in the sunshine which by then was very hot. The day's activities finished up with a joint service in the local Baptist Church which was attended by an even greater
number of people, and it was really good to see the family of God coming together in unity.
On Sunday after church, Gladys and I set off to do some exploring in the area. One of the places we visited was the old Llanthony Priory, started in the 1100's. It functioned for just about 350 years before its decline, and was formally closed down by King Henry VIII along with all the other monasteries in the Britain.
The ruin seems to make a statement about the general state of the church in Wales, and the rest of the UK today. It is estimated that only about 4% of the population are active in their Christian faith, and some fear that it is even less than that. However that is precisely why the Lord called us here to pray. And as I've mentioned, over the years the Lord has called many more people to Wales in preparation for what is to come. And the pace is picking up.
Just as the spring is now in full swing and everything everywhere is growing, we see through eyes of faith that something is also happening in the spiritual realm. it is summed up beautifully in this portion from Psalms 65:9-13.
You visit the earth and water it,
You greatly enrich it;
The river of God is full of water;
You provide their grain,
For so You have prepared it.
You water its ridges abundantly,
You settle its furrows;
You make it soft with showers,
You bless its growth.
You crown the year with Your goodness,
And Your paths drip with abundance.
They drop on the pastures of the wilderness,
And the little hills rejoice on every side.
The pastures are clothed with flocks;
The valleys also are covered with grain;
They shout for joy, they also sing.
(You can see a
short clip at this link!
)
Another part of our day's adventure took us through this beautiful little valley passageway. The ancient beech trees have become totally entwined with one another, planted along
the fence line on both sides of the lane. The lush growth of fresh leaves is aglow with the sunlight in the early afternoon and forms this tunnel of new life leading into the open sunshine at the top. Gladys said it looked like the roadway to heaven!

Looking at the surface of the road it is evident that it is not a smooth or easy ride. And that is not far off of our own experience in this life. And I am quite certain that we aren't the only ones. And through these things the Lord is always at work in our hearts.

Jesus never said it would be easy. In fact, in John He said "These things I have spoken to you, that in Me you may have peace. In the world you will have tribulation; but be of good cheer, I have overcome the world."

And because we know the Glory at the end of the Story, we continue on ahead, and look forward with hope and confidence as God's goodness becomes ever more evident with each passing day.

May He bless you each day with greater knowledge of His grace and His ways,

Dick & Gladys


------------------------------




Use these links to see archived updates: