Dear Friends:
I love it when the Lord interrupts me in my readings and highlights things. This phrase in Job 42:7 just stopped me in my tracks and made my heart churn! "After the Lord had said these things to Job, he said to Eliphaz the Temanite, 'I am angry with you and your two friends, because you have not spoken the truth about me, as my servant Job has.'"
And then in the very next verse, God says again, "...My servant Job will pray for you, and I will accept him... You have not spoken the truth about me, as my servant Job has."
How easy it is for us to talk about the things of the Lord, and that is a good and right thing to do. But I realized that once we get going sometimes, how easily our words just seem to pour out. And more than once I've heard myself saying things and wondered, "Where did that come from? Is that really true?"
As I reflected on this in my own life, and considered how this may have been happening in God's people since Job's times, I really had something substantial to pray about. Could this be one of the reasons that the church seems to have such minimal effect in our modern society? So we can and should boldly pray, "Lord, teach us to speak your truth."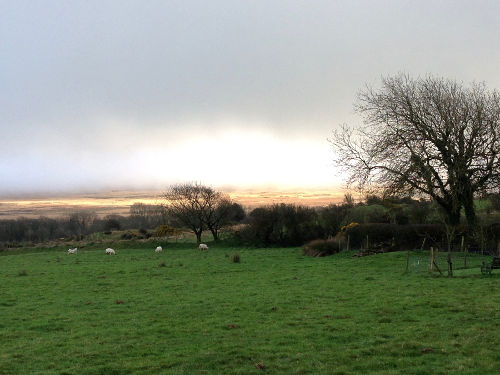 The Lord in essence says to Job's friends that He will accept Job's prayer for them because he has spoken the truth about Him. So it seems that the more accurately we learn to speak truth about Him, the more effective our lives and our prayers will become for His glory.
As so just how do we get more truth in us to strengthen our prayers? When Jesus prayed for the disciples in John 17:17, He said, "Sanctify them by Your truth; Your word is truth." God's word is our best ammunition!
Proverbs chapter 2 has some wise advice for us.
"1 My son, if you receive my words, and treasure my commands within you,
2 So that you incline your ear to wisdom, and apply your heart to understanding;
3 Yes, if you cry out for discernment, and lift up your voice for understanding,
4 If you seek her as silver, and search for her as for hidden treasures;
5 Then you will understand the fear of the Lord, and find the knowledge of God."
On Monday we drove to Swansea to meet with some people at the Bible College of Wales.
Before they arrived, we had time to meet some of the new students and get to know a little about them. What a positive delight to find these young folks from many nations with such hunger to learn God's truth! What a gift and encouragement to sense their dedication and determination to be trained and equipped to serve God in their home countries and wherever else He choose to send them from there.

This is now the fourth group of students starting their 12-week course. And what joy to see such vibrant fruit of the prayers of many saints over the years that have been praying for this hallowed place.

This property was originally acquired and consecrated through the faith and prayers of Rees Howells and his co-workers nearly one hundred years ago. And when it was put on the market several years ago, it was once again through the faith and prayers of many people on the ground here in Wales, and especially our friends from Cornerstone Community Church of Singapore who took the bold step of faith, that made this new chapter in its history and re-dedication to the Lord's service possible.

Let's pray that each one of the students to go through this precious BCW training be infused with truth about the living God in the person of Jesus Christ and the power of the Holy Spirit. And may we all be continually prepared day by day to speak His truth in love to one another and the world around us.

Dick & Gladys


------------------------------


Dear Friends and Prayers:
You can imagine our surprise to have just discovered that the site of our Cilfowyr Chapel has been a place dedicated to prayer and worship since at least 1547, and probably earlier than that. I just found out about this from our friend David Pike who visited us on Monday.
He directed me to the Dyfed Archaeological Trust website which carried out a geophysical survey in late 2015. There is a lot of information in their detailed and illustrated report which you can read at this link. But what caught my attention were the few details about a "chapel-of-ease."
Their report says, "Site of former chapel-of-ease to Manordeifi, mentioned in source from 1547, when it was a free chapel of Manordeifi parish. It was a donative free chapel, established by the patron of the parish. ... we do know the building was noted in 1721 as being disused and had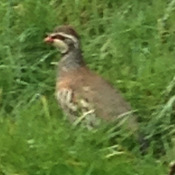 become the home of '…fowles and jackdaws' (parish magazine extract)."
It happens that Tuesday morning, just by "chance", I snapped this picture of a red-legged partridge which disappeared through the hedge into the highlighted area, before I'd had time to read through this report!
According to Wikipedia, "A chapel of ease (or chapel-of-ease) is a church building other than the parish church, built within the bounds of a parish... Chapels of ease are sometimes associated with large manor houses, where they provide a convenient place of worship for the family of the manor, and for the domestic and rural staff of the house and the estate.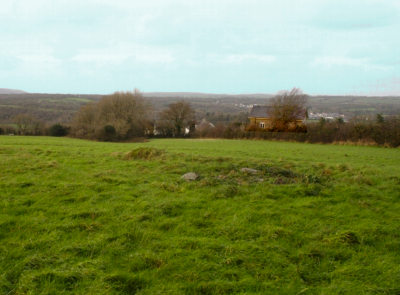 What I find exciting is how close this is to where we have been praying all these years. You can see Cilfowyr across the field less than 150 yards away. And people were spending time in prayer and worship here around 500 years ago! I suspect there wouldn't have been many formal services here, but it was a "free chapel", a place open for folks to come and go as they pleased and spend time with God. Back in those days when life was not as easy as we know it today, people may well have frequented this place a lot more than we might expect.
Early on in our time here while praying out in the cemetery one day, when it suddenly dawned on me that many of those buried there surely prayed many times for their own children, and also for their grandchildren, and perhaps even their grandchildren's children. And the Lord impressed on me how I could just say "Amen" to the prayers of those gone before us. I think every prayer ever prayed is still ringing around in heaven where God never forgets, resonating all throughout eternity.
Hebrews 12:1 says, "Therefore we also, since we are surrounded by so great a cloud of witnesses, let us lay aside every weight, and the sin which so easily ensnares us, and let us run with endurance the race that is set before us." And at times we have clearly felt our prayer joining the prayers of those gone before us in an unending concert before the throne of God. And now we know that people have been
gathering in these fields since at least the early 1500's, not in the 1680's as we have always thought. And consequently we now realize that our prayers are strengthened by another 200 years worth of prayers!

When King Solomon prayed at the dedication of the temple in 1 Kings 8:59 he said, "And may these words of mine, with which I have made supplication before the Lord, be near the Lord our God day and night, that He may maintain the cause of His servant and the cause of His people Israel, as each day may require." What a glorious joy and privilege to join in with the songs and cries of millions upon millions of saints throughout the ages.

And so may we all echo the words of Solomon's heart in verse 52, "that Your eyes may be open to the supplication of Your servant and the supplication of Your people Israel, to listen to them whenever they call to You."

And also of course, let's add in the greatest revival prayer of all time in the words of Jesus, "Your kingdom come. Your will be done On earth as it is in heaven."

Dick & Gladys


------------------------------


Dear Praying Friends and Saints:
"And he arose and came to his father. But when he was still a great way off, his father saw him and had compassion, and ran and fell on his neck and kissed him." When Jesus tells the story of the prodigal son in Luke 15, this detail in verse 20 always stands out in a powerful way.
It seems obvious that the father has been constantly missing his son, and has always kept his eyes open for the slightest sign of his return. When he saw a movement still "a great way off" he must have watched intently until he recognized his son, and then took off running to receive him home again at long last.
This is a beautiful painting of such a precious scene. I can so clearly see myself in that most amazing of moments years ago. How about you? What a glorious and loving Heavenly Father was watching out for us!
Last week I mentioned how Exodus 4:31 says that had visited his His people and looked on their affliction. It seems like it was more of a general observation. But in contrast this New Testament story shows a more
direct and personal watching out for homeward bound individuals. Earlier in this chapter, Jesus asks in verse 4, "What man of you, having a hundred sheep, if he loses one of them, does not leave the ninety-nine in the wilderness, and go after the one which is lost until he finds it?"

In the context of our ongoing prayers for revival, I found myself considering the aspect of focus. Of course we want to continually keep the "big picture" before the Lord in our intercession. But there is also a need for some specific targeting of certain individuals. Perhaps from time to time the Lord might bring to mind one person in particular, or maybe it changes as do people's circumstances.

In Rees Howells, Intercessor, there is an excellent example of this when Rees is directed by the Holy Spirit from general prayers to pray for a sick young drunkard, Will Battery. You can read the story if you just follow this link and scroll down to chapter 6, "Loving An Outcast".

We wanted to encourage you, along with ourselves, to ask the Lord to give you specific assignments to pray for individuals, and include that in your times of prayer. And may we too find the Holy Spirit travailing in us for the lost and needy.

May the blessing of His close fellowship be yours,

Dick and Gladys


------------------------------


Dear Friends of Wales Awakening:
With March now just a week away, we see signs of the coming spring all around us. Snowdrops are always a welcome sight, and although they don't guarantee an end to cold weather, they certainly brighten the heart as well as this hedgerow outside the chapel yard.
Everywhere one looks now, telltale signs are evident that the seasons are shifting. Some things are more obvious than others, especially the flowers. And the order of things seems to vary each year. Last year the daffodils were out well before the snowdrops. But spring is definitely getting into gear.
Beside this walkway through the garden below our house, the daffodils are up quite high. This one has gotten a jump on the rest as if to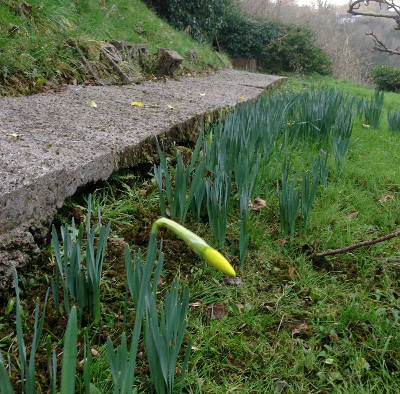 say, not unlike John the baptist, "Come on guys, prepare the way of the Lord, make His paths straight!"
Just as so many people here do look forward to springtime with its warmer weather and longer days, we look forward to far brighter things. We are looking for the coming of the Lord in the power of the Holy Spirit to bring souls into His kingdom and change their lives and eternities.
Yesterday's readings included Exodus chapter 4. After Moses and Aaron spoke to the Hebrew leaders and performed the miraculous signs, verse 31 says, "So the people be
lieved; and when they heard that the Lord had visited the children of Israel and that He had looked on their affliction, then they bowed their heads and worshiped."
This verse struck me profoundly in three areas. First is that He still visits people, and not only those of us that are His, in the sense of our believing in Him and His word. But He also visits those that don't yet believe. Many testimonies of salvation, if not most, contain these incidents of some sort of visitation, be it an experience or a revelation. (I like the biblical examples of Moses who was just being a curious shepherd, and Paul who was intent on his dastardly mission.)
Secondly, God is aware of our difficulties. As we look around in our world today, there is still plenty of affliction in the human heart. Whether we live in relative comfort in a secure nation or in a desperate situation in a turbulent land, we all, and
especially non-believers, are all subject to suffering and adversity of one kind of another. And far more than just being aware of our condition, in His amazing grace He sent His own Son to come and not only address our affliction but to resolve it. Hebrews 2:15-16 says "...that through death He might destroy him who had the power of death, that is, the devil, and release those who through fear of death were all their lifetime subject to bondage."
The third and perhaps most pertinent point was that the believing Hebrew's immediate reaction was to "
bow their heads and worship.
" I think that as Christians it is our most powerful privilege and joy to recognize all that God has done for us, and to then employ that power in prayer for the lost and worship in response to the fact that He wants to use us as instruments of His love and purposes. How amazing is that?
Then reading on from there in Exodus 5 we see where Moses' first visit to Pharaoh totally backfires, and the Hebrews' workload is increased. So in desperation he asks God in verse 22-23, "...Lord, why have You brought trouble on this people? Why is it You have sent me? ...you have not rescued your people at all." And then the Lord's brilliant response in the very next verse, Exodus 6:1 , is "...'Now you will see what I will do to Pharaoh: Because of my mighty hand he will let them go; because of my mighty hand he will drive them out of his country.'"
Now I must admit that for a moment I had to stop and contemplate Moses' question here. I found myself asking the Lord again, "Why have you sent us here?" And of course His answer to Moses was more than sufficient for me as well. His plan is to release this world's captives fr
om their bondage to fear, to sin and to the second death and hell. This is the amazing hope we have in Jesus. He is the only hope for this world, and the desire of ages.

We are entering into our twelfth springtime in here Wales, but there are countless others who have been praying for revival both here and abroad for many more years than that, and who persist with an ever renewed faith and hope. And so we are in good company, and are constantly encouraged, like Abraham of whom Romans 4:20-21 says,"He did not waver at the promise of God through unbelief, but was strengthened in faith, giving glory to God, and being fully convinced that what He had promised He was also able to perform."

In unbounded admiration for Him who gave His all for us,

Dick & Gladys


------------------------------


Dear Friends:
Last Friday a friend showed me this quote from Seth Joshua, whose preaching had a tremendous impact on Evan Roberts in 1904. It was Seth's prayer, "Lord, bend us", that had a life-changing effect on Evan, and on Wales, and the world.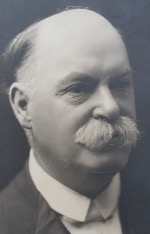 This is a portion from a letter he wrote in the early 1900's to one of his sons who was away at school. It is striking at how well his words seem to fit our present day. We see plenty of mud still flying everywhere these days, and there's more every day.
As to the Christian life, his emphasis is very clear. It is centrally about a relationship with Jesus, and not a systematic belief system or just customary church attendance.
When the Jewish leaders confronted Peter and John after the man lame from birth was healed, they recognized this fact in Acts 4:13. "Now when they saw the boldness of Peter and John, and perceived that they were uneducated and untrained men, they marveled. And they realized that they had been with Jesus."
And Jesus himself was always at odds with the "tapestries of religion." In Mark 12:38-39, "He said to them in His teaching, "Beware of the scribes, who desire to go around in long robes, love greetings in the marketplaces, the best seats in the synagogues, and the best places at feasts..."
I've been pruning these very old apple trees in our garden the last couple days. Almost every year since we've been here I've trimmed the new growth and tried to thin it out, but they grew untended for too many years. So this year I am cutting back some of the large old branches without mercy, and it almost hurts.

I can't help but see the similarity in our Christian walk. How many things have just been growing alongside our faith in Jesus over the years that don't really contribute to our growth or fruitfulness? I can see there are still things that occupy my time and energy that could be better used in other ways. But do I make significant changes, or just do a superficial pruning?

Our response to Jesus' call to discipleship was not a one time surrender that we made one day long ago. His invitation is an ongoing challenge to our lifestyle. He said in Luke 9:23, "If anyone desires to come after Me, let him deny himself, and take up his cross daily, and follow Me."

So maybe it's time to put away the pruning shears and take out the lopper and the tree saw and do some serious work. The condition of the world around us demands that we start to bear some serious fruit. And that means people around us have to be able to see that we have not just been to church, but that we too have been with Jesus. He is "...the way, the truth, and the life." That is prayer, and that changes things, and us!

This is our prayer for ourselves, for you, and for His church around the world.

Dick & Gladys


------------------------------




Use these links to see archived updates: