Dear Friends:
A old friend posted these thoughts from his even older friend called Pastor Bob. I thought it presents a very good perspective not only just for this season Christmas season but all the year long. And so I just want to share the blessing with you here.
"From our human, earthly perspective we speak of 'Advent' - the coming of the Son of God to us. "Emmanuel" is the word of celebration sung by all of us who once 'sat in darkness longing to see the great Light' of Eternal Life coming down to us.
"But from the heavenly perspective, in the Holy Spirit we may ponder the 'goings of God.' What is 'Advent' for us, is a season in time in which, to our human understanding of heavenly realities, 'the Beloved Son is away from home.' The Angels, giving 'Glory to God in the Highest,' followed their Lord in His 'descent' to the edges of our human experience, as His infant form was held in the hands of a humble carpenter and his virgin spouse.
"Because God transcends the categorical borders of time and space of the human mind, there was no sadness in heaven at the event of our Lord's 'coming' to us. That coming was a glorious manifestation of the 'going' of God - reaching out to bring His wandering creation
back into the Eternal Purpose of Unfailing Love.

"At the season, let us 'fix our thoughts' upon Jesus, and behold His coming as 'The One Sent from the Father.' In receiving the Son who is sent to us, we are embraced by the Father in His 'going forth.' For, though, to our view, the Son of God left heaven to come to us, all heaven eternally beholds their Lord, manifest in mortal flesh as the 'Son of Man' who is always in Heaven [cf, Jn. 3:13 margin] The Son is always with the Father, and in Him we see the Father! Ponder the mystery of our caroling confession: 'Veiled in flesh, the Godhead see, hail the incarnate Deity!'

"Let us prayerfully stand by faith with the Angels and 'Saints in the Kingdom of Light' and join the praise of heaven for 'the goings of God.' This is the fullness of 'Advent.' "
Written by Pastor Bob Y.

We pray the Lord bless you and your loved ones this Christmas, and also may the number of those loved ones grow because of 'the goings of God' through you!

Dick & Gladys


------------------------------


Dear Praying Friends:
Last Sunday we said goodbye to our daughter Grace, and then on Tuesday picked up another young friend, Magdaly and her husband Sergio, from Quetzaltenango in highlands of Guatemala. We lived there for five years helping to establish a Verbo church, and her parents part of our group and special friends from the early days. Grace knew her older sister and her from the Sunday school and visits to play, so it would have been nice for them to see each other after 30 years!
What a special blessing for us to get to know both her and her husband now as grown professionals and, more importantly, followers of Jesus! It was such a joy to experience, in person and real time, the truth of 1 Corinthians 15:58 that says, "Therefore, my beloved brethren, be steadfast, immovable, always abounding in the work of the Lord, knowing that your labor is not in vain in the Lord."
Little could we have imagined so many years ago in Guatemala that we would ever be missionaries in Wales. And less would it have occurred to us that one day, in the then distant future, someone from there would come to visit us all the way over here. And even less likely still would we have imagined that one the precious children of our congregation would even remember us or come for a visit.
But, of course, God is true to his word and always has unexpected ways of surprising and blessing us as we follow his leadings. This photo was taken in 1989 of the school that we started in Xela, the indigenous name for Quetzaltenango. Magdaly is on the far right, perhaps distracted by thoughts of future and faraway places. So you can imagine the delight of having her and her husband with us for a few days at the end of their tour to Paris and London.
It was wonderful to take them up to the chapel and spend some time in prayer there. It was then that the fruit of God's faithfulness from one generation to the next came into such a sweet focus as we blended hearts and voices to call on heaven's mercies to pour down on this land once again.
We also had the privilege of showing them around some of the extremely beautiful places in our area. They even got to see a few hours of sunshine in the midst of a typical wet Welsh winter! One place that was particularly impressive was the Strumble Head Lighthouse near Fishguard. The wild winds shook the car and the great waves crashed time and time again into the cliffs, sending masses of white splash and spray skywards in stark contrast to the black rocks and dark grey clouds. It made a great picture of our prayers for God's kingdom to wash over this nation with His light and power.
On Sergio and Magdaly's third and last night, we were invited to our friends Stan and Sue's house for a delicious supper, with worship and prayer following. With two other couples who we've become friends with over the years, there was a fair bit of translation going on, but we had a fabulous evening together. And an extra surprise for our dear visitors from Guatemala was a powerful time of prayer and prophecy over them that blessed and touched them deeply.

It is such an amazing gift that we so frequently find ourselves enjoying the company of God's saints. And to have this special taste of old times and new blended together into the fold of the moment was heartwarming and glorious. And it is precisely this kind of experiencing the Body of Christ in action as "family" that demonstrates God's love and can welcome the lost and lonely into the newness and fullness of life we have in Jesus.

As the world grows darker around us in our times, we can clearly see God preparing the nets across nations and generations to draw people into the eternal welcome of His grace and salvation.

May God bless you in your fellowship and your prayers as we seek Him together for the coming visitation and revival both in Wales and the world,

Dick & Gladys


------------------------------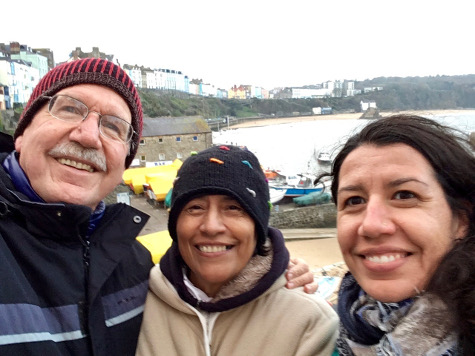 Dear Friends of Wales Awakening:
We find some great words to live by in 1st Thessalonians 5:16-18, "Rejoice always, pray without ceasing, in everything give thanks; for this is the will of God in Christ Jesus for you." And we have had so much to be thankful for recently that it just comes easy to smile with joy!
Grace was last with us in Wales four years ago, and we were thrilled it worked out for her to come. She had a work trip planned to Spain for a meeting, so took a few extra days to spend here with us. It wasn't the greatest weather for sightseeing but we did manage one small trip to Tenby on a dry day last week. It was wonderful to just have her at home with us and just be family together again for a few days.
She has been working with Action Against Hunger since February, and for the time being mainly concentrates on African nations as she did with her previous job. Her focus is on nutrition and health, and she loves being able to make a positive contribution towards the fight against hunger, and especially acute malnutrition in young children. An article in the New York Times last week gives a good overview of the topic and the hope for improvement.
On Thanksgiving Day itself, we had our long-time friends Tony and Marian with us to celebrate God's goodness. They moved to West Wales about the same time as we did in 2005, and we used to meet regularly for prayer during our first years here. They had met Grace on a previous visit so it was good to have them with us. I must admit there was a certain sense of satisfaction and pride as Grace explained to them about her work.

Our other three children were with family and friends in their respective places around the U.S.A., and we are very thankful that the Lord has taken such good care of them all these years. There is something very powerful about the act of giving thanks. And whether it is accompanied by feasting or not, it is an important and perspective-changing part of our lives.

Thanksgiving is also a major component of worship, and it opens us up to God's blessing of joy and gladness of heart. So let's take time each day to call to mind the many good things He does for us, and all that He is yet going to do for us, and put into daily practice, "in everything give thanks; for this is the will of God in Christ Jesus for you."

May you be blessed with an overflowing of gratitude and joy day by day,

Dick & Gladys


------------------------------


Dear Friends and Prayers:
The last two weeks have been quite full, and a rich time of fellowship and great encouragement for the many of Lord's people here in Wales. Two Saturdays ago we attended the Pembrokeshire Prayer Breakfast in the southern part of the county. It was the eighth time they have had this event and it was very well attended.
It was a good chance to share with both old friends and new, and the prayer times were excellent. 1 Timothy 2:1-2 says, "Therefore I exhort first of all that supplications, prayers, intercessions, and giving of thanks be made for all men, for kings and all who are in authority, that we may lead a quiet and peaceable life in all godliness and reverence." And so there were segments of prayer for different branches of the public services, centers of education, for the churches throughout the county, as well as local businesses and the all-important farming community.
Then this past weekend we had the opportunity to drive through the beautiful scenery of Mid-Wales for the wonderful wedding of two dear friends. It was a large countryside reception held this beautiful tent, complete with heaters in the chilly weather!
People came from all around Wales and England as well, and it was a joyful and very heart-warming event. It was great to be able to catch up with many friends we hadn't seen for a long time and hear what the Lord is doing in their lives and localities.
It was exciting to hear about one town in particular in Mid-wales that now has a weekly prayer meeting of almost forty people coming together to cry out for the Lord's intervention in their town and area. And in another area, an old camp facility has been offered to a group working in urban areas in North Wales, and we've been asked to please pray with them about this opportunity.
And it is always such a blessing to meet new people and learn of their adventures in the Lord. There were several from other countries as well. We sat at a table with some folks from Korea and Egypt, and it was so encouraging to hear about the missions they have been involved in. The Body of Christ is truly fascinating, and as we get to meet new people and learn of their experiences in the Lord, our appreciation of His goodness just grows and grows.
One common theme that seems to run through many of our conversations lately is the growing awareness of the need for building relationships. We are all enriched through sharing our hearts with other believers. The apostle says in 2 Peter 1:1-3, "To those who have obtained like precious faith with us by the righteousness of our God and Savior Jesus Christ: Grace and peace be multiplied to you in the knowledge of God and of Jesus our Lord, as His divine power has given to us all things that pertain to life and godliness, through the knowledge of Him who called us by glory and virtue."

So it is through relationships that this multiplication of our knowledge and appreciation of God's grace really comes into play. It not only strengthens us and builds up our faith, but it provides opportunities to give and receive more of God's love. And that is just plain good for everybody! Of course, we can survive the cold with a small campfire, but a large bonfire is way more fun.

Here is a great exhortation for us all. Hebrews 10:24-25, "And let us consider one another in order to stir up love and good works, not forsaking the assembling of ourselves together, as is the manner of some, but exhorting one another, and so much the more as you see the Day approaching."

We're looking forward to having our daughter Grace join us for Thanksgiving this week. May God bless you as you gather together with your loved ones for this special occasion. And if your tradition doesn't include this holiday, every day is a great day to thank God for His lovingkindness!

Dick & Gladys


------------------------------


Dear Praying Friends and Saints:
Last week, this scripture in 2 Thessalonians 1:10 made an extraordinary impression on us, "when He comes, in that Day, to be glorified in His saints and to be admired among all those who believe, because our testimony among you was believed."
The amazing thing about this is that we can already admire God's glory in the things around us in everyday life, like this wonderful view that awaited me when I arrived at the chapel one morning. We don't need to wait for "when He comes, in that Day" because He opens our eyes and hearts to see. As David says in Psalm 19:1, "The heavens declare the glory of God; And the firmament shows His handiwork."
For us, this act of admiring the amazing goodness of God has two parts. One is the spontaneous wonderment, joy, and gratitude at the beauty He has placed around us. The second part is a bittersweet longing for the multitudes that don't know the Lord. Our hearts cry out that they might be able to see past the natural and know of His love and sacrifice for them, and that they might also find forgiveness of sin and eternal life in Jesus Christ.
As the cold of winter approaches, we see how this picture illustrates so clearly that there are two kinds of leaves—those from deciduous trees that die and fall off each year, and the evergreen leaves that just stay green year-round. The same frost touches both kinds, but the evergreens stay attached to the source of life, and the other ones don't. And such it is with our souls. Both the saved and unsaved will go through physical death, but because Christ is the vine, we remain attached to His life through faith with thanksgiving. But those who do not believe the gospel of our Lord Jesus Christ, like these dead leaves, get disconnected from the source of life and are lost.
In this first chapter of 2nd Thessalonians, Paul talks about the coming of God's final judgment and glory, and then ends with this powerful prayer in verses 11-12. "Therefore we also pray always for you that our God would count you worthy of this calling, and fulfill all the good pleasure of His goodness and the work of faith with power, that the name of our Lord Jesus Christ may be glorified in you, and you in Him, according to the grace of our God and the Lord Jesus Christ."
I believe that part of the fulfillment that Paul prays for here is that Christ be so glorified in and through our own lives in such a way that others are drawn to admire, and even inquire, about what makes us different. We know it must be His glory and so have opportunities to talk about it. And another part of that fulfillment is that our own admiration of Him and His handiwork include that intercessory longing for all to come and taste that the Lord is good and find eternal life as well.
And speaking of the fulfillment of prayers, I want to thank you for your prayers for our very dear old friend Bob Trolese for whom I asked for your prayers a few weeks ago. We were overjoyed to get news from him last week, saying that the doctor who administered a PET-CT scan,

"took the time to call before we might receive the written report because he wanted to personally tell us that there were no signs of malignant cancer anywhere! This sudden surprise, of course, staggered us. To this day—and probably for many to come— we are trying to get our arms around the blessings of the Lord in all of this. It was mind-blowing news. Recovery, if limited, seemed like, in His LovingKindness, a good possibility. A clean bill of health was almost too good to be hoped for. Man, we are stoked!"

Thank you again so much for your prayers. And may you be encouraged in your daily living with and for Him. And so we pray along with Paul, "that the name of our Lord Jesus Christ may be glorified in you, and you in Him, according to the grace of our God and the Lord Jesus Christ."

Dick & Gladys


------------------------------




Use these links to see archived updates: