Dear Praying Friends and Saints:
In my update of two weeks ago, I mentioned having received a few lasting impressions that I wanted to eventually share. Before things get rolling too fast here again, I want to pass along another one.
While in Canada in early June, one day we visited the Blackfoot Crossing Historical Park near Cluny, Alberta, as I mentioned briefly in our June 7th update. As I sat looking out over the valley, I began to consider the historical situation of the incoming settlers and the Indian peoples. This is a far greater issue than I'm equipped to deal with, but there was one aspect of it I felt the Lord really highlighted to me.
When the white men came in and basically took over the land, the Gospel came along with them, and over the years the native people were evangelized and some were converted. However they had to adapt to a Western style of Christianity rather than be shown a way of following Jesus that fit in better with their culture of tribe and community. They were most likely taught a "Sunday go to church" form of religion that takes place at specific times and places in the week, rather than their own indigenous spirituality that was involved in most aspects of their everyday lives.
The other point that became really clear to me was that of their strong community lifestyle. Their lives and activities involved each other in almost everything. They lived in tepees right next to each other, colaborated with one another in community tasks, and surely conversation and story telling were abundant, and both would have naturally included spiritual matters. Their tribal communities served to nurture and strengthen their identities and traditional worldviews, right or wrong.
Then my focus was drawn to similarities in the historical Christian church. What began as a very community-oriented, "breaking bread from house to house" relational church gradually devolved into the same "Sunday go to church" format that would have been taught to the Indians. And in light of today's highly connected and information-addicted society, it is no wonder that the traditional church format has so little impact on the world around us. Something is sadly and seriously missing.
Further reflection on this brought home to me the importance of meaningful personal relationships, and their role in keeping individuals and their communities healthy and strong. In fact, this is high up on God's priority list too. Jesus Himself has an older-than-the-ages tribal connection, being the Lion of the tribe of Judah. When one of the scribes asked Him what was the first commandment, He replied in Mark 12:30-31, "'... And you shall love the Lord your God with all your heart, with all your soul, with all your mind, and with all your strength.' This is the first commandment. And the second, like it, is this: 'You shall love your neighbor as yourself.' There is no other commandment greater than these."
I believe that "love our neighbor..." here means real relationships, and that means quality time spent together in a significant context. This is not just a nice idea, it is actually more important than all the other commandments but one! I highlighted that first commandment in the June 25th update. But it is this interpersonal application of "all of your heart, soul, mind and strength" in "building one another up in love" that is so vital to our spiritual wellbeing and effectiveness.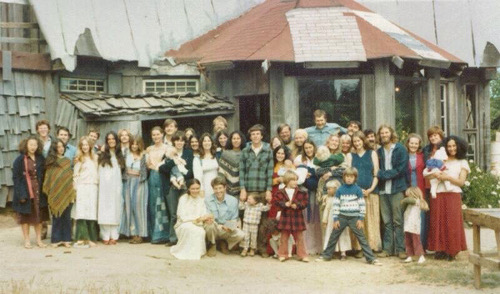 For countless thousands of us that were saved during the 1970's Jesus Movement, it was this tribe-like community practice of our new faith that nurtured and established us in the Lord's ways. Without this intensity of close relationship, I don't know how many of us would have survived. There was a cost to real discipleship, but good fruit remains after 45 years in the lives of many thousands of wonderful saints around the globe. And this is not only true of our own lives and times, but throughout the centuries, God has kept us by His amazing grace.

All those "Love one another..., care for one another..., serve one another..." scriptures that we learned and practiced have kept us strong, and together. Though paths and ministries may separated us physically, we all have experienced seeing old friends and acquaintances after a great many years, and it seeming as if it were just a short time. We have remained together in Him, and He is the significant context of our lives. Jesus said in John 13:34-25, "A new commandment I give to you, that you love one another; as I have loved you, that you also love one another. By this all will know that you are My disciples, if you have love for one another."

We are living in a world that seems to be racing toward the abyss of total godlessness, immorality and personal insignificance. We have an enormous privilege and responsibility ahead of us as believers. And it is our obedient practice of both of these commandments, with "all of our heart, soul, mind and strength", that will keep the us, Christ's church, vital and effective until His return.

Our prayer is that we all be encouraged and strengthened as together we follow Him.

Dick & Gladys


------------------------------


Dear Praying Friends:
We have been back home now just over a week. Thanks to those of you who have followed our steps and prayed for us. We really saw the Lord provide for us in His marvelous way. And through His goodness we accomplished exactly what we had prayed for–to see our family!
After our time in Canada we got to spend almost a week with our oldest son Peter and his girlfriend Allie in Billings, Montana. He was transferred there by the Marine Corps from South Korea almost a year ago. A big change of culture, but they are enjoying it, and the wide open country. Peter has just passed the 15 year mark and is headed for 20. He has been accepted at Tulane Universityback in New Orleans to start in 2022. Allie is in a master's program at Montana State University Billings.
We enjoyed just spending time together and doing some exploring. We took off one day headed for Yellowstone Nat'l Park, but got turned back at a 9200 foot high mountain pass in Custer Nat'l Forest by a snowstorm in June! We hadn't been in a place Peter has lived since he joined the USMC so it was a special treat for us.
Our next stop was New York City, as you may have guessed from our last update. We had been wanting to visit Dicky and Grace when there were leaves on the trees instead freezing cold, and the Lord granted this petition of Gladys's heart too! Here we are with Grace and Dicky, and his girlfriend Emily in front of him, at a wonderful concert in Prospect Park. We met up with her parents for a picnic supper with many hundreds of others and had a great time. One of my nephews showed up with his family, who are great friends with our kids, and that made it extra fun for us all.
It was a real treat to just hang out with the two of them in their apartment, do some adventuring in the big city, and just be family again. Gladys cooked up some of their favorite meals, and we made the most of being together. Among other things we did was a wander through the Brooklyn Botanical Garden, which was absolutely bursting with flowers and leaves of every imagineable shape and color. Then another day the four of us visited the Statue of Liberty, and Ellis Island. The Immigration Museum there was a very educational and moving experience. I hope to share a little more about that in another update.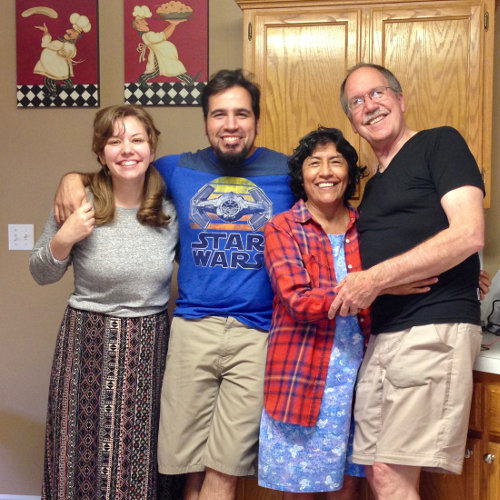 Our next and final visit was Louisiana to spend time with our son Mike and his wife Lauren in Hammond, about 50 miles northwest of New Orleans. We lost a day when a connecting flight was missed due to some rough weather, but we did manage to have almost enough time together. That weekend was Lauren's dad's 70th birthday party, so that was a special time with a large extended family get-together and plenty of delicious Cajun hospitality!
Mike is loving his daytime job designing and drafting with CAD software in the highway department. My father was a landscape architect, and would have been fascinated to see just how much things have changed. I used to help him a little bit doing titles on plans with an old Leroy lettering set and India ink. (They're antiques now. Does that mean I am too?)
Our time flew by all too quickly, but we couldn't be more delighted to have had this wonderful opportunity. Both Gladys and I still tear up now that we're home again and think back about this incredible trip. We realize how faithful God has been to us over the years, and are infinitely grateful for His care and tender mercies extended to us time and again.
Meanwhile back at the ranch... After just three days home and most of the jetlag behind, things are back in full swing. We had three visitors from Birmingham, Alabama, with us several days as part of their assignment to pray around the perimeter of Wales. On Wednesday we were joined by two ladies from South Wales, and were praying blessings over the nation in English and Spanish. Just as I was having a go at it in Welsh, a a couple from Swansea visiting a family grave stopped to have a look inside the chapel. After a brief introduction they joined in the prayer with us, and even prayed a blessing in genuine beautiful Welsh where I could not.

We have all just been amazed at God's perfect timing in so many ways each and every day. I'd need way too much time to tell it all here. Suffice it to say that God is so very clearly at work around this land. Please continue to pray for our American friends as they complete their assignment this week. Also pray for an evangelistic outreach around Wales this week called "The Turning." Many churches are working together in nearly 25 communities and in the first 4 days have seen almost 1,500 people pray to receive Jesus as Lord and Savior!

Thanks you for your continued interest and prayers. May God's will be done in our lives and communities around the globe,

Dick & Gladys


------------------------------


Dear Friends and Prayers:

We have seen so many miles, places and people since my last update, I can't try to capture it all. Time has flown by incredibly fast - we'll be home again next Thursday. But I received several significant impressions that the Lord has given me during our travels. This is the first one. I would like to pass a couple of others along one by one.

Moses' striking the rock instead of speaking to it resulted in his being barred from entering the Promised Land. I've always thought that was a pretty harsh punishment for getting angry with such an unruly mob that even God Himself was ready to fry them all! After all, Moses stuck it out with them, and even stuck his own neck out for them, during all of those forty long years. So I have always been puzzled about what God's reasoning might have been. And perhaps I'm not the only one to wonder about this.

In Deuteronomy 4:20-21 Moses explains to the people, "But the Lord has taken you and brought you out of the iron furnace, out of Egypt, to be His people, an inheritance, as you are this day. Furthermore the Lord was angry with me because of you, and swore that I would not cross over the Jordan, and that I would not enter the good land which the Lord your God is giving you as an inheritance."

As I read the story this time, it hit me like a thunderbolt that God's command to Moses was that he speak to the rock. In his anger he took action and struck it, but God had clearly instructed him to speak. He had wanted Moses to model relationship, not activity! All of the law was full of things to do and not to do, but I believe God was wanting Moses to demonstrate a relationship with the living God, not some kind of physical action or emotional response! The Lord was seeking a relationship since the very beginning in the Garden of Eden, and that was interrupted by Adam and Eve's disobedience. "Speak to the rock, Moses, don't hit it!

It's not difficult to see this tendency still at large in the church today. We so easily get involved in activities and programs and just doing stuff, rather than spending time in direct relationship with God. How can we bring "a psalm, a hymn, or a spiritual song" to our fellowship if we're not spending the time with God first? The apostle's exhortation in 1 John 1:3 reminds us, "...that which we have seen and heard we declare to you, that you also may have fellowship with us; and truly our fellowship is with the Father and with His Son Jesus Christ."

May this serve as a good reflection for us all to ponder in our own lives!

Dick & Gladys


------------------------------


Dear Friends:

Six weeks ago we had no idea where we would be today. The Lord has blessed us in an extraordinary way and answered our prayers to travel and see family. Two weeks ago we landed in Washington DC where Gladys has family that she has been longing to see. We spent a week there and it was a fantastic opportunity to catch up with part of her Guatemalan family there. It was a wonderfully refreshing time for us all, and laughter resounding from sunup to sundown was some wonderful medicine!
While Gladys was in Washington, I made a quick trip to New Orleans to get some more dental work done. I returned on Wednesday night, and the next day we flew to Billings, Montana where we stayed overnight with our son Peter and his girlfriend Allie. And then Friday we started the drive north towards Canada and enjoyed countless fabulous views of the great plains!
An incidental blessing during our time in Washington was that it was Gladys's birthday. So there was a get together with the whole family on Saturday, and then we went out for a lunch with her niece and husband and their daughter on Sunday. So there we were in the United States with a Guatemalan family having lunch at a Peruvian restaurant. How funny is that!
When we first realized we would be able to visit our son in Montana, we remembered that our dear friends Bryn and Silvia, who were with us in Wales three years ago, lived a day's drive to the north. They had been given a burden to come pray in Wales, got in touch with us and then came over for about six months. So it was a joy for us be able to come spent some time with them here, where we are now.
Last fall they were led to open up their home as a house of prayer here in Vulcan, Alberta. So it has been our privilege and pleasure to spend time with them, and learn of their work here. What a blessing to join in the intercession for this part of Canada, and meet others that come from different churches to pray together. The church in this area has been struggling with division and disunity for generations it seems, and they are praying with one purpose - to see the Lord restore wholeness to the church and bring revival to this land.
The wide-open places and expanse of land here are incredible. We drove around quite a bit yesterday and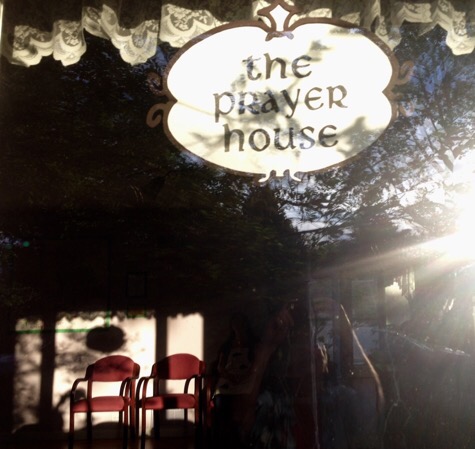 were able to get an overview of the area. It's not difficult to understand how the enemy can easily keep people separated when the physical distances are so great to start off with. So please join us in praying for these faithful saints as they pray and seek God for a real work of the Holy Spirit in this area, joining hearts together and uniting the troops to see revival and a real manifestation the glory of God birthed in this land in a definitive way.
As the group here is picking up steam and others are joining ranks, we hope to be able to impart a blessing and encouragement to them based on our own years praying in Wales for revival. We never would've imagined being where we are today, and we are thrilled and humbled to see God opens such unexpected doors for us.
On the north side of Vulcan County and one of the primary objectives of their prayer here is the Blackfoot Indian Nation, the original inhabitants of the land. Much as the situation in the USA, they were displaced by incoming settlers and have struggled with many issues, not least among them those of identity and self worth ever since. In our meanderings around yesterday the Lord orchestrated a meeting with an indigenous sister in Christ who could provide a valuable link. She is a historian and teacher of cross cultural relations, and is hungry for real fellowship. Please keep her and her nation in your prayers. It was fun to watch how Gladys connected with her immediately because of her inndian blood!

Our updates will probably be not as frequent as we travel until the end of the month. Thank you for your interest and your prayers,

Dick & Gladys


------------------------------


Dear Praying Friends and Saints:
Last weekend we had glorious weather for the monthly service at Cilfowyr Chapel. And what started out as Gladys' request to be a photo of three sisters of one of the families of the chapel became a shot of most of the active members, our pastor Gareth at the left, and our three visitors from the USA.
We especially enjoyed our very short visit with LaMer Hope and two of her daughters, Melody and Glory. They came over on the ferry from Ireland last Saturday and went back Sunday afternoon to continue their touring. Bob and LaMer lived with their children in one of the houses on The Lord's Land in Albion, Northern California, the Christian community where I was born again in 1973.
LaMer accompanied us to the chapel early for our usual time of devotion and prayer. We wound up singing a few of the old songs from scripture that were so much a part of lives in those early years as Christians. It was marvelous to be together singing those same songs again after 43 years of not seeing one another, the joy of that first love still tangible. The presence of the Lord was so precious... a taste of heaven where we are all just in Him and time disappears.
Their home became a sort of peaceful haven for me, set slightly apart from the busyness of the central part of the community.
Bob, now a joyful resident of heaven, was a wise "older brother" and as a brand new believer I had lots of questions. I remember spending time there visiting and enjoying God's love that was so evident among us all.
Then many years later Melody, in the middle here en route back to the ferry, was in Cuenca, Ecuador working in the Verbo medical mission with her husband Zac. During that time our daughter Grace went to work in the same mission and became friends with Melody and Zac, both of whom I'd known as kids in the 70's. And Cuenca had been our main shopping town when Gladys and I were living in Paute in 1978! This is such a small world of God's, and the connections and stories are all just amazing.
During my readings this week I found myself drawn to this verse in Psalms 107, entitled "Thanksgiving to the Lord for His Great Works of Deliverance" by the publishers of the NKJV. Verse 8 says, "Oh, that men would give thanks to the Lord for His goodness, and for His wonderful works to the children of men!"
In fact, this exact phrase is repeated four times throughout the Psalm. And then it finishes with the following wonderful declarations.
35 He turns a wilderness into pools of water,
And dry land into watersprings.
36 There He makes the hungry dwell,
That they may establish a city for a dwelling place,
37 And sow fields and plant vineyards,
That they may yield a fruitful harvest.
38 He also blesses them, and they multiply greatly;
And He does not let their cattle decrease.
39 When they are diminished and brought low
Through oppression, affliction, and sorrow,
40 He pours contempt on princes,
And causes them to wander in the wilderness where there is no way;
41 Yet He sets the poor on high, far from affliction,
And makes their families like a flock.
42 The righteous see it and rejoice,
And all iniquity stops its mouth.
43 Whoever is wise will observe these things,
And they will understand the lovingkindness of the Lord.

May this be our prayer for revival, that the Lord would reveal His lovingkindness to people in the world around us, and "...that men would give thanks to the Lord for His goodness, and for His wonderful works to the children of men!"

Dick & Gladys


------------------------------




Use these links to see archived updates: