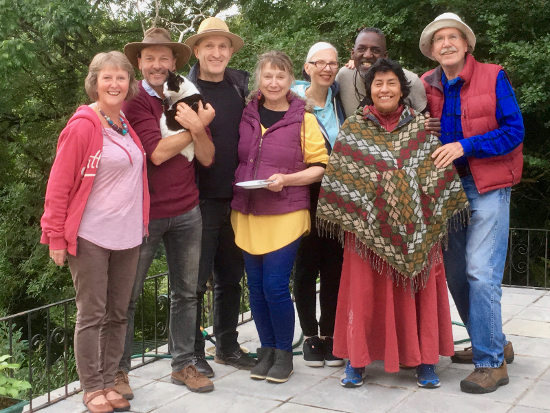 Dear Praying Friends:
For quite some time Gladys has wanted to invite a group of musician friends to come for a time of fellowship and playing together. And Saturday of last weekend was the day that worked for everyone. And it was also a dry and mostly sunny day in the middle of a rainy patch, so God's grace was on us for that as well.
The idea was to share lunch and then just spend the afternoon making some music. What made it especially fun was that none of these couples had ever met each other, and they are gifted musicians and worship leaders. It was wonderful to see how the Lord connected hearts within minutes, and the time of sharing and briefly getting to know each other was a real joy to behold!
There is nothing quite as rewarding as experiencing what the word says in Psalm 133, "Behold, how good and how pleasant it is for brethren to dwell together in unity! ...For there the Lord commanded the blessing—Life forevermore."
And together we enjoyed the sweet fruit of Ephesians 4:16 that describes how "...from whom [Christ] the whole body, joined and knit together by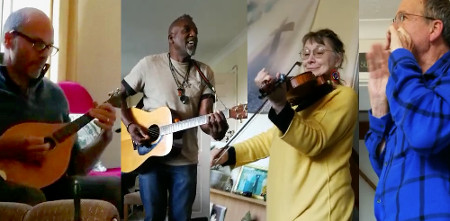 what every joint supplies, according to the effective working by which every part does its share, causes growth of the body for the edifying of itself in love."
It was this warmth of fellowship and newly discovered love for one another that established the atmosphere we began to play. And oh, what a rich time we had of it. We played some worship songs we all knew, and learned a few new ones as well. It was not about performing, but just enjoying the fun of playing freely together. This particular song was such fun, and uplifting, I've posted a video at this link for you to enjoy.
There were several times when the goodness of God and His presence in our midst was very evident. We didn't want to stop, and so we kept on playing and singing until eventually, one couple had to leave so our session came to an end. It was a wonderful time of refreshing for us all, and seeing new friendships formed was an extra bonus.
The other two couples had never been up to the chapel with us. So after a quick bite of leftovers for supper, we came up for a "brief" time of prayer. It was a privilege to install two new flags of Bolivia and Egypt,
at top right, and pray for them and also Wales and the other nations. As so easily happens when the Lord is at the center of things, it was well after dark by the time we each headed home from a full and marvelous day.

Then on the following Monday, we were joined by some old friends from Singapore. We first met Ben and Lillian here seven years ago when they came with some relatives, and we have kept in touch ever since. This time they came with another couple from the church Ben pastors there, and once again had an exceptional time of prayer. It just happened that the Singapore flag was just behind the flags for the USA and Guatemala, and so we couldn't miss the opportunity to take this photo together.

We are continually surprised to see how the Lord and organizes our days and brings so many people into our lives who are dedicated to His purposes. It is an enormous privilege to be here and watch as His new mercies unfold before us each day. And we rejoice as see the interest in, and prayers for this nation of Wales growing more intertwined with so many saints around the world.

In Mark 13:28 Jesus said, "

When its branch has already become tender, and puts forth leaves, you know that summer is near.

"

Thank you for your prayers for Wales. It seems like something is going on!

Dick & Gladys


------------------------------


Dear Friends of Wales Awakening:
It has been such a privilege and encouragement for us to receive so many people that have come to join us in prayers for the nation of Wales. And it never just feels like the "same old, same old..." Each prayer offered is different and each person praying has unique anointing and sensitivity in their prayers, and we know heaven is touched and hearts are changed by each and every one.
Of course, many of our visitors do pray for us and bless us. But one of our greatest joys is to be able to pray for them and the nations they represent! Last week we had our dear friend Janet from Virginia with us, and her friend Sue from Wales, who work together with Community Bible Studies Int'l. Both of these nations are very close to our hearts for obvious reasons, and Gladys wrapped each of their flags around them as we prayed for renewed spiritual life and a fresh outpouring of the Holy Spirit into each one.
We have known Janet for close to ten years and have developed a special relationship with her that only God could orchestrate. Several years ago she phoned us up to say she had discovered, incredibly, in her husband's family history, that his great-great-great-great-great-great-great-grandfather, had actually been the first pastor of the very same Cilfowyr Chapel where we have been praying all these years. Now, how amazing is that! Consequently, our times of prayer with her have had a precious significance and tenderness for us. The Lord is so
wonderful indeed!
Each time we have the opportunity to pray with visitors from other nations, this verse in Isaiah 56:7 becomes very real and down-home to us,
"Even them I will bring to My holy mountain,
And make them joyful in My house of prayer.
Their burnt offerings and their sacrifices
Will be accepted on My altar;
For My house shall be called a house of prayer for all nations."
So as we continue in our prayers for the coming Welsh Revival, all the flags we have now in the chapel remind us that God's desire is for more than just Wales, but that all the nations are on His heart. The prophetic word
in Habakkuk 2:14 says, "For the earth will be filled With the knowledge of the glory of the Lord, As the waters cover the sea." And a quick glance at international news headlines reveals just what an overwhelming lack of this knowledge exists. It is a blessing to continually discover more and more people responding to this need for prayer.
It is also refreshing to see people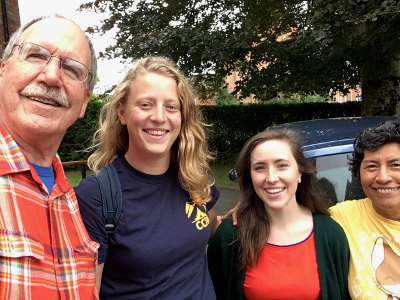 responding to God's call on their lives and putting it into action and outreach. A few weeks back we spent some time with the group from Iris Ministries. And the following week there was a group of young people from California that came to help out in a Christian camp here for teens from difficult family situations. There was great joy in the camp as several of the kids made the all-important decision to follow Jesus. We pray that His promises of "...newness of life." (Romans 6:4), and for "...a future and a hope." (Jeremiah 29:11), will become the experience of each and every one. Let's pray also that they, in turn, will share with others.

May God's grace abound in each of our lives, and equip us to fulfill our own specific part in making His glory known to the people around us each day,

Dick & Gladys


------------------------------


Dear Friends and Prayers:
Wow, the past two weeks of this best Welsh summer in forty years has flown by incredibly fast. Temperatures have started to cool off slightly now, and thankfully we've gotten some much-needed rain. And in the midst of so many goings-on, I've attempted to write a few times but it just hasn't happened until now.
The photo was taken last Monday when we had a spontaneous meeting at the chapel of folks that wanted to hear the story of how the Lord brought us here. There was a small group from Iris Ministries Harvest School of Missions doing their prayer and intercession outreach here, hosted by our friends Stan and Sue next door. Our friend Alan from North Wales brought three visitors from the US, and we also had another couple from Idaho that we had just met the week before.
Telling the story of how the Lord brought us here is always a good way to keep our focus clear. When people hear some of the details of how God showed us His plan for this coming great revival in Wales, and arranged things to enable us to move here, they are amazed and encouraged. And so are we! (I made a 30-minute video of our story if you'd like to watch it here.)
It is important for each of us to remember how God has called us, and to what. When we read how Paul exhorts his disciple in 2 Timothy 1:5-6, "...when I call to remembrance the genuine faith that is in you... therefore I remind you to stir up the gift of God which is in you through the laying on of my hands...", it is a good exhortation for ourselves as well. And we find ourselves amazed once again at the gift and privilege it has been for us to be here praying for Wales and the nations.
As I arrived at the chapel to prepare for our guests, I felt the Lord speak the word "commissioning" to me. And again as I parked the car I heard a second time, "commissioning." By the time I had finished telling our story, it seemed clearer what this meant. In the first place, God has called each of us believers into His harvest as co-missioners—co-laborers with Him. And He is the one that does all the work, and we are like a co-pilot or an observer. Our part is to stay close to Him, and He does all the rest. This is the only way The Great Commission can only be carried out successfully.
In the second place, God calls us to be co-missioners with one another. In 1 Peter 2:5 He says, "...you also, as living stones, are being built up a spiritual house, a holy priesthood...", belonging to one another as we belong also to Him. We are all on the same team. And so our stories and testimonies serve to encourage and build us up as we open our hearts and share with one another.
The previous weekend we a great opportunity to do precisely that. We had been invited by a dear old friend to the annual gathering of the UK branch of The Fellowship Network, where we found several old friends and made many new ones. And the main emphasis was just to be encouraged and challenged by one another's stories.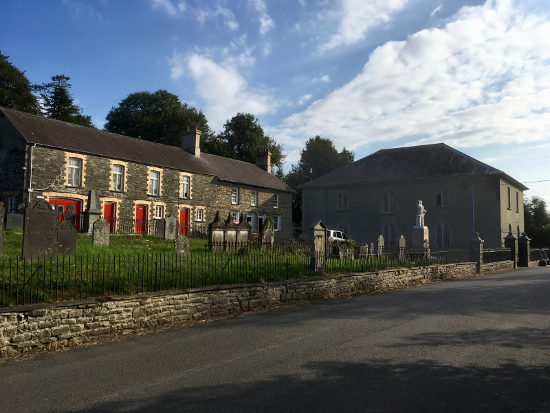 Last Sunday we had the privilege of taking the group from the Harvest School to the very remote old chapel in Soar-y-Mynydd, near Tregaron. A friend of ours was preaching there, and it was fun to take the group to experience a traditional Welsh-language service. It was there when in 1779 Daniel Rowland had a transforming encounter with the Holy Spirit. Then after a marvelous visit with our pastor friend and his wife in their home, we went on to Daniel Rowland's own Gwynfil Chapel in Llangeitho where revival broke out and blazed across many parts of Wales in the 18th century.

Among the many others we've met in recent weeks, one thing that stands out is an increased dedication to prayer and a hunger for the coming outpouring of God's spirit both here and abroad. The pace seems to be gradually picking up, and we are thrilled to be here for such a time as this.

Thank you for your continued interest and prayers, and may God bless you mightily with more of His presence and anointing in your lives and may He spill out through you into the people whose lives you influence.

Dick & Gladys


------------------------------


Dear Praying Friends and Saints:
When we came up to the chapel two weeks ago the gate into the field was standing wide open like an invitation. It was clearly giving the message that the harvest was now ready. The combine and tractors could roll in to take up the crop of barley at any time.
We have watched the harvest take place every year, but this is the first time we've seen the gate opened in advance. It just seemed like the Lord was giving us a sign of readiness, a fresh promise of His intention to bring revival to this land of Wales.
In John 4:35 Jesus said, "Do you not say, 'There are still four months and then comes the harvest'? Behold, I say to you, lift up your eyes and look at the fields, for they are already white for harvest!" This is Jesus' exhortation to not lean on our own understanding, and to look to the fields of the world through His eyes. Just like this one, the fields on the hills in the background are also ready. It is the invitation to open the gates of our hearts and our understanding to embrace His view of things.
This view of the heads of grain helps show us the scale of what we are really praying for when we pry for revival. How many grains of barley are there on each plant? And if we consider how many plants there are in just this one field alone, what might those numbers add up to?
A little investigation and some quick math shows that this 15-acre field could produce about 500 million barley grains. That seems like a good-sized harvest of souls. It's no wonder Jesus said in Matthew 9:37-38, "Then He said to His disciples, 'The harvest truly is plentiful, but the laborers are few. Therefore pray the Lord of the harvest to send out laborers into His harvest.'"
Last week Gladys and I went to the Royal Welsh Show which takes place here every year in late July. We stayed for two of the four days it lasts, and the Lord gave us several opportunities to speak with folks we met. Inevitably people ask us what brings us here to Wales and that opens the door to share about our prayer mission here. And that in turn makes it easy to talk about the good news of God's love and power of the gospel to save people from there sins and receive eternal life in Jesus.
We always enjoy watching the sheepdog trials and this year was no exception. But this time I saw something about it I'd never seen before. The shepherd has to get a small group of sheep to go through a series of gates standing in a field. There are no fences, just the gates in middle of an open space. You can see a short sample at this link.

The shepherd has his dog, his staff, and a whistle. The sheep are out in the wide open area and don't have a clue where they are supposed to go. The dogs are highly trained, and obey the commands of the shepherd's whistle. This takes a great deal of patience, and a lot of the dog's running back and forth. Butthe shepherd coordinates his own and the dog's movements to get the sheep where he wants them to go.

As I watched, I was deeply impressed that this was like trying to bring people into God's kingdom. Jesus is the good shepherd, we are like the sheepdog, and the whistle is like the Holy Spirit who instructs and guides us. Only God knows the way with each person's heart, and without the guidance of His spirit, we are uncapable of bringing the sheep through the doorway of life.

So as we pray and follow His leading, God does what only He can do. Zechariah 10:8 says, "I will whistle for them and gather them, for I will redeem them; and they shall increase as they once increased."

What joy is ours to work along with so many others around the world to see God's desires fulfilled. 2 Peter 3:9 says, "The Lord is not slack concerning His promise, as some count slackness, but is longsuffering toward us, not willing that any should perish but that all should come to repentance."

May God's grace and guidance strengthen each of us for His purposes,


Dick & Gladys


------------------------------


Dear Friends and Prayers:
A week ago yesterday our chapel congregation joined with the Baptist chapel in nearby Star for a special joint meeting. The son of one of our families and a girl from Star were baptized by immersion as they made a public declaration of their faith in Jesus.
This was the first time Gladys and I had seen anyone baptized from our chapel, and that was a real blessing. What made it even more special was that at the end of the service, they set fire to their old clothes as a symbol of leaving their old life behind them. Apparently one of the ministers had seen this done in Israel, and they decided to introduce it here.
What a great object lesson here! Not only do we go through the waters of baptism and leave our "old man" buried with Christ, but this represents an important next step. All the external trappings of our lives must be renounced as well in preparation of the "Therefore, if anyone is in Christ, he is a new creation; old things have passed away; behold, all things have become new." of 2 Corinthians 5:17.
The little girl in the foreground of the picture above reminds us of what Jesus said in Matthew 18:3,
"Assuredly, I say to you, unless you are converted and become as little children, you will by no means enter the kingdom of heaven." We need to continually come back to this place of simplicity and trust in our Savior's finished work.
The sermon that Sunday also made reference to the group of Thai students who were trapped in a cave due to flooding. Their only means of rescue was much more than a simple immersion difficult passage–they had to be taught how to use scuba gear and were extracted by professional divers through very long and twisty flooded tunnels. That delicate rescue operation was started last Sunday as well. Perhaps we were all gripped by the seriousness of the message and its implications for us as believers.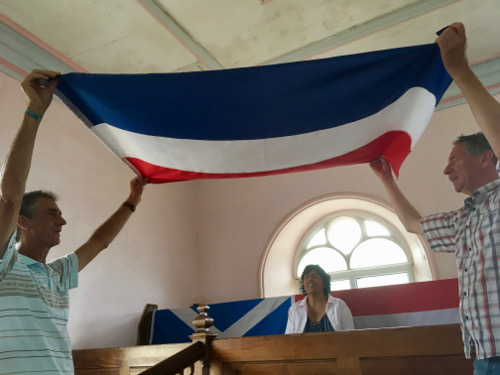 The rest of our week somehow became very full with several spur-of-the-moment visits added to one we already had planned. One of the visits came with the call from a brother who came with a small group from Holland nine years ago! We met them at a Ffald-y-Brenin prayer day and they came to visit with us and spend some time praying at the chapel.
We lost touch with each other after a couple of years, so it was a real surprise to hear from him and to learn that he was here in Wales again. He told us with delight how God had so deeply touched him during his time at the chapel during their first visit, and how that had begun a long process of transformation in his life. The change in his countenance since we first met was evident as he glowed with excitement and the joy of the Lord.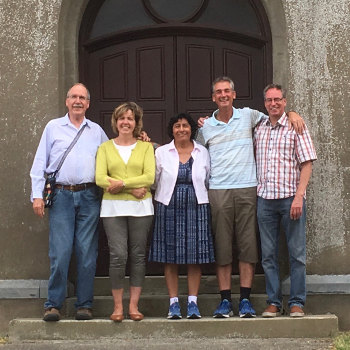 He came this time with another friend from Holland who has been doing missions work in Myanmar (Burma). It was fascinating to hear of his call to a specific region bordering China that is actually almost impossible to enter as a foreigner. We had a wonderful time of fellowship together, and it was a tremendous blessing to be able to pray for him and the work in Myanmar the Lord has called him to. It was also a real joy and privilege to pray again for Holland with the two of them holding up their nation's flag that was brought by other Dutch friends last autumn!

We are continually surprised and encouraged at how the Lord keeps bringing us in touch with so many wonderful saints from around the world. We grow more and more confident the God has an amazing plan for this nation, and that somehow we find ourselves being a part of it. What an amazing gift that His grace doesn't depend on our performance but on His great love for us, for Wales, and for all the nations of the world.

How we long to see His plans fulfilled, and that countless multitudes turn to God and embrace His unfathomable gift of love, forgiveness, and eternal life through faith in Jesus' atoning work at Calvary.

Thank you for praying for us and with us that "...the earth shall be full of the knowledge of the Lord As the waters cover the sea." Isaiah 11:9

Dick & Gladys


------------------------------




Use these links to see archived updates: