Dear Praying Friends:
We have crossed paths with our friend Emyr two more times on his pilgrimage to North Wales. We met with a small group last Wednesday for his arrival in Llangeitho, about one third of his planned route.
This painting from 1912 was in the vestry of the chapel. It is titled Y Sasiwn Gyntaf, The First Session, a meeting that took place in 1743, and shows George Whitfield in the center with the open bible. Daniel Rowland and Howell Harris are to his right, and to his left is William Williams Pantycelyn, a famous Welsh hymn writer. All were key figures in the Welsh Methodist revivals of the 18th century.
I was impressed by the painting, and could almost sense the atmosphere of reverence and awe as they discovered together new levels of understanding of God's word. It brings to mind of the brethren waiting on the Lord in the upper room just before the first outpouring at Pentecost.
And it was here that Daniel Rowland, empowered by the Holy Spirit at nearby Soar-y-Mynydd in April 1779, came back to his home church and ..."said to his friends, 'It is a heath fire and will spread abroad.' And it did spread.... until it reached many and
far-distant localities in South and North Wales, and thousands were brought to seek everlasting life." (This quote is from an article called "Llangeitho and the Welsh Revivals" which you can read here, and is well worth your 10-15 minutes!)

Then yesterday afternoon we had to go to Aberystwyth for an appointment, and knew that Emyr had headed north from there in the morning to Tre'r Ddol, about 10 rainy miles away. In another instance of God's incredible timing, when we got to the one crossroad in the tiny village, and there he was standing on the corner where he had just arrived and set the cross down to take his bearings!

If you'd like to read some more about his experience so far, there are some good updates just posted on his web page http://crossingwales.org. There is also complete information about the route and dates on the "Pilgrimage" tab.

This is just one more of the encouraging things that happening around Wales, and we look forward to more to come. As we see more members of the Body of Christ coming together to seek the Lord in prayer and study His word, to listen for His voice and worship and cry out for His mercy on this land, things are coming into place. As people individually and in groups hear God's instructions for them and choose to obey, the atmosphere is changing, and the fields are growing ever closer to the harvest.

Thank you for adding your prayers to those of the thousands, both in this nation and around the world, that know that God is developing His special plan for Wales.

Dick and Gladys


------------------------------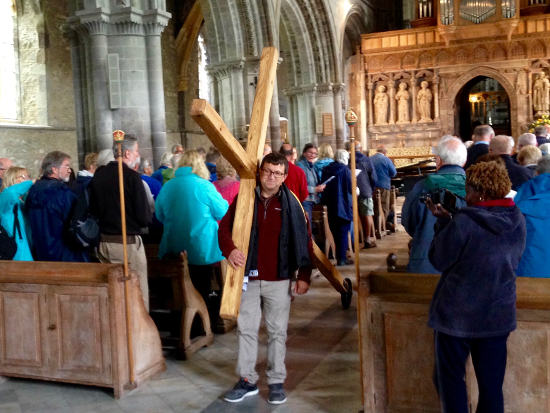 Dear Friends of Wales Awakening:
This last week has been extraordinary with nary a dull moment. As I mentioned in last week's update, Tuesday was the kick-off for the Crossing Wales pilgrimage at St. David's Cathedral on the southwestern tip of Pembrokeshire. The concert was marvelous, and a precious experience of classical worship. Of the roughly 200 people present, many were moved to tears.
Both the brief message and commissioning prayer by Canon Dorrien Davis were wonderfully spirit led and powerful. The essence was that Wales needs to return to the simple faith in the Gospel of Jesus Christ, and that this public witness of the cross might touch many, many lives.
This special sending off has already proved effective. Emyr told me on Saturday that they lost count after 8 or 9 people give their lives to Christ, and have had opportunities to witness to many others. Also, along the route many Christians have stopped to pray for them and bless them as they make their towards the north.
He was joined by another cross carrier for the first week, and that has been a real strength and encouragement to him. Lindsay Hamon, who has been carrying a cross for 25 years, will re-join him for the last several days in North Wales and the final ascent of the 1,035 metre Mt Snowdon. So please keep Emyr in your prayers as he carries on alone this week. (We will be waiting for him at Llangeitho tomorrow the 20th when he finishes the day with some prayer and worship.)
On Wednesday two young ladies from Singapore came to spend a couple days with us. Besides taking them to our chapel and a few other places, we had some wonderful fellowship. One's father had been saved in the outpouring of the Holy Spirit there in the 1970's and had just co-written a book about it with her brother. So they had lots of stories, and were interested to hear our stories of the same time period.
While they went Thursday to Ffald-y-Brenin, we spent some really wonderful time with two intercessors from Austria. After some tea and Gladys' delicious apple pie, we went to the chapel and had a fantastic time of anointed prayer. They also brought us an Austrian flag, so our little collection is growing and reminds us to pray for those nations.
Then on Friday we had a "changing of the guard" and received Nidia from Colombia and her friend Natalia from Argentina! Both are students at the third 12-week course that just started at the Bible College of Wales. We first heard from Nidia early last year, and so it was nice to finally meet.
Because Spanish is the main language in our home, we had a really great time together. They
brought us some platanos (plantains) so we had a delicious Latino breakfast too, tortillas and all. Natalia is a gifted musician and worshipper and we spent some sweet time in Gods presence.
They were both brimming over with their experiences at the BCW, and we were all deeply moved as we shared together. When we told them about Emyr's carrying the cross, they immediately exclaimed how they would love to meet and pray for him. Well God being God, and knowing the desires of our hearts, He had that all prearranged.
After breakfast we took them to pray at the chapel in Blaenannerch. We had a really exceptional time of prayer there, and the bending of hearts was piercing through to the heavenlies for sure. And then, as if carefully orchestrated, when we finished after a lengthy session and went out to the front of the chapel, at that very instant the two crosses were passing directly across the road before our eyes!
As always, the Lord is far ahead of us and we are constantly amazed at His perfect ways and timings. Needless to say, we were delighted for the opportunity to pray and strengthen Emyr and Lindsay. And our friends were more than thrilled and blessed as well.

And as if that wasn't enough, while we were with a small group gathered for prayer waiting for them at the end of the day's walk, I got a call from our friends Bryn & Sylvia in Canada. Without any knowledge of what was going on, they were wanting us pray a blessing over the official opening meeting of their newly finished prayer room. So just as I went outside to video-chat with them and I told them where we were, in came the two crosses! I asked Emyr and Lindsay pray to for them right then and there, and a short burst of live international prayer was a more powerful blessing for our Canadian brethren than they were hoping for.

So yet again we see evidence of God's amazing sovereignty in all matters both great and small, and we are constantly encouraged to continue ahead with enthusiastic faith. "For the eyes of the Lord run to and fro throughout the whole earth, to show Himself strong on behalf of those whose heart is loyal to Him." 2 Chronicles 16:9

Thank you once again for your continued interest in and prayers for us, for Wales and for the nations!

Dick & Gladys


------------------------------


Dear Friends: Lots going on...
Last week someone sent me a couple of prophetic words given for Wales very recently, and I will post them both on the Words About Wales page that I update from time to time. I will quote the shorter one here. They are both very encouraging and fit hand in glove with the growing sense of expectancy in the land.
So I'm traveling into Newport when the Lord speaks to me and says, "I'm going to redeem everything about this nation even the emblem of the dragon." I almost slammed on the breaks, "what!!!" Then the Lord said "I'm going to strip Satan of everything, the Lion is mine, the eagle is mine, the bull is mine and man is mine, and guess what Yinka, I'll even redeem the emblem of the dragon, for it does not belong to Satan, he just stole the emblem and wrapped himself with it. Son, Wales will be once more a sign and wonder to the nations, religious spirits will be confounded, not understanding the full extent of my redemptive powers. Where they see the emblem of Wales they will think of my ability to save."
Pastor Yinka Oyekan
The Gate Church, Reading, UK
This week is also the start of the Pilgrimage of the Cross. Our friend Emyr Mathias will be commissioned at St. David's Cathedral on Tuesday at a special service and concert. From there he will set off the next morning for Mt. Snowdon in North Wales. It is nearly a 4 week journey, and there will be events organized along the route. For details of dates and places, see the website CrossingWales. Other cross carriers will be joining him and will come together for the ascent of Mt. Snowdon on October 8th.
We believe this is a significant event - Emyr's carrying the cross along the roads has impacted many people already. People have stopped to ask him what's it about, and to thank and encourage him. And some have wound up in tears and been really touched by the Lord. So please pray that there will be lots of opportunities to share the truth and glorious hope that we have in Jesus!
We had a wonderful week with more visits and goings on. We spent Thursday with a small group from Singapore, and had sweet fellowship and some truly amazing times of prayer. One special time took place in our chapel, praying for blessing and anointing from Singapore into Wales, and then sending blessings and revival anointing back into that small island nation that has made such valuable investments into this land, such as the redeeming of the Bible College of Wales and Pisgah Chapel.

We are living in extraordinary times, and we look forward to each day with complete trust that God's plans for ourselves, for Wales, and the nations are coming to pass before our eyes. What a privilege, and a responsibility, to be "...ambassadors for Christ, as though God were pleading through us: we implore you on Christ's behalf, be reconciled to God. For He made Him who knew no sin to be sin for us, that we might become the righteousness of God in Him." 2 Corinthians 5:20-21

Dick & Gladys


------------------------------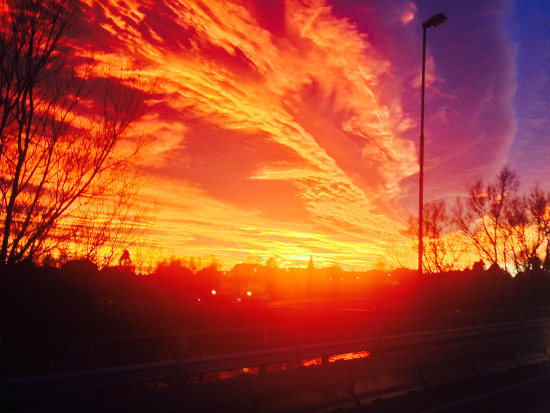 Dear Friends and Prayers:
It seems incredible that it has already been 4 weeks since we returned from Israel! Within an hour after arriving home in Wales we got a call "out of the blue" from a brother from Norway who was visiting a few days in the UK. He felt compelled to pray in Wales, and asked if I could direct him to a few key places. Two days later he stayed overnight with us and visited our both chapel and Blaenannerch. He was seeking to take a deposit of revival fires from Wales back to his home country.
Just a few days ago he sent me this encouraging sign of things to come...
Somehow over the next two weeks we found ourselves with visit after visit. It was all very spontaneous, and just a pleasure to spend time with the saints of God. We love the scripture in Psalms 16:3 that says, "As for the saints who are on the earth,
'They are the excellent ones, in whom is all my delight.'"
Our dear friends Marilyn (with our cat) and Margie are sisters from Pembrokeshire who are missionaries respectively in the Czech Republic and France. We've known them for many years and they are such godly examples of loving and faithful service in the Lord's vineyards. Would you please pray for each of them and their ministries? Also please could you pray especially for their parents, who are both in their 90's and still living at home. Margie has had to stay behind with them due to some difficult health issues with their father just now and they all need some special grace and healing. Thank you.
Then there were another few wonderful and very exciting visits from some local friends, as well as another younger couple, Troy and Andrea from Pennsylvania. They were only with us for a few hours, but wow! What a time we had - such prayers, and testimonies of God's love and patience and transforming power. We could easily have gone on for days, but they had many other places to see and pray.
Needless to say we were very blessed and encouraged their brief visit. They also they brought us a U.S flag which we now have up at the chapel with a few others from the 25 countries where people have come from and prayed with us here. I just heard from them last week saying, "Our revival meeting on Saturday night was well attended by 10 churches of all denominations. Crying out for revival! There were about 300 people in attendance. More Lord!!" There is such a hunger among the nations for a mighty outpouring of God's Holy Spirit and the coming awakening!
Later that last week of August, we drove to the coastal town of Colwyn Bay in North Wales for a small but significant Wildfires Revival Conference. There again we witnessed more of this increasing desire God's intervention in the hearts of men and the affairs of Wales and the nations of the world. The main speaker was Michael Marcel, author of God's Heart for a Dying Land and Prepare for Revival. His teaching was rich with historical narratives of past revivals, and challenging as we look to God for what's ahead.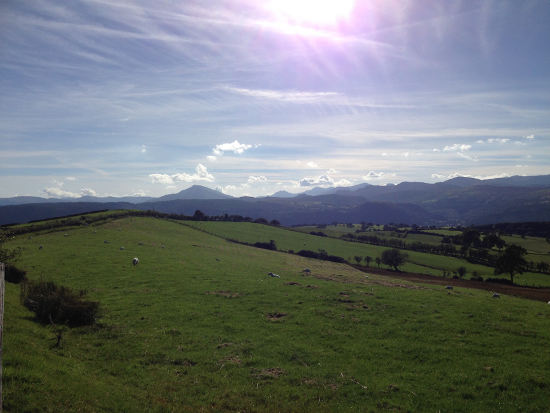 I had been invited to speak at both Sunday meetings to end the conference, and that was a bit of a stretch for me, but God's grace is always sufficient. The word the Lord spoke to me last September about the Kidron Brook was impressed even more deeply in my heart having just been in that very place weeks before, and so I shared that in the morning. I was gratified to learn afterwards that there were more tears than just my own.

The evening meeting flowed much more easily. After showing an old 10-minute video about how the Lord called us here in 2002, it was easy to relate some of the many things we've seen the Lord do over the years: the redeeming of the Bible College of Wales and other properties according to the words of Jeremiah 32:15, wonderful networks of prayers being established, testimonies of God's manifestations, prophetic words, etc. Once I got going it was hard to stop, and when I did, they asked for more! It was such fun, and a great encouragement and stimulus for us all.

The Lord literally put the following verses in my hand to finish off with and empower our prayers in Psalm 22:27-28. "All the ends of the world shall remember and turn to the Lord, and all the families of the nations shall worship before You. For the Kingdom is the Lord's, and He rules over the nations."

Dick & Gladys


------------------------------


Dear Praying Friends:
We are still trying to assimilate all that happened in Israel, and are so very grateful to the Lord for giving us such a wonderful opportunity. I think that one of the most important changes in my heart concerns praying for the peace of Jerusalem and Israel.
As we all know, the main content of international news about Israel for as long as we can remember has been political turmoil and unrest. And so we tend to pray for peace in those terms - for an end to fighting and terrorism, etc. But the only real and lasting peace is that which comes from Jesus, our Prince of Peace. So our most effective prayer is that people come to know Him.
Solomon famously once said, "There is nothing new under the sun." And when it comes to how people groups and nations have related to one another over the centuries, it is the same sad story. The human experience is incomplete and incapable of a lasting peace with one another until there is a heathy fear of and relationship with our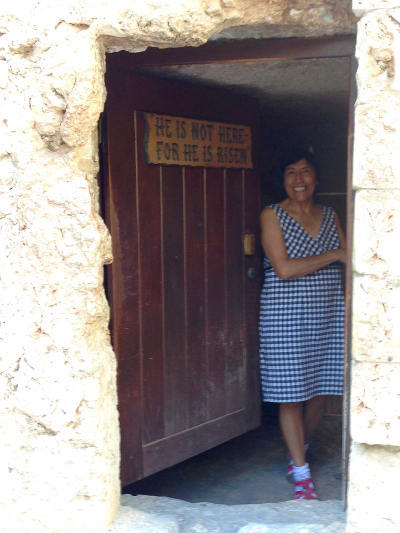 Creator. And that is part of what we came away with on the temporal sphere.

However in the big picture, the eternal realm of things, there is a much brighter and incredibly hopeful message. Jesus has risen, and has told us exactly what that means to us, and any who will sincerely turn to Him, in Juan 16:33. "These things I have spoken to you, that in Me you may have peace. In the world you will have tribulation; but be of good cheer, I have overcome the world."

Again in the words of Solomon, he sums up everything quite well in his final exhortation at the end of Ecclesiastes 12:13-14.
"Let us hear the conclusion of the whole matter: Fear God and keep His commandments, for this is man's all.
For God will bring every work into judgment, including every secret thing, whether good or evil."

Wars and rumors of wars, and discussions and speculations about politics and international relations will undoubtedly go on until the Lord returns.

But meanwhile, what an amazing gift from our loving Heavenly Father that He sent Jesus to be our overcoming and all-righteous savior and King. 1 John 4:10 says, "In this is love, not that we loved God, but that He loved us and sent His Son to be the propitiation for our sins." And through this priceless gift of salvation, we can have peace with God, and eternal life in His Kingdom forever! Now there is something worth talking about and discussing for hours on end, writing about and even singing about!

Bringing that into a very present focus, today I had the opportunity to speak about this with our landlord, Chris. Two months ago I asked you to please pray that we might have an open door to talk about God's words of life and hope. And today was that opportunity, and he was happy to receive prayer as well. He is extremely weak and can't walk, but said he seems to feel more alive internally than before. So please continue your prayers for him and his family. We know that he could still receive a miraculous healing, but even that would be temporary. We are asking for the greater miracle - that he become grounded in God's truth, and so be able to face his eternity with joy, and also the knowledge that his family are on the same pathway to eternal life.

Thanks so much for your prayers.

Dick and Gladys


------------------------------


Dear Friends of Wales Awakening:
We spent our second week in Israel on Mt. Carmel at the 10th Celebration for the Nations, an event that started here in Wales in 2007. It was seven days of intercessory worship together with saints from around the globe.
Anointed worship groups from many nations led each segment, and it was wonderful to see such variety of expressions from different cultures all exalting God's glory and sovereignty, and yet all with one heart to call down revival for the nations of the earth, and especially Israel!
The sounds, the colors and pageantry were majestic. There was a pervasive joy of His presence that was gloriously tangible, and there were many times when the travail of hearts for His visitation to the unsaved was deep and powerful.We knew that the heavens were moved by the worship of God's people in this strategic place.
It was in this mountainous area just south east of modern day Haifa that Elijah prayed his bold prayer in the presence of Ahab and the 850 prophets of demonic false gods. "... Lord God of Abraham, Isaac, and Israel, let it
be known this day that You are God in Israel and I am Your servant, and that I have done all these things at Your word. Hear me, O Lord, hear me, that this people may know that You are the Lord God, and that You have turned their hearts back to You again." 1 Kings 18:36-37
And this indeed was the same plea of our hearts and our worship, that the nations might know that He is God, and there is no other. Acts 4:12 says, "... for there is no other name under heaven given among men by which we must be saved."
The worship itself was spirited and varied. You can see a sample at this video link. And there were plenty of opportunities at meals and other times to meet and fellowship with people from many places. And we ran into several friends we've met over the years. It was also a delight to connect people with one another and see how the love of God just moved so
openly. Prayer flowed spontaneously as people shared hearts and needs, and it was really special to see that happening so freely.
It was also a treat for Gladys and I to see the flag of Guatemala in among the many others. And although there was nobody else actually present from there, on a morning excursion to small monastery built on
the supposed spot where Elijah had his encounter with Ahab and the prophets, we actually met an indigenous couple from Totonicapan very close to where we spent our last five years in Guatemala!

There was much more that we experienced in the two and a half weeks in Israel, and I will follow up with a further update soon, before things happening back home in Wales take over again!

As always, thank you so much for your continued interest and prayers for Wales and the nations. And now with a much fuller heart, we can boldly say, pray for the peace of Israel!

Dick & Gladys


------------------------------


Dear Friends:
It's almost still hard to believe that here we are in Israel! We arrived nine days ago and were very warmly received by our new friends Chaim and Ruthie Singerman at their small Hotel/B&B, the Jerusalem Hills Inn on the western outskirts of Jerusalem. To be outside the bustle of the city itself with such wonderful hosts whose love for Israel is contagious, and biblical knowledge about every place they show us is so insightful, helps make this place a real spiritual oasis, and we can't recommend them highly enough.
I have wanted to visit the Holy Land since I was saved 43 years ago. And now that we are actually here it is almost surreal. Just the experiences of the first couple of hours would fill far more space than I have available here.
At this point we have seen so many things and met so many wonderful people and experienced so much that there's no way I can ever catch up! I hope that these few photos will convey something of the essence of this place, but it just seems like anything that I could say would be a gross understatement.
Our first day out took us to the Dead Sea where you couldn't help but float in the water that is one 1/3 salt and minerals. I knew that it was below sea level but I had no idea it was 1400 feet lower! From this overlook you can get an idea of size and the beautiful colors of this amazing body of water.
From there we visited the nearby Qumram where the famous Dead Sea Scrolls were found in the late 1940s. Quite amazing to look at replicas of parchments written so many centuries ago that provide unequivocal material evidence of the veracity of the scriptures that we have today.
There is an excellent website at this link that you will no doubt find interesting.
Our next stop was at the Jordan River baptism site, one of several proposed by historians over the years. What seems to be the important matter about these places is not so much the specific location but rather what happened here that really counts. And it is precisely what happened here nearly 2000 years ago that continues today happening around the world, changing lives and eternities forever!

At the hotel we met our new friend Zoe, who came along with us on our first excursion. She, along with our friends Stan and Sue who we are traveling with, were all baptized while we were here.

The amazing joy and miracle of salvation and eternal life is the unspeakably glorious fruit of the birth, life, death and resurrection of Jesus our Messiah, Yeshua Hamashiach as he is called here by Jewish believers. This city at the heart several millennia of the turbulent history, and where Jesus will return to rule for a thousand years at the end of the age, makes this land a very special place indeed!.

So let's blend our hearts and prayers with those of the prophet in Jeremiah 22:29 "Oh land, oh land, oh land, hear the word of the Lord!"

Dick & Gladys


------------------------------


Dear Friends:
This morning I was reading in Acts 2:41-42 where we see the wonderful workings of the Holy Spirit on the day of Pentecost. "Then those who gladly received his word were baptized; and that day about three thousand souls were added to them. And they continued steadfastly in the apostles' doctrine and fellowship, in the breaking of bread, and in prayers.
Then fear came upon every soul, and many wonders and signs were done through the apostles.
Now all who believed were together, and had all things in common, and sold their possessions and goods, and divided them among all, as anyone had need."
Now that is a pretty radical change in lifestyle. But it should be because it reflects an even more radical change–the eternal destiny of each person! That is the power of the convicting and transforming work of the Holy Spirit. God's sovereignty can change lives for the better, and forever. And that is the type of revival we are praying for and desperately need.
From time to time questions arise of how churches will handle the influx of new believers when revival really breaks loose here. How will they they be followed up on, pastored and discipled? Are there systems in place and leaders trained and ready? These are important questions. Were the apostles ready back then? Thankfully the Lord had a plan for then, and it is still the same today.
We read in verses 46-47, "So continuing daily with one accord in the temple, and breaking bread from house to house, they ate their food with gladness and simplicity of heart, praising God and having favor with all the people. And the Lord added to the church daily those who were being saved."
What was it what kept the change in people's lives ongoing? In a word–fellowship. That meant worship, teaching, prayer and relationship. There were 12 apostles and about 120 disciples according to Acts 1:15. Several of them had spent daily time with Jesus, and they were empowered by the Holy Spirit to pass on what they learned and lived through fellowship.
As a new believer over 40 years ago, along with many others, it was daily fellowship in an Acts 2 style Christian community that nurtured and prepared us to be followers of Jesus. Many of those friendships are still ongoing and continue to strengthen and encourage us today. (You can view or download the 27 minute documentary at this
link.)

During our time in Wales, we have watched how God is building relationships among leaders and church members in a wonderful way. And we believe it is in this context of the Body of Christ building relationships that the Lord is preparing a great net for the incoming harvest. In this light the much-used term "networking" takes on a wonderful significance. There is a great Family being prepared to take in adopted brothers and sisters in the Lord!

We would like to invite you join us praying for Wales that the Lord continue strengthening bonds of fellowship across this land as it says in Ephesians 4:15-16. "...but [we], speaking the truth in love, may grow up in all things into Him who is the head—Christ—from whom the whole body, joined and knit together by what every joint supplies, according to the effective working by which every part does its share, causes growth of the body for the edifying of itself in love."

Dick & Gladys


------------------------------


Dear Friends and Pray-ers:
This 1806 poster provides some valuable wisdom for our times. Nelson, Duncan and Howe were British war heros, and they gave credit where credit was due. And the conclusion is still articularly significant. One could substitute the names of the nation and the men mentioned for anything else, and the words still ring true.
The dust is still settling here after the UK's Brexit vote to leave the EU, and it will be a long process. Parliament is in the process of electing a new Prime Minister after the incumbent David Cameron's resignation. Now the other major parties have leadership issues as well, so things are very much up in the air.
At the same time, the US Presidential election scene is churning along with lots of waves too, if news reports and Facebook comments are any indication of things. And so on and on the story goes of humanity trying to govern itself without the proper reverence for the Living God and His ways.
"The fear of the Lord is the beginning of wisdom, and the knowledge of the Holy One is understanding" says Proverbs 9:10. Solomon had it right as long as he stayed on course, but sadly he went off the rails like everyone else. And just as he said in Eccesiates 1:9, "...there is nothing new under the sun."
From one viewpoint the whole process of civilization doesn't seem to point to a brighter future. And as one well known phrase puts it, "The only lesson we learn from history is that we do not learn from history." And this is why, as I mentioned last week, we best spend our energies seeking the city "...whose builder and maker is God."
Meanwhile, in the midst of much not-so-encouraging world news, we know that the Kingdom of God is steadily making advances. God's people are seeing fruit of the Gospel in many parts of the world. I mentioned a few weeks ago the activity in Reading near London that has now seen more than 2000 souls come to Christ.
We've also heard the news of recent blessings in West Virginia and North Carolina where hundreds have been saved. And there is other evidence of God's work in such diverse places as France and Tibet.
So as this precious verse says in 1 Corinthians 15:58, "Therefore, my beloved brethren, be steadfast, immovable, always abounding in the work of the Lord, knowing that your labor is not in vain in the Lord." There is much to be encouraged about concerning the Kingdom of God!
Another verse that I found specially significant earlier this week comes from Isaiah 68:9. "'Shall I bring to the time of birth, and not cause delivery?" says the Lord. 'Shall I who cause delivery shut up the womb?' says your God."
On a lighter note, Sunday afternoon we took advantage of a very welcomed sunny day to meet with some friends in Aberystwyth. Afterwards, we went for a walk along the beach
by the south jetty and were surprised to see lots of parked cars and trucks, and hear the sound of some large activity in the distance.

Getting closer we could hear the familiar sound of a race being called over a loudspeaker. Gladys and I worked with the Louisiana Race Track Chaplaincy in New Orleans before moving to Wales, and so were delighted to find a harness racing meet going on by the seaside! For the curious, you can catch the last part of one race at this link. James Brown was feeling good!

As always, thank you for your interest and prayers, and your labor of love for His name's sake. We know that as we continue to work together for the fulfillment of what Isaiah refers to above as "

delivery

", in due time we will see what he says towards the end of the chapter. "

...the time is coming to gather all nations and tongues. And they shall come and see My glory ... they will declare My glory among the nations ... All mankind will come and bow down before Me, says the Lord.

"

Dick & Gladys


------------------------------


Dear Praying Friends:
What a privilege to belong to the eternal Kingdom of God and have Jesus, the Prince of Peace, as our CEO! Meanwhile, here we are just five days after the UK voted to separate itself from the European Union after 43 years, and peace has become a very rare commodity in political circles here. And the rest of the Europe and the business world are still reacting.
A very respectable 72% of the electorate took part in EU Referendum last Thursday, and the "Leave" campaign won with 52% against "Remain"'s 48%. Suddenly it seemed like everything had gotten turned upside down and not left quite as neat and tidy as these rows of hay. It is reminiscent of the hotly disputed U.S. Bush vs. Gore election in 2000.
It is not pleasant to see the nation in such a state, but hopefully things will settle down before too long, and hindsight will show it to have been the right choice. Meanwhile, it serves to highlight that the true welfare we all seek is not to be found in earthly alliances and kingdoms.
Hebrews 11:8-9 and 16 very clearly lays out the correct long-term perspective. "By faith he dwelt in the land of promise as in a foreign country, dwelling in tents with Isaac and Jacob, the heirs with him of the same promise; for he waited for the city which has foundations, whose builder and maker is God... But now they desire a better, that is, a heavenly country. Therefore God is not ashamed to be called their God, for He has prepared a city for them."

Our prayer is that throughout whatever unrest and instability that is still to come, many people's hearts will be turned to seek deeper meaning to their existence than security and comfort in this transitory earthly life. 1 Timothy 2:1-4 is a good guide for our prayers. "Therefore I exhort first of all that supplications, prayers, intercessions, and giving of thanks be made for all men, for kings and all who are in authority, that we may lead a quiet and peaceable life in all godliness and reverence. For this is good and acceptable in the sight of God our Savior, who desires all men to be saved and to come to the knowledge of the truth."

We also have a special request for prayer for our landlord and his family. You may recall that last fall he was diagnosed with cancer, and underwent extensive surgery in December. After what seemed at first a positive outcome, the tumor has reappeared and his condition has deteriorated severely. Both he and his wife prayed with us and accepted Jesus as Lord, but it hasn't gotten any farther than that. Now it seems his days are numbered, unless God intervenes with an absolute miraculous healing. Would you please pray for them, and also that we would now have an open door to minister God's words of life and hope to them?

Thank you very much. May God bless you and your loved ones,

Dick and Gladys


------------------------------




Use these links to see archived updates: