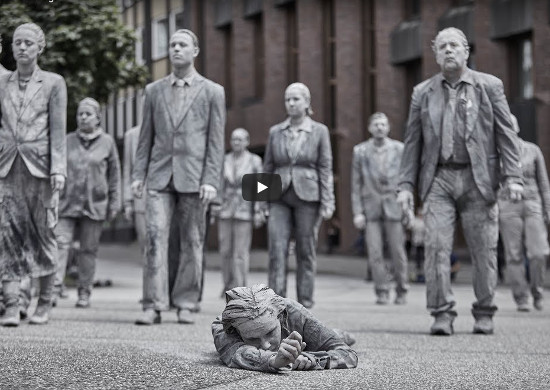 Dear Friends and Prayers:
Last week Gladys showed me this video that a friend had posted last year. It is just a wonderfully vivid representation of what revival is about—lives changed by divine intervention. Interestingly it is a secular production by a German group, about which I know little more than that they are clearly not presenting the Gospel, but it is quite powerful and brought me to tears more than once.
I host of scriptures came to mind, including Colossians 2:13, "And you, being dead in your trespasses and the uncircumcision of your flesh, He has made alive together with Him, having forgiven you all trespasses," and Romans 6:13, "And do not present your members as instruments of unrighteousness to sin, but present yourselves to God as being alive from the dead, and your members as instruments of righteousness to God."
Perhaps one of my favorites is the verse in Job 14:14-15 that says, "If a man dies, will he live again? All the days of my struggle I will wait until my change comes. You will call,
and I will answer You; You will long for the work of Your hands." As we pray for the salvation of loved ones and friends, it strengthens and encourages us to know that the Lord desires their salvation more than we do!
This brilliant theatrical flash mob is good fuel for prayers for revival, well worth taking seven minutes to watch! To watch it just follow this link.
Keep in mind this is not a Christian production, and is far from perfect or complete, but what it depicts is
unmistakable, and the exuberance towards the end is great. But it doesn't hold a candle to what we know as believers in Jesus.

1 Peter 1:6-9, "In this you greatly rejoice, though now for a little while, if need be, you have been grieved by various trials, that the genuineness of your faith, being much more precious than gold that perishes, though it is tested by fire, may be found to praise, honor, and glory at the revelation of Jesus Christ, whom having not seen[a] you love. Though now you do not see Him, yet believing, you rejoice with joy inexpressible and full of glory, receiving the end of your faith—the salvation of your souls."

We hope this blesses you and provokes you to renewed joy and deeper prayers for the lost.

Dick & Gladys


------------------------------


Dear Praying Friends:
Sunday morning found us driving south through the rolling hills of Pembrokeshire farm country on our way to visit a church and meet some friends in Swansea. This view of Carmarthen Bay gleaming in the distant sunshine and the Gower Peninsula in the background obliged me to stop and try to capture it.
We always find that the natural beauty that surrounds us becomes an inspiration for prayers of thankfulness to God for such an amazing creation. And at the same time, we experience a profound longing for the hearts of the people to awaken to the fact we have a loving Father—our Creator who sent Jesus to redeem mankind from our sinful, fallen condition.
So our prayers become a curious mixture of admiration and sorrow. Oh, that men would turn to the Lord on his terms, confess their sins and embrace salvation! That they might discover one of our greatest human joys is worshipping God with a forgiven and thankful heart!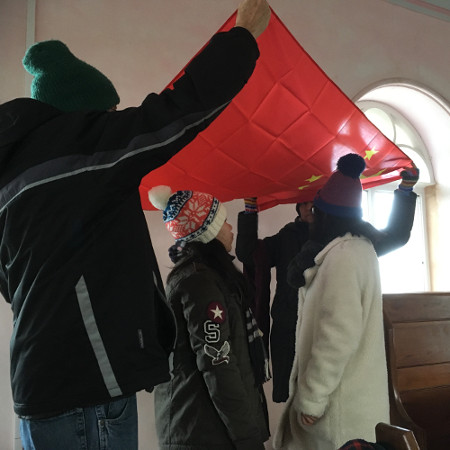 And the parade of nations seems to continue here as well. Last week we enjoyed a special blessing with the visit of two young ladies from mainland China and a dear friend from Singapore. These two are new Christians and it was our privilege to have them with us for a few days and share a few of our experiences and lives with them.
They also brought a flag of China which we have added to our collection, and it was wonderful to be able to pray for them and with them for their homeland. After praying for the flag as representing their country, we had them stand them under its covering and proclaimed the blood of Jesus bring salvation and true freedom for its people from the power of sin and death.
There have been amazing moves of God in China over the years, and there is a huge underground church thriving. But that is accompanied by unrelenting persecution, and the vast majority are still unreached for the Gospel. Jesus said in Luke 21:33, "Heaven and earth will pass away, but My words will not pass away." Kings and kingdoms will all pass away, but God's Kingdom is everlasting. He has paid the price, made a way, and invites all to come in to Him from every tongue, tribe, and nation.
One of the girls picked up this piece of slate on a walk nearby, and painted this figure on it and left it as a gift for us. It is actually a very old Chinese character that means "blessing." It is made up of four parts. The tall symbol to the left means God, the top
right horizontal line means one or heaven, below that the rounded square means mouth or man, and the bottom divided square means garden or field. So all together it shows God and man together in a field in a relationship, which equals blessing.

Sadly, however, most Chinese people don't understand the real significance, it's just a blessing like some sort of good luck. But for us as Christians it becomes yet another reminder to pray for true blessing—that people would receive the revelation of God's Love for them and His offer of forgiveness and reconciliation for all eternity.

This morning I was praying with a friend in the chapel and came across another important area of prayer for blessing in the story of Joseph. Genesis 39 tells how the Lord was with Joseph in Potiphar's house, and prospered all he did. He found favor with Potiphar and verse 6 says, "So he left everything he owned in Joseph's charge; and with him there he did not concern himself with anything except the food which he ate." So we prayed for God's ministers around the world, that they would also find favor and not need to be concerned with things other than being directly involved God's work!

May you also be blessed and find favor in your daily life as together we seek first the Kingdom of God,

Dick & Gladys


------------------------------


Dear Friends of Wales Awakening:
It is always good to watch how the Lord orchestrates things. Just two days after last week's update when I talked about God's light breaking in, this spontaneous event took place in the chapel.
I got a message Friday morning from our friend Helen Burgess from London who was house-sitting for some friends here in St Dogmaels. She had a friend from New Zealand visiting her for few days and wondered if we could meet and have some time to share and pray together before she left in the afternoon.
Of course, we said "yes", and they were knocking at our door not long afterward. Helen's friend Sharon Thorburn has been on a fascinating journey with the Lord. Her assignment is to carry this simple but ornate "torch" to many nations and light it in places where God directs her as a prophetic act—a declaration that His light be released to shine through his family, the church.
As you might well imagine she was surprised and blessed to find the flags of so many nations in a chapel tucked away in the farmland of West Wales. And I was equally surprised when she asked me to light it. As I prayed before actually striking the match I found myself overwhelmed by a sense of profound and tearful joy and release. It was as if this very act was clearly marking a turning point and a culmination nearly 19 years of intercession for Wales. This tiny candle in the brightness of the chapel in full daylight seemed insignificant, but in this context it was brilliant!
So yet once again we found ourselves astounded at how the Lord is moving people to and fro among the nations, and connecting people from such diverse places and backgrounds. In many cases those connections may be just a one-time interchange, but they are fulfilling His plans and purposes as Paul says in Ephesians 4:16, "from whom [Christ] the whole body, joined and knit together by what every joint supplies, according to the effective working by which every part does its share, causes growth of the body for the edifying of itself in love."
Another aspect of this "coincidental" meeting was that Sharon has been carrying this banner from Mongolia with her into the many nations she has visited. During the past several years Gladys has become interested in and praying for Mongolia. And now the Lord had brought this beautiful banner from the Christians in Mongolia right into our door! It was powerful for us to pray for them, and also to pray underneath it as a gesture of togetherness with them and others where this has been.

It bears the verse from the Song of Songs 8:6, "Set me as a seal upon your heart, as a seal upon your arm; for love is as strong as death, jealousy as cruel as the grave; its flames are flames of fire, a most vehement flame."

This is a pretty harsh sounding scripture, but not as harsh as the price Jesus paid for our salvation on the cross. And as the times we live in grow darker and unfriendlier to the Gospel, it becomes more important that we surrender more of our lives to His purposes for the benefit of others around us. It is a matter of life and death.

"Or do you think that the Scripture says in vain, 'The Spirit who dwells in us yearns jealously'?" James 4:5

Dick & Gladys


------------------------------


Dear Friends and Prayers:
We have seen more wind and rain since coming home than we have of the sun, and especially over the past weekend, there were very heavy rains. But happily it is not getting dark until about five now, and that means we are headed in the right direction.
Speaking of darkness, I was reading the other morning about Jesus and the blind men in Matthew 20:30. "And behold, two blind men sitting by the road, when they heard that Jesus was passing by, cried out, saying, 'Have mercy on us, O Lord, Son of David!'" They too were headed in the right direction. They cried out!
These men had obviously heard about Jesus and his power to heal, so when they learned that he was so close to them, they began to holler. That really struck me, and I began to realize how so many people in the world around us have a hunger for something more in their lives, some deeper significance to their existence. They may know something about the concept of God, or have even heard the Gospel, but don't believe, and so don't cry out. Then in the next verse 31 it says, "Then the multitude warned them that they should be quiet..." And so it is in today's world–the idea of believing in God is frowned upon in our "enlightened" age. How many people who might like to "cry out" are held back by peer pressure and shame.
I found myself deeply moved in prayer, asking the Lord to enable people to "cry out" to Him in spite of resistance from within and without. Just as the sun broke through the clouds to light up the muddy waters of the Teifi River as they flow into the sea, God's Sonshine can light up the darkened lives of the lost. Just as we now embrace the hope of the ending of winter, there is a far greater hope in Christ.
And just as the blind men had heard of Jesus' fame, with our prayers we should be crying out for a greater manifestation of the "light of life". The scripture says in Isaiah 9:, "The people who walked in darkness have seen a great light; Those who dwelt in the land of the shadow of death, upon them a light has shined."
Jesus said in Matthew 5:14, "You are the light of the world. A city that is set on a hill cannot be hidden." And so another huge goal for our prayers is that we, both as Christ's church and as individuals, be willing to ask the Lord to make adjustments in our lives that allow His light to shine freely through us. In short, we are called to discipleship. And it is our challenge to find out what that means for each one of us on a day-to-day basis.
Monday night Glady and I attended the annual Teifi Pastors dinner. We are a group of folks from different churches in the area that take turns on Saturday nights to go out on the streets of Cardigan to let our light shine into some dark places. It was a joy to hear testimonies of things God has done over the last year. This practical outreach has been going on seven and a half years now and has been a blessing to many people.
This is just one small way that we can reach out with God's love, but there are many, many more. In fact, there are as many ways of reaching out to those around us as there are of us, individual believers. We each have gifts and abilities that God has given us, and relationships in which to exercise them.
He wants to show His love for every person in this broken world. And His plan is to do it through each one of us every day of our lives.

We don't have to go out and take on huge tasks or missions. We just need to ask the Lord to guide us in small ways to show His love to others. It helps to remember that this is His idea, and not ours. And He is the one that empowers us to do them. Small "acts of random kindness" are not very hard. And little by little they add up to make a difference around us. Just like one single little bulb poking its first leaves up through the soil may not seem significant, but time and numbers will make for a colorful spring.

Ephesians 2:10 is a great portion of God's word to keep foremost in our hearts and minds. "For we are His workmanship, created in Christ Jesus for good works, which God prepared beforehand that we should walk in them." Our daily prayer should include asking for His guidance to know what each day's good works are, and the strength to carry them out with gladness and simplicity of heart.

May God's light shine brighter through you with each passing day,

Dick & Gladys


------------------------------


Dear Praying Friends and Saints:
We've been home for a week today, and the fact that we made a quick trip to the US seems like a dream. As we took off from New York's JFK Airport I found myself overwhelmed by emotions, almost as if we were leaving to establish our lives here for the first time.
As we left country and family behind, for several minutes it seemed so hard all over again. And yet this adventure of faith the Lord has given us here for the coming revival in Wales has been nothing short of amazing. And we know that the best is yet to come!
Shortly afterward I ran across these words of 20th-century missionary Jim Elliot who famously wrote in his diary, "He is no fool who gives what he cannot keep to gain that which he cannot lose."
Thoughts like these help us keep our focus on the big picture. And as Paul says in Philippians 3:7-8, "But what things were gain to me, these I have counted loss for Christ. Yet indeed I also count all things loss for the excellence of the knowledge of Christ Jesus my Lord, for whom I have suffered the loss of all things, and count them as rubbish, that I may gain Christ." And he also says in 2 Corinthians 4:17, "For our light affliction, which is but for a moment, is working for us a far more exceeding and eternal weight of glory."
This little robin let me get very close yesterday to take its picture as if he too understands the principle of risk vs. reward. He was perhaps hoping for a handout, but instead, all he got was a smile and a digital trip around the world. But our "risk", as some might see it, is not really a risk at all because God's promises are rock solid.
My walk just over a week ago by the tidal marsh off of the Long Island Sound was about 30ºF (17ºC) colder than our stroll through the Teifi Marsh yesterday. It is definitely still winter here, but nothing like the cold there. Gladys was happy to go walking here yesterday, but the hard winter in New York and Connecticut was a different story!
As we look forward to this new year, we know the Lord is the one who makes the plans, and we are always happy and blessed to follow His lead. We surely will continue to receive visitors from the UK and abroad
that also long to see revival where they live. People who have learned about God's interventions in Wales over the last several centuries are always blessed and inspired to actually visit the places where they happened. And directing or taking them to these old spiritual wells is one of the things we particularly enjoy.

(Speaking of the history of revivals in Wales, I have published a few resources on a page on our website at this link, Welsh Revival History. I intend to add more items in the coming months, so do check back from time to time. Also, if you would like to suggest an addition, please feel free to let me know about it, thanks.)

Apart from this, we only know that we can expect more good things. We are getting closer and closer to the goal for which the Lord brought us here. And we look expectantly ahead as Paul's words express with such wonderful encouragement in Ephesians 3:20-21, "Now to him who is able to do immeasurably more than all we ask or imagine, according to his power that is at work within us, to him be glory in the church and in Christ Jesus throughout all generations, for ever and ever! Amen."

Thank you for your continued interest and prayers for Wales and our mission here. Many blessings in Jesus' name,

Dick & Gladys


------------------------------




Use these links to see archived updates: