Dear Friends of Wales Awakening:
Saturday morning we went to the Brecwast Gweddi Sir Benfro, Pembrokeshire Prayer Breakfast. We've been to several prayer breakfasts here, both local and national, over the years. However this is the first time that one has been held specifically for the Welsh-speaking Christians here in their own language.
There were nearly 200 in attendance and it was wonderful to see such a good turnout for this first-time event! It was also nice to find several friends and others we've met before, and of course to meet new people as well. I am not a fluent Welsh speaker by any means, but people appreciate that we're making an effort.
For some time now I've been feeling the desire and need to take up studying Welsh again, and this event came at a perfect time. After breakfast and a time of worship, we were lead in prayer for local government,
education, health care, Brexit's impact on Wales, etc. Then there was a short message that seemed excellent. I have to say seemed because I only understood about 20% of it, and perhaps that's a wishful estimate!
Just a few weeks before the breakfast I received an email about an online program that promises you'll be speaking Welsh in six months which I was seriously looking at. And then Saturday night I received word about a gift to pay for the course. So I started on Monday!
I went to classes for our first 5 years here but never was able to get to the point of actually being able to converse. I can get one or two phrases into a conversation before having to revert to English. Although Gladys didn't get as far with the classes as I did, she is much bolder than I am about using what she knows.
Everyone here is fluent in English and it is just faster and easier to go that route. But I've learned from being fluent in Spanish for so many years that there is something about a person's mother tongue that is just more natural and effective. So we're looking at a minimum of four hours a week of studying, and we'll be on the lookout for opportunities to practice with friends that have the patience. Your prayers for this undertaking will be much appreciated!
Speaking of studies, the other day we had the opportunity to meet the
newest batch of students at the Bible College of Wales in Swansea. They had just finished the first week of their 12-week course and we could sense their joy and excitement. It is always encouraging to meet these mostly young people who are serious in their desire and dedication to serve the Lord, either in missions or their own nations. This group comes from the United Kingdom, USA, Ukraine, Philippines, Malaysia, and Singapore.
Please pray that the Lord would maximize their time here in Wales, enrich the depth of their relationship with Him in a life-changing way, and empower them to carry out His plans for each of them in this needy world. Please pray also that they would clearly hear God speak to their hearts about any specific assignment He has for them. I spoke briefly with a couple of them whose hearts are set on missions.
Also last week we had the wonderful surprise of an all-too-short overnight visit with our very dear friends Janet and Kristen from the USA. We first met back in 2010 and have been a wonderful encouragement and prayer support for us ever since.
They are involved with a great international ministry called Community Bible Studies, and they travel frequently to Wales to teach and support the group leaders here. Along with others they have been instrumental in helping many of these study groups get established in Wales. One special fruit of their labors are study materials in Welsh for native speakers, and there are even small home groups studying the Bible in Chinese and Russian!

So as we continue with our specific assignment here, we are constantly blessed and urged onwards by the many other things we see going on around this little country we call home. And as always, thank you very much for your continued interest and prayers for us and Wales. And we want to bless you and encourage you in your part of God's action where you are as well.

Pob bendith yn enw Iesu mawr!

Dick & Gladys


------------------------------


Dear Friends and Prayers:
The other morning I was reading through 2nd Corinthians chapter 2. At the end of verse 16, it says, "...And who is sufficient for these things?" I was stopped in my tracks and began to weep, and then worship. What a sobering question...
Here's more of the context. "For we are to God the fragrance of Christ among those who are being saved and among those who are perishing. To the one we are the aroma of death leading to death, and to the other the aroma of life leading to life. And who is sufficient for these things?" 2 Corinthians 2:15-16
As believers we are called to live in such a way that we exude, display openly and strongly, the love of Christ to everyone around us. What an incredibly privileged and impossibly bold assignment we have all been given. And so, just how do we measure up before such a daunting task? Help us, Lord!
Then in 2 Corinthians 3:6-8 we find our answer and place of rest. "And we have such trust through Christ toward God. Not that we are sufficient of ourselves to think of anything as being from ourselves, but our sufficiency is from God, who also made us sufficient as ministers of the new covenant..." He is our relief, our rescuer, and our source of trust and strength. He is all we really need!
We've had some pretty wild weather recently. Parts of Wales and the UK, as well as most of Europe, got huge amounts of snow from a storm they were calling "the beast from the east!" It was beautiful but very cold for this area. We couldn't get out for a couple of days, but people in other places had it far worse. Last week it was just above 20°F, or -7°C. We were very thankful for a cozy house and a wood stove to keep us warm.
Inside the chapel, it was a different story because we only put the heaters on for the monthly service. I remembered there
is a thermometer in the communion table and took this picture Saturday morning. As you can see here it has been literally freezing inside, so we are particularly grateful to have our little heated "tabernacle" during the cold part of the year, usually from late October through early May.

I thought this scripture I have used as a background was an appropriate reminder of our need to stay as close to Jesus as possible, and moreso in the days we're living in. He indeed is our sufficiency, but we need to stay close to Him, just like we stay close to a wood stove on a cold day!

This is also a good direction for prayer for the church worldwide. For Christians in the many nations where hardship or poverty are part of everyday life, dependency on the Lord is necessary and natural. But in the more developed countries where life is easier, keeping that awareness is not so easy. We should earnestly pray that all the church be so sufficiently clothed in Christ that His fragrance is evident to all those around, and many people be drawn to eternal life in Jesus.

May the blessing of God's presence be your warmth and joy,

Dick & Gladys


------------------------------


Dear Praying Friends and Saints:
I sent this email five years ago titled as Extraordinary Welsh and Mississippi Connection. It seems good to just send it again!
Today is St. David's Day. Born at the end of the 5th century, he was the founder of a Celtic monastic
community and widely recognized as a teacher and ascetic. He was recognized as the patron saint of Wales during the Welsh resistance to the Norman invasion, and this day is widely celebrated around the principality.
It also means the beginning of spring is just around the corner, which is good news for everybody. We have several farmer friends who get especially busy this time of year with longer than normal hours of lambing season.
All of the extra work is very rewarding as hundreds of ewes are bulging with and spilling out new life into the world of sheep. This one had FOUR lambs and requires some extra care and help! If you would like to sample the sights and sounds - we'll spare you the smells - you watch a short video here.
We've had a very full and exciting week hosting three visitors. Last year, (2012), we mentioned our dear friend Brenda who the Lord sent as an intercessor to France. She is on the lower left, with two new intercessor friends, Sue behind her and Jackie beside Gladys. How the Lord orchestrated this get-together an amazing story. We first heard from Sue in December saying how God had lead her to accompany her friend Jackie to Mississippi in an extraordinary way, and that they had been given "seeds of transformation", verses of scripture, to plant in the U.K. as a prophetic act.
Her research about the Welsh Revival led her to our site, and she was impressed to meet with us and to plant the "seeds" at the chapel where we pray. While coordinating a date to visit, Jackie was in France and "God-incidentally" ran into Brenda at a prayer gathering, They were amazed to discover that they were both going to be in our home in Wales on the same dates!

Needless to say, we had a wonderful time enjoying the Lord's handiwork and marveling at how this all came together so effortlessly. What a mighty God we serve.

Among the scripture seeds we planted was this portion from Isaiah 62:12 which says, "And they shall be called The Holy People, The Redeemed of the Lord; And you shall be called Sought Out, A City Not Forsaken."

We believe this is very significant in how it relates to Wales. In spite of the apparent weakness and irrelevance of the church to the current world culture, the coming revival will transform this land at its heart. People from around the world will once again seek out what God is doing here and take the seeds of revival and transformation back to their own nations! (The 2013 update ends here.)

Now in 2018 and looking back again, we see God's continued faithfulness and are filled with thanksgiving and praises,

Dick & Gladys


------------------------------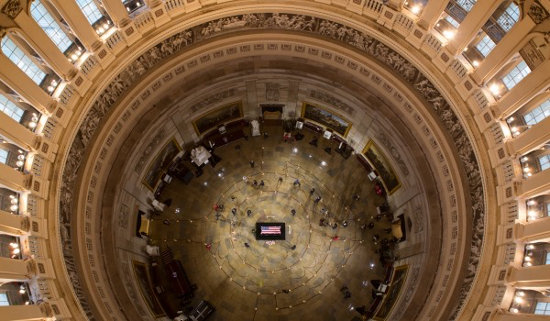 Dear Praying Friends and Saints:
It seemed almost unbelievably good news when I heard yesterday that the body of renowned American evangelist Billy Graham will lie in honor at the Rotunda in the US Capitol tomorrow February 28. Only 33 Americans have been honored this way in our nation's history, and Billy Graham will be only the fourth private citizen, along with some former Presidents and other government officials.
In the eyes of some, this may just seem like a nation honoring a good and worthy man. But I believe it is far more than that. Just as Billy Graham honored God with his life, America is actually honoring the God that Graham served for a lifetime, proclaiming the Gospel of Jesus Christ.
At least for tomorrow, America is letting her
light shine out. This is a national declaration proclaiming, "For I am not ashamed of the gospel of Christ, for it is the power of God to salvation for everyone who believes, for the Jew first and also for the Greek." (Romans 1:16) We pray that the nations of the world take notice.
A Welsh friend of ours had a rare opportunity to pray out loud in a small private gathering in the Rotunda in late 2016. He told me that part of his prayer was this verse from Habakkuk 3:2, "LORD, I have heard of your fame; I stand in awe of your deeds, LORD. Repeat them in our day, in our time make them known; in wrath remember mercy." I think this event is part of the Lord's answer to that prayer, and countless others as well. Oh, that the world would take note of His fame!
Jesus said in Mathew 5:14-15, "You are the light of the world. A city that is set on a hill cannot be hidden. Nor do they light a lamp and put it under a basket, but on a lampstand, and it gives light to all who are in the house." There may be fleeting opportunities to do this as a nation, but as followers of Jesus we are called and empowered to do this throughout our lifetime.
Gladys and I have had plenty of company lately, so some of our prayer times have been wonderful. Our friend Rita from South Africa came to stay with us ten recently, and during her time with us the Lord spontaneously orchestrated this little group representing five nations: Emyr from Wales, our neighbor Sue from England, Gladys from Guatemala, Rita from South Africa and myself from the USA.
As we continue to pray and cry out to God for revival here, we are very much aware that His company of intercessors is growing. Just yesterday morning, for example, we had the opportunity to pray with a small group in Swansea that some old friends have recently started. He is calling people into a more earnest place of prayer,
not just in Wales and the rest of the UK, but throughout many lands around the world.

We are constantly hearing from people who are being drawn to here to pray and then return to their own countries with a "deposit" of Welsh coals of revival. And others are drawn to move here and are being woven into the fabric of prayer that God is developing across the land. And this is just one small country.

We know that God is at work as we see the pace and intensity of prayer pick up around the world, and these are just the ones that we hear about. We are living in challenging and exciting times, and we keep looking to Jesus, the author and the finisher of our faith. We want to bless you and thank you as you continue to add your prayers to this great international concert of prayer for revival and for the lost.

Dick & Gladys


------------------------------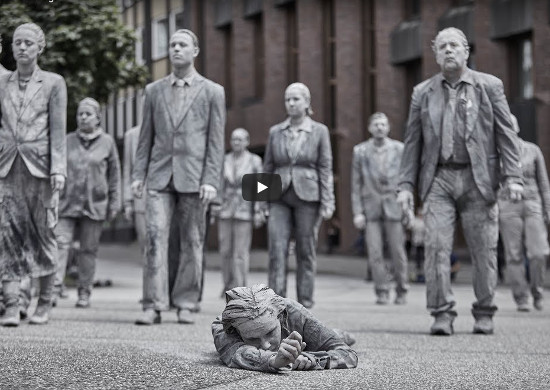 Dear Friends and Prayers:
Last week Gladys showed me this video that a friend had posted last year. It is just a wonderfully vivid representation of what revival is about—lives changed by divine intervention. Interestingly it is a secular production by a German group, about which I know little more than that they are clearly not presenting the Gospel, but it is quite powerful and brought me to tears more than once.
I host of scriptures came to mind, including Colossians 2:13, "And you, being dead in your trespasses and the uncircumcision of your flesh, He has made alive together with Him, having forgiven you all trespasses," and Romans 6:13, "And do not present your members as instruments of unrighteousness to sin, but present yourselves to God as being alive from the dead, and your members as instruments of righteousness to God."
Perhaps one of my favorites is the verse in Job 14:14-15 that says, "If a man dies, will he live again? All the days of my struggle I will wait until my change comes. You will call,
and I will answer You; You will long for the work of Your hands." As we pray for the salvation of loved ones and friends, it strengthens and encourages us to know that the Lord desires their salvation more than we do!
This brilliant theatrical flash mob is good fuel for prayers for revival, well worth taking seven minutes to watch! To watch it just follow this link.
Keep in mind this is not a Christian production, and is far from perfect or complete, but what it depicts is
unmistakable, and the exuberance towards the end is great. But it doesn't hold a candle to what we know as believers in Jesus.

1 Peter 1:6-9, "In this you greatly rejoice, though now for a little while, if need be, you have been grieved by various trials, that the genuineness of your faith, being much more precious than gold that perishes, though it is tested by fire, may be found to praise, honor, and glory at the revelation of Jesus Christ, whom having not seen[a] you love. Though now you do not see Him, yet believing, you rejoice with joy inexpressible and full of glory, receiving the end of your faith—the salvation of your souls."

We hope this blesses you and provokes you to renewed joy and deeper prayers for the lost.

Dick & Gladys


------------------------------




Use these links to see archived updates: