Dear Praying Friends:
During the long and very wet winter, there must have been a lot of people praying for the rain to stop. We have had one of the longest dry spells since we've been in Wales, and have seen more sunshine and hot weather than we can remember here. But not it's all good news, especially for the farmers.
The Teifi River usually runs with a healthy amount of water, but the low water level is very evident here at Cenarth Falls just upstream from where we live. The photo below was taken from close to the same spot in the springtime a couple of years ago, so you can see what I mean.
When we saw this the other day, Psalm 63:1 quickly came to mind, "O God, You are my God; Early will I seek You; My soul thirsts for You; My flesh longs for You In a dry and thirsty land Where there is no water." Now many people that were praying for dry weather not so long ago are now longing for some rain!
In the natural realm, changes come with the seasons. But the spiritual drought here has dragged on for far too long. The overall influence of the Gospel has been on the wane since the war years of the 20th century. Many unused old chapels and churches continue to be converted into private dwellings or put to commercial uses, while others are just abandoned and left to ruin.
So this scene is a good reminder for serious prayer. Happily, we do see evidence of change, and many of God's people are encouraged, but the need for an outpouring of God's Spirit is massive. Words like these in Isaiah 44:2-4 are great fuel for prayer. "...Fear not, O Jacob My servant; And you, Jeshurun, whom I have chosen. For I will pour water on him who is thirsty, and floods on the dry ground; I will pour My Spirit on your descendants, and My blessing on your offspring; They will spring up among the grass like willows by the watercourses."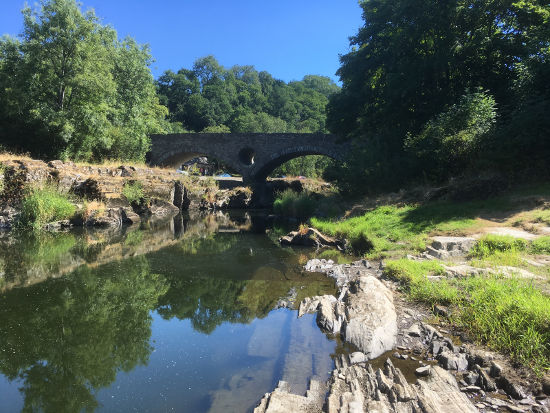 God's many promises throughout the scriptures are an enormous source of strength, and keep us going and keep us on track. We don't depend on what we see around us but rather we depend on what God's word says. And we learn to be patient and to rest in the fact that the times are in His hands, and not ours!
This photo from just below the falls shows again how low the water is just now. A few years ago the water was so high that it reached the tops of the arches and was running through the "eye" in between them. That was put there to help ease the pressure against the structure when the river is at flood stage.
In a similar way, we know that as God continues to prepare the land here for the coming revival, and that He is also building structures into the church that will hold firm when things really get going. Networks of prayer being established and more people are getting involved, healthy relationships are being developed across denominational lines in the church, and different groups are working together on projects to serve communities and wider areas across the nation.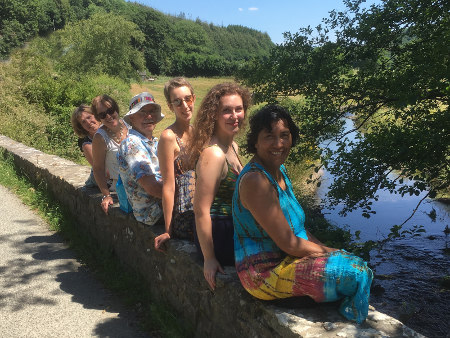 The first Tuesday of each month is the Ffald-y-Brenin Prayer Day. The time of worship yesterday morning was exceptional and went on uninterrupted for longer than usual. This provided more evidence of a growing hunger for the coming move of God, and His response was the sweet lingering of His presence during the long silence after the music stopped. It is exciting to see that as the desire to be with Him increases, and we make our time available to Him, so do the precision and the power of our prayers increase through the grace that He imparts.
During the noon break, we walked down to this little bridge over the Gwaun River with some friends and enjoyed our lunch in the shade and the warm breeze above the murmuring water below. It wasn't quite as wonderful as His presence had been with us earlier, but almost!
In your own prayers in the coming days for our needy world, remember the words of Isaiah 55:1 that say, "Listen! Every one who is thirsty, come to the waters. And you who have no money, come, buy and eat. Come, buy wine and milk without money and without price." (NLV) As we draw ever closer to Him, we can ask boldly that many would come to know His great love and plan of salvation.
Dick & Gladys