Dear Friends and Prayers:
Wow, the past two weeks of this best Welsh summer in forty years has flown by incredibly fast. Temperatures have started to cool off slightly now, and thankfully we've gotten some much-needed rain. And in the midst of so many goings-on, I've attempted to write a few times but it just hasn't happened until now.
The photo was taken last Monday when we had a spontaneous meeting at the chapel of folks that wanted to hear the story of how the Lord brought us here. There was a small group from Iris Ministries Harvest School of Missions doing their prayer and intercession outreach here, hosted by our friends Stan and Sue next door. Our friend Alan from North Wales brought three visitors from the US, and we also had another couple from Idaho that we had just met the week before.
Telling the story of how the Lord brought us here is always a good way to keep our focus clear. When people hear some of the details of how God showed us His plan for this coming great revival in Wales, and arranged things to enable us to move here, they are amazed and encouraged. And so are we! (I made a 30-minute video of our story if you'd like to watch it here.)
It is important for each of us to remember how God has called us, and to what. When we read how Paul exhorts his disciple in 2 Timothy 1:5-6, "...when I call to remembrance the genuine faith that is in you... therefore I remind you to stir up the gift of God which is in you through the laying on of my hands...", it is a good exhortation for ourselves as well. And we find ourselves amazed once again at the gift and privilege it has been for us to be here praying for Wales and the nations.
As I arrived at the chapel to prepare for our guests, I felt the Lord speak the word "commissioning" to me. And again as I parked the car I heard a second time, "commissioning." By the time I had finished telling our story, it seemed clearer what this meant. In the first place, God has called each of us believers into His harvest as co-missioners—co-laborers with Him. And He is the one that does all the work, and we are like a co-pilot or an observer. Our part is to stay close to Him, and He does all the rest. This is the only way The Great Commission can only be carried out successfully.
In the second place, God calls us to be co-missioners with one another. In 1 Peter 2:5 He says, "...you also, as living stones, are being built up a spiritual house, a holy priesthood...", belonging to one another as we belong also to Him. We are all on the same team. And so our stories and testimonies serve to encourage and build us up as we open our hearts and share with one another.
The previous weekend we a great opportunity to do precisely that. We had been invited by a dear old friend to the annual gathering of the UK branch of The Fellowship Network, where we found several old friends and made many new ones. And the main emphasis was just to be encouraged and challenged by one another's stories.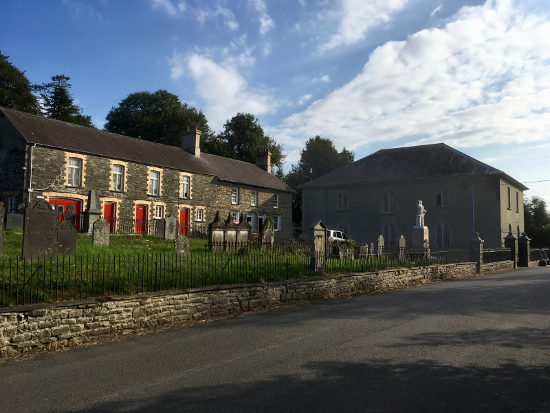 Last Sunday we had the privilege of taking the group from the Harvest School to the very remote old chapel in Soar-y-Mynydd, near Tregaron. A friend of ours was preaching there, and it was fun to take the group to experience a traditional Welsh-language service. It was there when in 1779 Daniel Rowland had a transforming encounter with the Holy Spirit. Then after a marvelous visit with our pastor friend and his wife in their home, we went on to Daniel Rowland's own Gwynfil Chapel in Llangeitho where revival broke out and blazed across many parts of Wales in the 18th century.
Among the many others we've met in recent weeks, one thing that stands out is an increased dedication to prayer and a hunger for the coming outpouring of God's spirit both here and abroad. The pace seems to be gradually picking up, and we are thrilled to be here for such a time as this.
Thank you for your continued interest and prayers, and may God bless you mightily with more of His presence and anointing in your lives and may He spill out through you into the people whose lives you influence.
Dick & Gladys