Dear Praying Friends and Saints:
One of our readings this morning was the beginning of Luke's gospel when Zacharias' speech is restored and he prophesies over his infant son John (the Baptist). Luke 1:77-79 says, "To give knowledge of salvation to His people
by the remission of their sins, through the tender mercy of our God, with which the Dayspring from on high has visited us; to give light to those who sit in darkness and the shadow of death, to guide our feet into the way of peace."
The Holy Spirit was apparently drawing in part from Isaiah 9:2, "The people who walked in darkness Have seen a great light; Those who dwelt in the land of the shadow of death, Upon them a light has shined." These verses just highlighted the contract of the light overcoming the darkness in the world around us.
Two conversations this week impacted both Gladys and I. Monday we spoke with a couple of nurses, both middle-aged and very nice and attentive. They asked the inevitable question, "What brought you here to Wales?" Haha, such a loaded question and people are always
surprise by the answer. Then the next morning two 20-something telephone/internet technicians came to the house and asked the same question. We love it because the absolute answer is the message of the Gospel!
What is so surprising is that these four, and most unsaved people we talk to, have no idea that they are living in darkness and the shadow of death. In fact, when we tell about Jesus bringing us the gift of forgiveness of sin, and living forever in his heavenly Kingdom with our loved ones, it's like we come from a different planet and speak a different language! They can't seem even relate to such a marvellous hope.
Last week I had a blood test, and the nurses and another much older patient asked the same question. When I told them, with they said, "Nobody believes in that stuff any more!" When I asked what they thought about eternity, one of the young techs said, "I'll just take my chances." So even though people recognize that physical death, "the inevitable", comes to everyone, the possibility of something more to life seems to be of zero interest or concern to them. So this shadow of death is invisible to them, when it should be more frightening than having an undiagnosed cancer.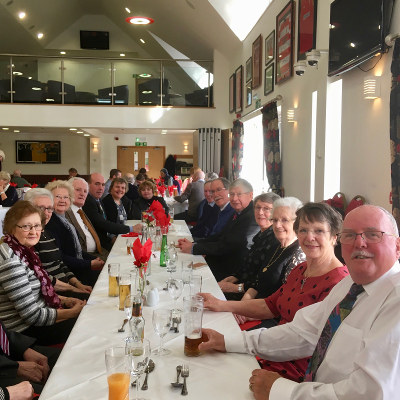 Last Sunday after our monthly chapel service we went to a lunch organized for the members to celebrate our pastor's 80th birthday! I think the youngest ones are in their late 40s or early 50s, and the rest of us toward the upper end of the spectrum here. We may not be a very charismatic group in that all we talk about is Jesus. However there is an unspoken understanding that we all embrace the same wonderful faith in Him. That in itself is priceless in comparison to the other conversations mentioned above.
Jesus teaches about the work of the Holy Spirit in John 16:8, saying, "And when He has come, He will convict the world of sin, and of righteousness, and of judgment: of sin, because they do not believe in Me; of righteousness, because I go to My Father and you see Me no more; of judgment, because the ruler of this world is judged."
This stark reality of darkness versus God's amazing Light is one of the many reasons why we pray. And in Jesus' own words we see the importance of asking Him to send the Holy Spirit to "convict the world of sin, and of righteousness, and of judgment."
May God grant us diligence and passion in praying and sharing the Good News with His help and strength,
Dick & Gladys
Dear Friends:

Yesterday afternoon I took advantage of some sunshine to go for a walk beside the Teifi River that runs in the gorge below our house. Not far upstream is the old ferryman's cottage, long since abandoned after a much longer history back into the 1800s or earlier. The old walls were capped years ago to prevent further deterioration.
This place has always fascinated us, and yesterday was no different. But as I gazed at it I began to see it as a picture of the Lord's house. We build houses with a good roof to protect us from the elements. But the Lord makes His house for us to be open to the heavens! He himself is our shelter and doesn't want us putting up any barriers.
I believe the Lord has a specific "house" for each one of His children—a secret place where we can meet together alone. Psalm 91:1 says, "He who dwells in the secret place of the Most High Shall abide under the shadow of the Almighty." So who needs a roof when we are in His shadow? And we are invited to, "... come boldly to the throne of grace, that we may obtain mercy and find grace to help in time of need" in Hebrews 4:16. That means
come without pretext, without excuses, but just as we are, into His presence.
Jesus also talks about this plainly in Matthew 6:6, "But you, when you pray, go into your room, and when you have shut your door, pray to your Father who is in the secret place; and your Father who sees in secret will reward you openly." He has a special place for each one of us—it is in His presence. It can be in a room, in a wood, on a train or bus, or even just closing our eyes, anywhere, anytime. (Here are a few more words about that place!)
A little farther upstream I sat for a while in another favorite spot where there is a sense of perfect peace and stillness. It's very similar to a place by the river where I grew up and wandered frequently as a boy. I could just sit and be enveloped in silence and wonder at God's creation—another one of those secret places. At a prayer meeting this morning I heard the Lord say, "Speak to Me in the secret place. Seek Me in the secret place. Give me your cares in the secret place, and just rest with Me." He... is our hiding place. And we... are His secret place! "My Father will love him, and We will come to him and make Our home with him." John 14:23
And it is in this secret place where we can pray for the things that are on our hearts, but more importantly, where we can listen and pray with Him for the things that are on His heart! He longs for the world to know His love and mercy.
And there is a great chorus of prayer and longing surrounding us in nature itself. All of creation is crying out with us and for us!
The portion in Romans 8:19-27 paints an extraordinary picture. "For the earnest expectation of the creation eagerly waits for the revealing of the sons of God... Because the creation itself also will be delivered from the bondage of corruption into the glorious liberty of the children of God... We do not know what we should pray for as we ought, but the Spirit Himself... who searches the hearts knows what the mind of the Spirit is, because He makes intercession for the saints according to the will of God."
So it is God's good will and pleasure that we abide in the secret place of communion and prayer in His presence. It can be as easy and as natural as breathing. After all, this is what we were made for since the beginning!
As Paul reminds us in Ephesians 1;1-6, "Blessed be the God and Father of our Lord Jesus Christ, who has blessed us with every spiritual blessing in the heavenly places in Christ, just as He chose us in Him before the foundation of the world, ...according to the good pleasure of His will, to the praise of the glory of His grace, by which He made us accepted in the Beloved."
May we all be empowered by the fulness of joy in His presence as together we pray for revival in Wales and the nations.
Dick & Gladys