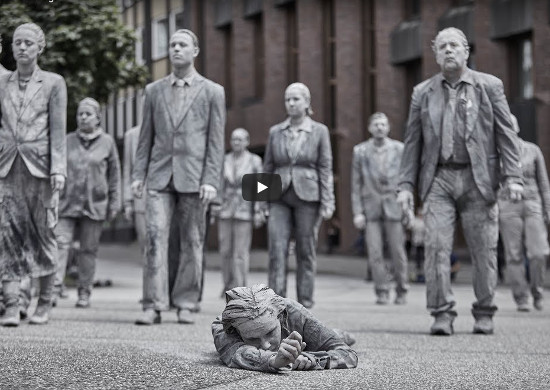 Dear Friends and Prayers:
Last week Gladys showed me this video that a friend had posted last year. It is just a wonderfully vivid representation of what revival is about—lives changed by divine intervention. Interestingly it is a secular production by a German group, about which I know little more than that they are clearly not presenting the Gospel, but it is quite powerful and brought me to tears more than once.
I host of scriptures came to mind, including Colossians 2:13, "And you, being dead in your trespasses and the uncircumcision of your flesh, He has made alive together with Him, having forgiven you all trespasses," and Romans 6:13, "And do not present your members as instruments of unrighteousness to sin, but present yourselves to God as being alive from the dead, and your members as instruments of righteousness to God."
Perhaps one of my favorites is the verse in Job 14:14-15 that says, "If a man dies, will he live again? All the days of my struggle I will wait until my change comes. You will call,
and I will answer You; You will long for the work of Your hands." As we pray for the salvation of loved ones and friends, it strengthens and encourages us to know that the Lord desires their salvation more than we do!
This brilliant theatrical flash mob is good fuel for prayers for revival, well worth taking seven minutes to watch! To watch it just follow this link.
Keep in mind this is not a Christian production, and is far from perfect or complete, but what it depicts is
unmistakable, and the exuberance towards the end is great. But it doesn't hold a candle to what we know as believers in Jesus.
1 Peter 1:6-9, "In this you greatly rejoice, though now for a little while, if need be, you have been grieved by various trials, that the genuineness of your faith, being much more precious than gold that perishes, though it is tested by fire, may be found to praise, honor, and glory at the revelation of Jesus Christ, whom having not seen[a] you love. Though now you do not see Him, yet believing, you rejoice with joy inexpressible and full of glory, receiving the end of your faith—the salvation of your souls."
We hope this blesses you and provokes you to renewed joy and deeper prayers for the lost.
Dick & Gladys
Dear Praying Friends:
Sunday morning found us driving south through the rolling hills of Pembrokeshire farm country on our way to visit a church and meet some friends in Swansea. This view of Carmarthen Bay gleaming in the distant sunshine and the Gower Peninsula in the background obliged me to stop and try to capture it.
We always find that the natural beauty that surrounds us becomes an inspiration for prayers of thankfulness to God for such an amazing creation. And at the same time, we experience a profound longing for the hearts of the people to awaken to the fact we have a loving Father—our Creator who sent Jesus to redeem mankind from our sinful, fallen condition.
So our prayers become a curious mixture of admiration and sorrow. Oh, that men would turn to the Lord on his terms, confess their sins and embrace salvation! That they might discover one of our greatest human joys is worshipping God with a forgiven and thankful heart!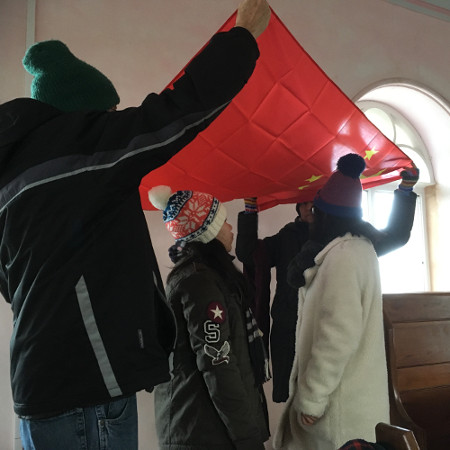 And the parade of nations seems to continue here as well. Last week we enjoyed a special blessing with the visit of two young ladies from mainland China and a dear friend from Singapore. These two are new Christians and it was our privilege to have them with us for a few days and share a few of our experiences and lives with them.
They also brought a flag of China which we have added to our collection, and it was wonderful to be able to pray for them and with them for their homeland. After praying for the flag as representing their country, we had them stand them under its covering and proclaimed the blood of Jesus bring salvation and true freedom for its people from the power of sin and death.
There have been amazing moves of God in China over the years, and there is a huge underground church thriving. But that is accompanied by unrelenting persecution, and the vast majority are still unreached for the Gospel. Jesus said in Luke 21:33, "Heaven and earth will pass away, but My words will not pass away." Kings and kingdoms will all pass away, but God's Kingdom is everlasting. He has paid the price, made a way, and invites all to come in to Him from every tongue, tribe, and nation.
One of the girls picked up this piece of slate on a walk nearby, and painted this figure on it and left it as a gift for us. It is actually a very old Chinese character that means "blessing." It is made up of four parts. The tall symbol to the left means God, the top
right horizontal line means one or heaven, below that the rounded square means mouth or man, and the bottom divided square means garden or field. So all together it shows God and man together in a field in a relationship, which equals blessing.
Sadly, however, most Chinese people don't understand the real significance, it's just a blessing like some sort of good luck. But for us as Christians it becomes yet another reminder to pray for true blessing—that people would receive the revelation of God's Love for them and His offer of forgiveness and reconciliation for all eternity.
This morning I was praying with a friend in the chapel and came across another important area of prayer for blessing in the story of Joseph. Genesis 39 tells how the Lord was with Joseph in Potiphar's house, and prospered all he did. He found favor with Potiphar and verse 6 says, "So he left everything he owned in Joseph's charge; and with him there he did not concern himself with anything except the food which he ate." So we prayed for God's ministers around the world, that they would also find favor and not need to be concerned with things other than being directly involved God's work!
May you also be blessed and find favor in your daily life as together we seek first the Kingdom of God,
Dick & Gladys