Dear Praying Friends:
We've had another blessing this past week with a group of students from Iris Ministries Harvest School of Missions. After about 2 months in Mozambique with several hundred students, they break into small groups and go all over the world. This group came with their team leader, Jackie, for a final week here in Wales.
They stayed in our friends Stan and Sue's house next door, and it was a real blessing to see this beautiful property engaged directly in housing God's people for worship, training and prayer. We were privileged to spend a few awesome times of prayer with them in the midst of their very full schedule.
As with the group from Singapore ten days ago, we took them to the "bend me" chapel at Blaenannerch. I shared about the early history of the 1904/05 Welsh revival, and then we spent some time to pray, and just soak in the presence of God. Then after lunch we came to Cilfowyr for another very moving time of intercession there. And now we have three more flags from Australia, Burundi and Scotland added to our collection. So we remember to pray for these nations, and we know people from there are now praying for Wales too.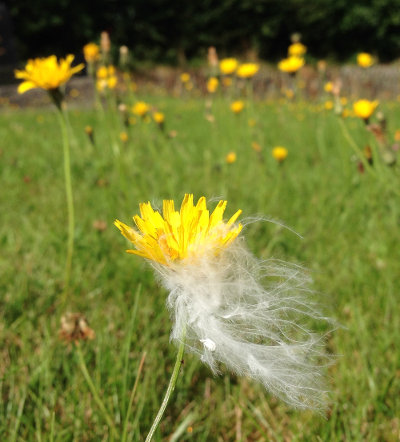 It is always a blessing to pray together with other people. There are so many areas of need to pray for, and large general prayers are important. But when we pray with others, the Lord always gives different ones a specific point that then we can all focus our prayers on, and it is powerful indeed. These reinforcements from time to time are a great blessing and encouragement for us.
On Friday we accompanied them to Swansea for a weekly group that meets to pray specifically for Israel. After an initial time of worship, led by Claude from Burundi, our friend Elaine Price who leads the group gave an overview of the importance of prayer for Israel for the Harvest students. We then we a marvelous time praying for and blessing Israel. Joining in with a group of very dedicated intercessors who have been praying earnestly for The Holy Land for years was a great experience for us all.
Then in my reading and prayer on Saturday morning this section from Jeremiah 24:6-7 really stirred my heart. "For I will set My eyes on them for good, and I will bring them back to this land; I will build them and not pull them down, and I will plant them and not pluck them up. Then I will give them a heart to know Me, that I am the Lord; and they shall be My people, and I will be their God, for they shall return to Me with their whole heart."
We see God's wonderful promise fulfilled in part, but how we long to see all of Israel have "a heart to know Me, that I am the Lord." This is also our prayer for Wales, for the churches here, and the body of Christ throughout the world.
May this also our own prayer for our lives and yours, to have our hearts refreshed daily with hunger to know more of His amazing love and grace to share with those around us.
Dick & Gladys
Dear Friends:
The hills and valleys at this time of year in mid-Wales are impossibily beautiful. It is a constant reminder of God's goodness and provision, for by His hand we all are fed. We are blessed beyond measure to be able to live in such glorious surroundings, and are continually thankful for this provilege we have to pray in and for this land.
Another thing that never ceases to amaze and encourage us is the number of people that come from other lands to pray here in Wales, and to seek the Lord for revival in their own nations. Our friend Reg Buxton has been coming here during the summer months for about six years now. He helps with one of the local churches in a Christian kids camp, and this year he brought us a flag from his homeland, South Africa.
We are delighted because we had a visit from a group
of ladies from South Africa several years ago. You can read about our very special time with them in the March 24th entry at this link. We have wanted a flag from there to add to our slowly growing collection since we started it last year.
On Saturday morning we had another opportunity to share with a large group of saints from Singapore. They came on a revival tour organized by our friends at Cornerstone Community Church there, who also acquired the property and re-opened
the Bible College of Wales here in Swansea.
We met at the well known chapel in the tiny village of Blaenannerch close to Cardigan. It was here that Evan Roberts of the 1904 Welsh Revival fame cried out in anguish, "Bend me, bend me..." It is always exciting to share this story how God can use an ordinary person for extraordinary things when the heart is fully surrendered. It seemed like we were able to tap into the essence of not only Evan Robert's cry, but the thousands that have come to this special place to seek God for a fresh outpouring of revival fires.
Then on Sunday we drove north to a small chapel at Soar-y-Mynydd nestled in an isolated valley in mid-Wales. It was a nice surprise for us as well because it turned out that our friend Carwyn Arthur was preaching there that day. His wife is from Argentina, and she came with another friend from there who has been with YWAM in Northern Ireland for many years. So we had a good time with "las latinas" speaking in mostly Spanish, but Welsh and English also. It was funny to find such an international group in such an unlikely spot! We've had other international adventures here before as well.
This place is important landmark. It was here "in April 1779 a revival broke out in the remote mountainous area of Soar-y-Mynydd, Cardiganshire. .. and 'numbers who had been so far hearers only became deeply concerned for their everlasting safety.' Revival spread like a brush fire out fr
om here until it reached many and far-distant localities in South and North Wales, and thousands were brought to seek everlasting life."
So please pray with us and countless others, like in Isaiah 64:1-2,
"Oh, that You would rend the heavens!
That You would come down!
That the mountains might shake at Your presence—
As fire burns brushwood,
As fire causes water to boil—
To make Your name known to Your adversaries,
That the nations may tremble at Your presence!"
May the Lord bless and empower you in your endeavors for His name's sake,
Dick & Gladys