Dear Friends of Wales Awakening:
This morning on my way up to the chapel the glory of the morning sun was lighting up the hilltop where God showed me the vision of the coming Welsh Revival while first visiting here in 1999. Little did I imagine back then what He had in store for us, and Wales. And so this was a wonderful reminder of the promise I was given.
My first reading was in Genesis 18 when the Lord and two men appeared to Abraham by the terebinth trees in Mamre as he sat at the door of his tent. After the meal he had prepared for, God told Abraham in verse 10, "And He said, 'I will certainly return to you according to the time of life, and behold, Sarah your wife shall have a son.' Sarah was listening in the tent door which was behind him." And Sarah laughed to herself, and got caught. I'm sure you're familiar with the story.
There was Sarah, well past the age of child-bearing, and hearing God say she was going to have a baby at 90 years old just cracked her up. Well, I had to stop and have a little laugh here myself, because just like Sarah, from a coldly practical point of view, what we're doing here seems ridiculous! And so more than once we have laughed at this adventure we're on. But in verse 14 God's gentle response to her laughter, and ours, is "Is anything too hard for the Lord?"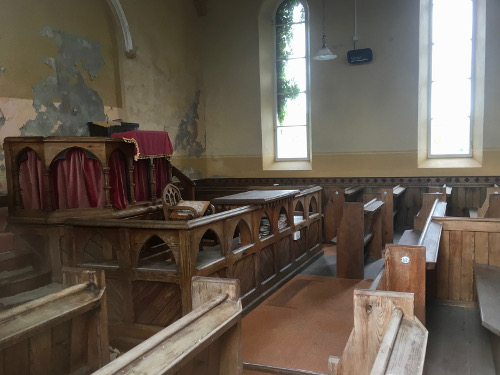 As I reflected on this, and the rest of the chapter about Abraham's intercession for Sodom, Lord reminded me once again of how amazingly faithful He has been to us. He also brought back to mind some of the many fruits of the dawning of revival—cold insensitive hearts will be kindled afresh by the incursion of the Holy Spirit in lives, families, and communities; young people will find their purpose as they joyfully surrender their lives to God and go forth to labor in the harvest in missions both local and abroad; we will see abandoned old chapels restored and refilled with worshipers; on and on the list goes.
Then I was joined in the chapel by some friends and we had a rich time in those same scriptures and prayer together. We spent the rest of the morning in fellowship as they wanted to know about our story of how the Lord called us here, etc. One of their questions was if over the years have we had times of doubt and how we've dealt with it. And of course, there have been countless times when we have questioned our work here. How could we not do so?
Sarah doubted, and then laughed. And in Genesis 17, when God tells Abraham that Sarah "...shall be a mother of nations...", verse 17 says, "Then Abraham fell on his face and laughed, and said in his heart, 'Shall a child be born to a man who is one hundred years old? And shall Sarah, who is ninety years old, bear a child?'" It is very natural and human to question and doubt. "What did God really say? What did we hear?"
One of the most amazing things to us is to see how God has sustained us here all these years through thick and thin. In those times of doubt and struggle God has always upheld us by His grace. As we talked, the Lord reminded me of one particular morning in 2010. I was at the chapel praying, and having some of those very doubts. Then I began to read in Jeremiah 32. This is when God tells him that he is to buy a field from his cousin Hanamel who is going to come and offer it to him. And then in the very next verse his cousin shows up and says verbatim what God said he would say. And Jeremiah says that then he knew it was the word of the Lord in verses 6-8.
What was such a huge encouragement to me that morning was the fact that if Jeremiah, as major prophet of the Lord, had his times of doubt, than way more likely would it be natural for me to harbor occasional doubts. God spoke some very significant things to me that morning that left me rejoicing at His heart and plans for this land of revivals. (You can read the full account here.) So even once again as we shared this morning the Lord brought fresh encouragment and expectation.
As believers, it doesn't matter what stage of life or situation we find ourselves in, there will be times that cause us to question ourselves, and question God. But we know that we haven't been called to walk by sight but rather by faith. Back to the story of
Abraham, the word of God says about him in Genesis 15:6, "And he believed in the Lord, and He accounted it to him for righteousness."
I believe that we all have particular promises and assignments that God has given to each one of us. And in the same way as Abraham, and many other men and women throughout the scriptures, each of us will find ourselves challenged time and time again throughout our lives to believe God's words to us. These include His written words and promises for all believers as wellas those specific words and promises to us as individuals.
So we can cling onto God's promises by the faith that He gives us. We know we can trust Him for the comng of revival to Wales. He graciously strengthens us through His living word. And we know that He is faithful, even when we might struggle to be. What promises are you trusting Him for?
The best and greatest of God's promises were all fulfilled on a different hilltop almost 2000 years ago. It was there that Jesus, the Prince of Life gave Himself as a ransom for all mankind. The culmination of those promises is the "Desire of Ages." He alone is our hope, our strength, and our salvation.
Dick & Gladys
Dear Friends and Prayers:
Welcome to 2019! It seems like it should be hard to believe another year has gone zipping by, but I guess coming to terms with time gets easier with practice. It also means we're just around the bend from 2020, and that sounds like some science fiction title!
We've been reading through the book of Ezra this last week. In this section, the children of Israel have just finished laying the new foundation to rebuild the temple. When I reached the middle of the section in Ezra 3:11-13 I got stopped by tears as my heart was suddenly overcome.
"And they sang responsively, praising and giving thanks to the Lord:
'For He is good, for His mercy
endures forever toward Israel.'
Then all the people shouted with a great shout, when they praised the Lord, because the foundation of the house of the Lord was laid. But many of the priests and Levites and heads of the fathers' houses, old men who had seen the first temple, wept with a loud voice when the foundation of this temple was laid before their eyes. Yet many shouted aloud for joy, so that the people could not discern the noise of the shout of joy from the noise of the weeping of the people, for the people shouted with a loud shout, and the sound was heard afar off."
A profound sorrow for what had been so painfully lost was suddenly awakened by seeing the actual stones of temple put back in place again. And that, combined with years of intense longing to see Jerusalem once again return to how it had been, proved too much for them to bear. On the other hand, the joy of the rest of the people seeing the future glory of the temple take shape before their eyes provoked such celebration that it simply could not be contained.
I think what so deeply affected me was a combination of both aspects. There is a deep mournful yearning for the fullness and power of the life-giving church that we see in the New Testament that has existed in one way or another ever since the day of Pentecost. In fact, this longing for a God-centered lifestyle goes back beyond that to what we read about in this portion in Ezra. And there were many times, albeit mostly brief ones, throughout Old Testament history when people were right with God.
But I believe it goes deeper yet, right back to the unfettered fellowship with God in the garden of creation. That's our spiritual DNA—deep calling unto deep. As Ecclesiastes 3:11 says, "He has made everything beautiful in its time. Also He has put eternity in their hearts, except that no one can find out the work that God does from beginning to end." We can't really get our understanding around it, but with our spirit we can cry out "Abba, Father" with God's own heart as it says in James 4:5, "Or do you think that the Scripture says in vain, 'The Spirit who dwells in us yearns jealously'?" When we pray in tandem with His longings, things happen.
In late December our youngest son and his wife spent some time in a "random" place in Northern California called Albion, on Route 1. They had no way of knowing that was where I was saved in 1973, and I asked them to stop in at The Lord's Land and take a few pictures for old times' sake. It is still very moving to look at that wonderful place again. It was in this large upper room, the brothers' dorm at the time, where I received the baptism of the Holy Spirit, and along with many other new believers, was trained to become a disciple in the Lord Jesus Christ.
And not so unlike the "old men who had seen the first temple", the longing to once again see multitudes be birthed into the newness of life through the workings of the Holy Spirit is quick to surface. Drawing from the past, we look expectantly to the future with a sure and joyful hope that God's heart will be satisfied with the incoming harvest of souls.
So as we get our start in this new year, may we allow the desire of God's heart to empower our prayers for an outpouring of revival in this desperately needy world and to bring each of us into a place of abiding in deepened intimacy with Himself. "Being confident of this very thing, that He who has begun a good work in you will complete it until the day of Jesus Christ;" Philippians 1:6
Dick & Gladys