Dear Praying Friends and Saints,
119 years ago today, what began as a small meeting of young people in Loughor, near Swansea in South Wales, quickly blossomed into a revival that would impact the course of modern Christianity. I'm sharing the story of October 30th and 31st to remind us of what happened back then and to inspire our prayers and hopes for today and the future. These portions come directly from my friend Maurice Smith's book, When The Fire Fell. (See link below to read or download the whole book)
October30, 1904
"And one Sunday, as I sat in the chapel, I could not fix my mind upon the service, for always before my eyes I saw, as in a vision, the schoolroom in my own village. And there, sitting in rows before me, I saw my old companions and all the young people, and I saw myself addressing them. I shook my head impatiently, and strove to drive away this vision, butit always came back. And I heard a voice in my inward ear as plain as anything, saying, 'Go and speak to these people.' And for a long time I would not. But the pressure became greater and greater, and I could hear nothing of the sermon. Then at last I could resist no longer, and I said, 'Well, Lord, if it is Thy will, I will go.' Then instantly the vision vanished, and the whole chapel became filled with light so dazzling that I could faintly see the minister in the pulpit, and between him and me the glory as the light of the sun in heaven." [2]
After this vision, Evan Roberts went to Principal Evan Phillips (a mature Christian and a Moderator of the Welsh Presbyterian Church) and said, "I keep hearing a voice telling me you must go home and speak to the young people about Christ." He asked Principal Phillips if this was the voice of the Spirit or the devil. Principal Phillips wisely counseled him that "The devil does not give such thoughts. It was the voice of the Holy Spirit."[3] So, on Monday, October 31, Evan Roberts decided to return home and conduct a week of meetings among the youth of his church.
Robert's sudden return home caught his family by surprise. His mother thought that perhaps he had been preaching somewhere on Sunday and was just calling on the family on his way back to school. But he proceeded to explain that he was home for the week, that he had experienced a very remarkable blessing, and that he had come home to lead the young people of the Moriah church in some meetings. His sister related what happened next:
"When Evan came home, Dan (his brother) was lying on the couch looking very disheartened. Evan could not understand what was wrong, and then Dan told him that he was losing his sight . . . and that a Llanelli specialist had told him that there was no hope . . . (Evan) turned towards Dan and said, 'You shall have your sight - the Lord has need of you.' Suddenly Dan regained his sight. A sort of miracle happened, and when he went to see the specialist [later on], he marveled, unable to understand what had happened." [4]
------------------------------
Monday, October 31, 1904

Evan Roberts went to Pastor Daniel Jones of his own church, the Moriah Calvinistic Methodist Church in Loughor, and asked to speak to the young people. Pastor Jones was somewhat reluctant, telling Roberts that "I might try and see what I could do, but that the ground was stony, and the task would be hard." [5] Pastor Jones told Roberts that he could speak after the Monday prayer meeting that evening to anyone who was inclined to stay. So, on Monday evening the 31st of October, 1904, Roberts spoke to 17 people who stayed after prayer meeting, telling them of his experiences and visions, and of his belief in a coming revival.

The meeting was hard. The people were unresponsive and Roberts resorted to prayer three times during his long and protracted appeal. The Welsh Christians of that day had a reluctance about giving a personal testimony of assurance of salvation. But by 10 o'clock all 17 had testified of their faith in Christ, including Evan Roberts' brother, Dan, and his three sisters who publicly professed their faith for the first time. "Young men and women who had never been known to speak openly of any experience of saving grace stood and testified fearlessly".[6]

The first result of this personal revival was a change at home. Evan Roberts wrote to a friend, Elsie Phillips, about the events of this first week, "Our family has had a grand change. We have had a family altar this week for the first time. This again is the work of the Spirit. And last Wednesday evening, before the meeting, while I was away from home, they held a prayer meeting at home; and father for the first time prayed in their hearing. Another proof of the grand work." [7] The beginning of the greatest revival Wales had ever known had brought personal blessing to the revivalist himself and his own family.

------------------------------

You can continue reading a brief day-by-day overview of the events up through November 12th of 1904 when the newspaper headlines read, "CHAPELS OVERCROWDED, SCOFFERS SAVED, DESIRES FOR REVIVAL FULFILLED!" at this link.

This whole book is a free download as a .pdf file, courtesy of the author, and is available at this link.

May these testimonies strengthen our faith and encourage our fervent prayers for God's visitation among the nations in these precarious times!

Dick & Gladys



------------------------------


Dear Friends and Prayer Partners:

Many of you may remember this photo from back in 2010 that I took in Blaenau Ffestiniog in North Wales. As the result of a series of extraordinary events, in 2009 the Lord led us to start monthly meetings there in December of that year to pray specifically for revival in this strategic town. A friend accompanied us on our monthly visit in September of 2010 and was inspired to have us "purchase" this field as a prophetic declaration of its use for God's purposes there. This was 13 years ago! You can read the story at this link.

Now let's fast-forward to 2023. In late September we made contact with a young Welshman who moved with his wife and small family to Blaenau 18 months ago seeking to reach the community's young people for Jesus. Incredibly, he was sponsored by the Welsh Rugby Union to work with high school youth on these very fields! Joseff said in a recent email, "We have a thriving new youth work we've started here that just tonight saw over 90 young people in attendance! We honestly feel we've been carried by God over this season, riding a wave only he can generate and have been wanting to meet with some of the people we believe that have been key in the strange favour we've experienced since moving here. Things have happened that can only be explained by the saints gone before and present tha
t have and are sowing into this place in prayer."

You can imagine our excitement and gratitude to hear about this amazing development. In our last email, I mentioned the Heal the Land Conference teaching that said, "Just as in the agricultural realm, our seeds of prayer also have to be left to the faithful working of God." And it was just days later that we heard this wonderful news. Joseff and Lydia were subsequently joined by two other young families and they are trusting God to fulfill His plans for their work in that close-knit Welsh-speaking community.

There are wonderful stories of how God moved on this community in the past centuries and brought many to salvation through the power of the Holy Spirit in revival. And a great many of those touched by God were not only the results of others' prayers, but they in turn gave themselves to prayer for unsaved families and friends. Surely at times, the darkness of the slate mines was illuminated by the praises and prayers of the miners, and the fruit of those prayers became visitations of God's presence in homes and chapels alike.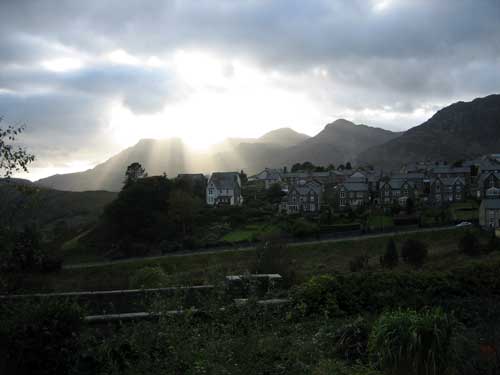 During the early years of the Blaenau prayer meetings, we came to realize that our involvement was only a small part of the Lord's people in praying for this entire area. Our meetings were visited by many others who were also praying in their communities in other parts of North Wales, and it was encouraging to us all. It seems clear that all of our prayers are an extension Jesus' prayer in John 17:20-21, "
I do not pray for these alone, but also for those who will believe in Me through their word; that they all may be one, as You, Father, are in Me, and I in You; that they also may be one in Us, that the world may believe that You sent Me.
"
This is a new chapter for Blaenau Ffestiniog, and you have a part to play as well. Please keep these saints and the youth and their families in your prayers. We hope to visit there soon and will keep you updated.

Meanwhile, the world heartbreakingly continues to tear itself apart on a greater scale than ever, and prayers are desperately needed on every front. But be it through wars, earthquakes, disease, or natural causes, one thing is certain as stated in Hebrews 9:27-8, "And as it is appointed for men to die once, but after this the judgment, so Christ was offered once to bear the sins of many."


May our prayers reach out to every corner of the world for peace, and that all might know that Jesus came to bring salvation and eternal life to every needy heart,

Dick & Gladys


------------------------------


Dear Friends of Wales Awakening:

Instead of the wheat or oats regularly planted in the field above Cilfowyr Chapel, the golden flowers of this rapeseed seem to reflect a promise. The Lord says in Isaiah 43:19, "Behold, I will do a new thing, Now it shall spring forth; Shall you not know it? I will even make a road in the wilderness And rivers in the desert." So we continue to hold fast to all that He has in store, walking by faith and not by sight.

Some of the members of our chapel joined with those of a few other local chapels for a special excursion. This is the first time one of these joint outings has happened since before the pandemic and so we accepted the invitation to go along. Our destination for the day was St. Fagans National Museum of Welsh Life on the outskirts of Cardiff.

We all climbed aboard a comfortable tour bus, accompanied by our pastor, who also ministers in two other small congregations, and headed off toward the capital city of Wales. Everyone was chatting merrily away in Welsh, with Gladys and I using our limited conversational abilities. We scattered out over the 100 acres of
rural Wales, complete with many reconstructed historical buildings that have been brought from all over the country. It is an excellent way to get a feel for the culture as it developed through different periods.

Among the buildings is this old 19th-century chapel that was moved here from Drefach Felindre, our pastor's hometown. Arrangements had been made to have a brief service there, so a prayer, a hymn, and the portion of 2 Peter 2:9-10 rounded out the afternoon. "But you are a chosen generation, a royal priesthood, a holy nation, His own special people, that you may proclaim the praises of Him who called you out of darkness into His marvelous light; ...who once were not a people but are now the people of God..."

The following week found us heading to Mid-Wales for the Heal The Land Conference in Builth Wells, on the Royal Welsh Showgrounds. We had been to this event before the pandemic, and it was a great encouragement to see so many old praying friends again and meet many new ones as well. We greeted many people we had seen before and struggled a bit to place them. Several conversations went like, "I know you from somewhere but can't remember when or where, do you?" It was a great relief to find some who responded, "Yes!" and learn or recall their names, etc! It made us realize just how long we've been in Wales and how many wonderful
people we've met over the years.

The main speaker was Andreas Keller from Switzerland who has been praying with farmers for well over a decade. One of the topics was about "trusting the process" of the sowing and the growing of the seeds planted. Just as in the agricultural realm, our seeds of prayer also have to be left to the faithful working of God. We can only do our part, whatever it may be that He has asked of us, and know that the rest depends on Him. He is ever faithful.

Mark 4:26-27 says, "And He said, "The kingdom of God is as if a man should scatter seed on the ground, and should sleep by night and rise by day, and the seed should sprout and grow, he himself does not know how." That is where we need to "trust the process." That is God's domain, and we can rest in His faithfulness. There were many amazing testimonies and marvelous times of worship.

There were also many times of prayer and ministry of the Holy Spirit throughout. In one of the workshops, we joined a group to prayer-walk through the showgrounds and just listen to the Lord speak through the surroundings and give spontaneous prayers to group members. It was beautiful to join in the power and depth of the prayers of these seasoned intercessors. For both Gladys and myself it was a great encouragement to keep on keeping on, trusting the plans and processes of God's kingdom.


Jesus finishes the parable by saying in verses 28-29, "For the earth yields crops by itself: first the blade, then the head, after that the full grain in the head. But when the grain ripens, immediately he puts in the sickle, because the harvest has come." The term "by itself" refers again to God's domain. It is now through His "doings", and we see this new season as the beginning of the harvest we have all been praying for.


May Paul's prayer in Romans 15:13 be fulfilled in each one of our lives, " Now may the God of hope fill you with all joy and peace in believing, that you may abound in hope by the power of the Holy Spirit."

Dick & Gladys


------------------------------


Dear Friends:
Last week we returned from a brief family visit after our extended trip in the spring. As you might have guessed already, we had a very special reason to travel again. We are grandparents for the first time! Our youngest son Richard and his wife Emily are the new parents of Sylvie Grace, born May 19th in Portland, Maine.

Of course we had seen photos and done video calls too, but holding and cuddling her was a joyful and life-changing encounter. There were tears and wonder, thankfulness and admiration. The phrase from Psalm 139:14 came rushing to mind, that we are indeed "fearfully and wonderfully made..."

And the word "generations" now takes on a sweetly tangible and more intimate significance when we read Psalms 100:5 which says, "For the Lord is good; His mercy is everlasting, and His truth endures to all generations." To take this beautiful little girl in our arms and watch her grow and change even in the short week we were there was a very lively and clear testimony of God's goodness and faithfulness.

Not long after first meeting our little Sylvie Grace, it occurred to me that this heart-warming joy provides us with certain insight into the nature of God's love for us. We had waited longingly for years for a grandchild, and to me at 75 that seemed like a long time indeed. And now here she is and it's like some sort of internal fireworks going off in rejoicing! And surely the Lord has a similar but far greater joy when His children's children are born again into that direct and personal relationship with Him through faith placed in the redeeming work of Jesus at Calvary. While it's true that we can live out
what Psalm 145:4 says, "One generation shall praise Your works to another, and shall declare Your mighty acts." But God has no grandchildren. And when our children become directly His children, we all become one generation—siblings forever in His eternal kingdom!

We spent a second week in New York with our daughter Grace on our way home. It was a great chance to catch up since our time together at Thanksgiving last year. And now she and our other kids are suddenly aunts and uncles, and that adds another special dimension to our family as well. She enjoys her job with UNICEF making a life-changing difference for thousands of malnourished children around the world. She also loves being a Brooklynite, and we had a good time meeting some of her friends, taking in a very loud outdoor concert with a featured Guatemalan singer, and a special exhibit at the Brooklyn Public Library a few blocks away.
Gladys likes visiting and experiencing life in the big city too. Having grown up in Guatemala City, going out her door meant finding people and activity everywhere. Brooklyn is much busier than Guatemala ever was, and the cultural variety is staggering by comparison. But after our years of living in rural West Wales, and with several more decades under our belts, the phrase, "It's a great place to visit but..." takes on a whole different meaning.

The pace of life and its demands for survival on every level is a challenge for people living here in "The Big Apple". For the materialistic world, this is the epitome of the proverbial "rat race". Go as hard as you can, as fast as you can, to get as much as you can, and get as high as you can while you can, because that's all there is to life.

And for those who aren't so driven, getting through life with a reasonable degree of happiness is acceptable and desirable. But when the going gets tough because of financial pressures, family or relationship difficulties, health problems, or old age, what then? After it all, the generations come and go. Did we leave a mark anywhere—perhaps our name on a stone or even a monument? Who will ever know or remember? What was it really all about?

Well... there IS A NAME that makes all the difference—JESUS! Isaiah 9:6 tells us all about Him. "For unto us a Child is born, Unto us a Son is given; and the government will be upon His shoulder. And His name will be called Wonderful, Counselor, Mighty God, Everlasting Father, Prince of Peace." He is the One who makes us one in His eternal family.


Driving back across the bridge into Wales is like coming home to the reality of why we've been here all these years. Our prayers for revival—the revealing of the reality of Jesus Christ and His sacrifice for our entrance into His kingdom—are spurred on by the needs we see each place we visit. And we know what God does here will not only touch the many nations where people are praying for actively Wales, but all of the earth with His glory.

Jesus makes His purpose very clear in John 10:10, " I have come that they may have life, and have it to the full." Thank you for continuing to pray with us for the fulfillment of His plans!


Dick & Gladys


------------------------------


Dear Praying Saints and Intercessors:


Somehow another month has raced by and our hearts are full of so much that has happened through God's unwavering goodness. His words continue to strengthen and guide us as we look to Him for everything.

Praying through the scriptures a few days ago at the chapel, these words from Jeremiah 17:16 really encouraged us. " As for me, I have not hurried away from being a shepherd who follows You, nor have I desired the woeful day; You know what came out of my lips; it was right there before You." The cry of our hearts before the Lord is always before Him. Isn't that amazing?

Like a small trickle of water joining other streams, our prayers flow together into a vast sea of prayer that has reached heavenwards all through the ages. The "great a cloud of witnesses" of Hebrews 12:1 exhorts us, saying, "Therefore we also, since we are surrounded by so great a cloud of witnesses, let us lay aside every weight, and the sin which so easily ensnares us, and let us run with endurance the race that is set before us."

We find more wonderful encouragement to pray in Jeremiah 24:7. The Lord says, "Then I will give them a heart to know Me, that I am the Lord; and they shall be My people, and I will be their God, for they shall return to Me with their whole heart." As we pray for the outpouring of revival, we are really crying out for revelation by the Holy Spirit to the hearts of the lost.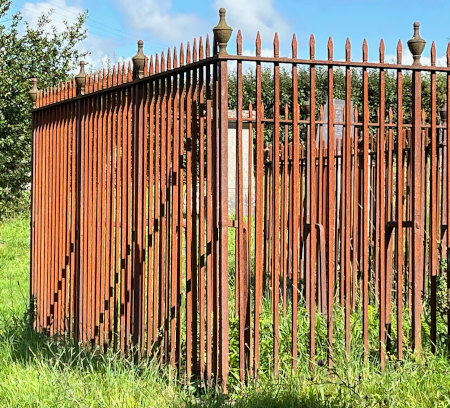 This present "enlightened" world has people locked up behind bars—held prisoners to sin and death, yet they just don't understand or believe. Daniel Nash*, Charles Finney's main intercessor, wrote in 1826, "Oh, what a world! How much it hates the truth! How unwilling to be saved!"

But we are still learning about the power of our prayers, both direct and collective. Look at this amazing example from Judges 2:4, "So it was, when the Angel of the Lord spoke these words to all the children of Israel, that the people lifted up their voices and wept." This is what we long to see, outpouring, awakening, and revival in the hearts and souls of loved ones, friends, and nations.


On the home front, we have been busy with a flourishing garden, weeds generously included, and the fullness of summer greenery and even some sunny weather has been delightful, though significantly cooler than Central America and Louisiana! It has also been getting busy with visiting friends and other people of prayer, and it's nice to see
things moving back towards what we were accustomed to a few years ago.

We are also aware of how the Lord is moving among young people and drawing them not only into salvation and relationship with Himself, but to a place of surrender and discipleship as well. Just last week we had the opportunity to spend some precious time with a group of six young Germans who are in training with YWAM, Youth With A Mission. It gave us great joy to hear their enthusiasm for the Lord and their earnest seeking how to let their lives become instruments in His hands rather than following the goals and ambitions of the temporal societies around us.


Although the world around us continues in its tumultuous instability, we know that God's plans will not be thwarted. Our foundation is that He is the Prince of Peace and sustainer of all those whose hearts are fixed on Him and who seek to walk in His ways and shine His light on those around us wherever we happen to be.

May experience the fullness of Jesus ' words in John 16:33, "These things I have spoken to you, that in Me you may have peace. In the world you will have tribulation; but be of good cheer, I have overcome the world."

Dick & Gladys


------------------------------


Dear Friends:
Thanks for bearing with us through such a long silence! We have been home for a week now and are just starting to get our feet back on the ground after an incredible journey. I was away for nearly three months, and Gladys left five weeks ahead of me.
Our time was so filled to overflowing with people and places and experiences it would be impossible to summarize. And even to think about a list of some highlights becomes an instant blur—sort of like a time-lapse photo! Perhaps in the coming months I'll be able to cover a few specific events that come to mind.
Meanwhile, throughout our adventures, the foundation of God's word and His unchanging goodness and presence were the platform from which we took it all in. The ever-changing scenes and encounters and discoveries only served to emphasize the fact that the Lord is our bedrock and and everything else is given context and meaning because of Him and His centrality in our lives.
Everywhere we went there was loud and clear evidence of the need for the Gospel and the redeeming blood of Jesus to bring people into the life-giving eternal relationship with our Creator. Each area we visited had its own local culture and feeling. Men's ideas of how things should work, and don't, were on painfully clear display in Nicaragua. Guatemala was in the throes of a presidential election, and the clash of ideas and tenuous political allegiances was just more fuel for the fires of uncertainty. Add to this the massive increase in population and resultant nightmare traffic, stretching the infrastructure to its limits and beyond, set things up for quite the challenge.
Our challenge as God's people is to pray as in Isaiah 62:1-2, "For Zion's sake I will not hold My peace, and for Jerusalem's sake I will not rest, until her righteousness goes forth as brightness, and her salvation as a lamp that burns. The Gentiles shall see your righteousness, and all kings your glory..." The small parts we saw are representative of an entire world living in times of increasing disarray and instability. And it seems that people everywhere are responding to the overwhelming need for prayer.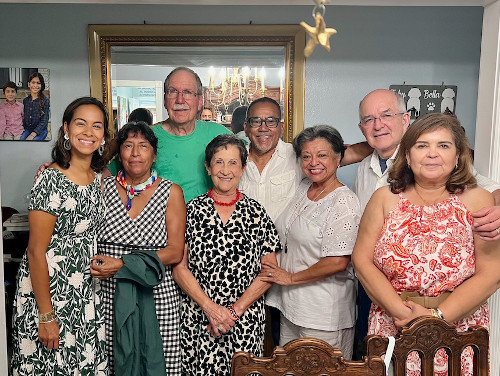 It was wonderful for us to meet many people, and especially young people, along the way who taking this challenge on board and making their lives available to God for His purposes.
For both Gladys and myself, the most notable and comforting reality of our travels was the gift of love among friends and family. Most of our time was spent with both old and new friends connected with our work with missions over the years. Every countless get-together was yet another dose of love for us, and it just went on and on. And then our very precious times with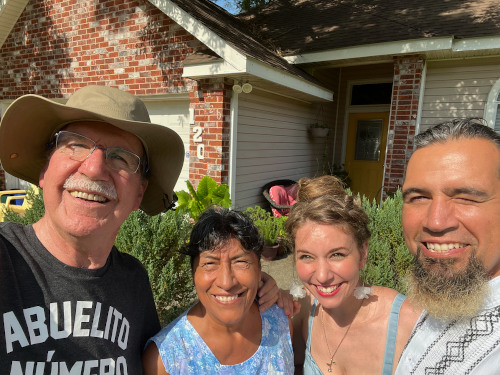 Gladys family in Guatemala and our son Mike and daughter-in-law Lauren in Louisiana were joyfully special indeed.

It was all like a taste of heaven, and we will continue to be reminded through each memory that the true and only treasure that outlasts this fleeting world of generations is Jesus Christ. He is our life and length of days.

May the Lord bless you and us as together we "Prepare the way for the people, build up the highway... take out the stones and and lift up a banner for the peoples." (Isaiah 62:9)

Dick & Gladys


------------------------------




Use these links to see archived updates: