<! Google Translate script starts here! >
<! end of Translate script here >
Dear Friends and praying Saints:
We received a card from friends a couple of weeks ago that contained the following excerpt from a poem called God Knows written by Minnie Louise Haskins in 1908. It seems so profound and pertinent I thought I would pass it along. It's apparently fairly well-known here in the U.K. but was totally new to us.

And I said to the man who stood at the gate of the year:
"Give me a light that I may tread safely into the unknown."
And he replied: "Go out into the darkness and put your hand into the
hand of God.
That shall be to you better than light and safer than a known way."
So I went forth and finding the hand of God, trod gladly into the night.
And He led me towards the hills and the breaking of day in the lone East.
(You can read the complete text at this link.)
These words spoke quite clearly to me as we enter into the new year with a great many uncertainties almost anywhere we look. Gladys also had an impression from the Lord that there is going to be a clearer separation between light and darkness than we have seen before. So there is all the more reason to draw closer to Jesus as we continue ahead into 2023. Of course, this has been true since we first stepped into the Kingdom of God by His grace and the blood of the lamb. But perhaps now it is more important than ever.
We have been reading through Ezra and Nehemiah, and there are so many parallels that we see in our own times. It is painfully obvious how our turning away from God and His ways has opened the door for so much disorder, division, and disaster in the nations of the world. Again, this is nothing new. The lesson is that laws cannot produce godliness, only a changed heart. And that's why we persevere, encouraged in our plea for revival. We are in a growing and good company!
Isaiah says in chapter 60:2-3, "For behold, the darkness shall cover the earth, and deep darkness the people; but the LORD will arise over you, and His glory will be seen upon you." This is the only real hope for "mankind". His glory transforms us, one by one. And then, as it says in Colossians 1:13-15, "He has delivered us from the power of darkness and conveyed us into the kingdom of the Son of His love, in whom we have redemption through His blood, the forgiveness of sins."

In Jesus' amazing conversation with Nicodemus in John 3: 6, He tells him, "That which is born of the flesh is flesh, and that which is born of the Spirit is spirit." The historical collective "mankind" is just flesh born of the flesh — each and every individual will die a natural death until Jesus returns. Meanwhile, however long this dusty old world keeps turning on its axis, His desire and provision is that all "Take My yoke upon you and learn from Me, for I am gentle and lowly in heart, and you will find rest for your souls." (Matthew 11:29)

Be encouraged as we pray together to see His kingdom and glory become more and more evident in our times as people come to Jesus in growing numbers around the world,

Dick & Gladys


------------------------------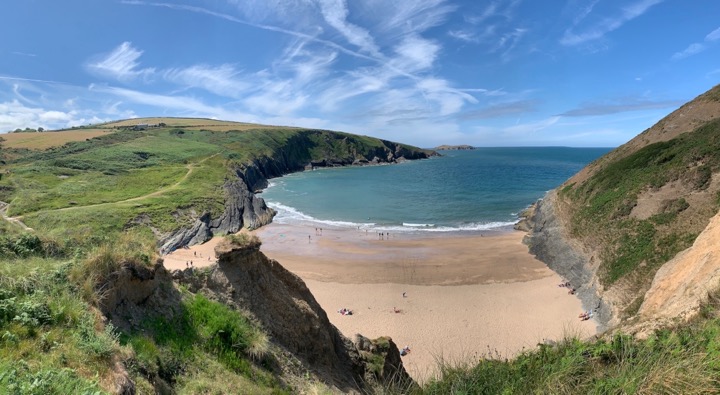 It's hard to believe that we are finishing up four weeks in the United States. We stayed away longer than we had intended, having decided to visit Gladys' family in Washington, DC. It has been a very busy a

nd blessed time spending it with family and dear old friends from years ago. I was hoping

to try to put something together more complete, but I think I will have to do that when we get settled at home again. We landed yesterday morning in London, and stayed overnight with friends and then drove back to Wales and home, sweet home this afternoon.

Suffice it to say that we will have time in heaven to tell all the stories of glory that we experienced here in these precious days. We have loved being away and seeing so many dear family and friends, however, we know that our home is where our heart is, and that means Wales!

The Lord really spoke

through

this Scripture the other day in 2 Chronicles 1:10 (NKJV)

10 "Now give me wisdom and knowledge, that I may go out and come in before this people; for who can judge this great people of Yours?" As the world around us gets more and more turbulent with folks looking for a solid ground to stand on, revival begins to manifest, and we all will be needing the wisdom of God to help usher people into His kingdom and presence. That is our privilege and honor as believers.

There is a marvellous description of revival in the last parts of the story of Nebuchadnezzar in the book of Daniel. This is powerful fuel for prayer as we seek the outpouring of God's Holy Spirit to bring people to recognize of his Lordship over all!

Daniel 4:34-37 (NKJV)

34 And at the end of the time I, Nebuchadnezzar, lifted my eyes to heaven, and my understanding returned to me; and I blessed the Most High and praised and honored Him who lives forever: For His dominion is an everlasting dominion, And His kingdom is from generation to generation. 35 All the inhabitants of the earth are reputed as nothing; He does according to His will in the army of heaven And among the inhabitants of the earth. No one can restrain His hand Or say to Him, "What have You done?"

36 At the same time my reason returned to me, and for the glory of my kingdom, my honor and splendor returned to me. My counselors and nobles resorted to me, I was restored to my kingdom, and excellent majesty was added to me. 37 Now I, Nebuchadnezzar, praise and extol and honor the King of heaven, all of whose works are truth, and His ways justice. And those who walk in pride He is able to put down.

So we press on with you into the kingdom of God and it's fullness. Thanks to each and everyone of you for participating with us in this amazing adventure with Jesus!

Love and blessings to all in the name above all names,


------------------------------


Dear Friends:
Here we are almost in November and the end of the year, and we have some big news to share—we are going to America! We haven't been out of the UK for nearly three years and, as you might imagine, we are thrilled at this opportunity to travel again. We fly to New York and will stay six days with our daughter Grace, and then head for Portland, Maine to Richard and Emily's home for a few days. Then off to New Hampshire to visit some old-time friends and a church group that has faithfully supported us since we first came to Wales.

Then we'll go back to Portland for Thanksgiving where we'll be joined by Grace and their cousin Maly from Maryland. It will be the same crew that was all together here at our house last year, so we are looking forward to being together again and in new surroundings in Portland.

I realized that this is the longest time we have not visited the U.S.A. since I left as a young missionary for Guatemala in 1976! And so we're already making plans to travel again in the summer to see our son Mike and his wife Lauren in Louisiana, and hopefully, our oldest son Peter who lives in California. And from there on to Guatemala to see Gladys' family there. We'll also be making up for lost time since we had to scrap the plans for an old-timers reunion there in 2020 because of the Covid-19 pandemic.

This also highlights another wonderful piece of news ... Gladys' health and strength have been restored thanks to God's amazing goodness and grace. Just three months ago her situation was very bleak indeed when Covid caught her at her weakest point. We are so thankful for His faithfulness and mercy, and we especially want to thank you for your prayers for her healing.

Being able to hike up into the local hills has proven yet again that God is greater than our obstacles and difficulties, and as the word says in Psalm 27:1, "The Lord is my light and my salvation; Whom shall I fear? The Lord is the strength of my life; Of whom shall I be afraid?"

In our readings the other day, these words in 1 Timothy 3:16 really spoke to us. "And without controversy great is the mystery of godliness: God was manifested in the flesh, justified in the Spirit, seen by angels, preached among the Gentiles,
believed on in the world, received up in glory." It is this one remarkable fact, that Jesus was "believed on in the world", that has brought our own lives into partnership with His glory, and provides
the only stable context for living securely in a very disjointed and transitory world.


The continuity of God's kingdom from one generation to the next is the fruit of his being "

believed on in the world

" down through the ages. And an important key to tapping into this powerful source of hope and faith is laid out clearly in Psalm 111:2-3. "The works of the Lord are great,

studied by all who have pleasure in them.

His work is honorable and glorious, and His righteousness endures forever."

Obviously, the Word of God should be our primary subject of study to keep our hope and trust in His promises growing fresh and strong. But it is also wonderfully important to stay connected with others and share and hear testimonies in our daily lives of God's interactions with and among us. He is always at work, and for every one of us, hearing "stories of glory", both great and small, is like the rain and the sunshine on a newly planted field.


Thank you again for your continued interest and prayers for us, for Wales, and the nations. And may you "Walk in wisdom toward those who are outside, redeeming the time. Let your speech always be with grace, seasoned with salt, that you may know how you ought to answer each one." (Colossians 4:5-6)


Dick & Gladys


------------------------------


Dear Praying Saints and Intercessors:
We have been feeling within ourselves, as well as hearing on several fronts, about a new season in the Lord. Change is in the air, and these verses in Ezekiel 36:8-10 really struck home this morning. "But you, O mountains of Israel, you shall shoot forth your branches and yield your fruit to My people Israel, for they are about to come. For indeed I am for you, and I will turn to you, and you shall be tilled and sown. I will multiply men upon you, all the house of Israel, all of it; and the cities shall be inhabited and the ruins rebuilt."
Not unlike ancient Israel, the church of Christ has practically been in a state of ruin in the midst of a secular world around us. Its influence has decreased exponentially over the past fifty years. We've been on the farthest back burner for far too long, and perhaps even fallen behind the stove completely. But change IS coming. Ezekiel's words are for us, the church, now. The tide is coming in!


Nearly 18 years ago Gladys and I came to a part of the centenary celebrations of the 1904 Welsh Revival, and I had the following experience I'd like to share with you here.
October 29, 2004: "After a good night's rest in Island House, Evan Roberts' old home, I awoke quite early and came across to a park alongside the River Loughor to pray. It was still very much nighttime, and the full moon was shining through curtains of racing clouds.

"The reflection of its light on the movement of the river, which is very wide at this point, was a beautiful sight to behold. The second largest tidal fluctuation in the world, after the Bay of Fundy in Nova Scotia, the current sweeps everything upstream with it. And it looked like a vast host of shimmering diamonds, brightening and dimming with the moonlight, being propelled inland by some invisible force.

"As I strolled along the pathway watching and praying, I felt somehow quite close to the prayers of Evan Roberts himself. Besides playing and exploring here as a child, he surely passed many hours in this very spot overlooking the river. He spent nearly thirteen years praying and crying out for a meaningful manifestation of God. He had come to recognize the church of his day as a failure, for its lack of impact on the world.

"Standing on a prominent point overlooking the estuary, as I prayed I began to realize that the people of this country, now so far removed from any relevant contact with Christianity, have no source of real hope for their lives. It seems that life is about making the best of it that you can; sort of a fatalistic "eat, drink and be merry, for tomorrow you die" mentality. Sure, everyone can hope for a better future, a more comfortable life in this world, but that is all.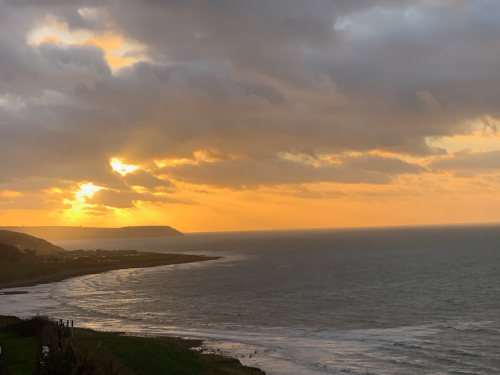 "The lively hope we have in Jesus is different. It is SO much more! Because it is not of us, it is of God, the gift of the indwelling Holy Spirit. It is full of glory and grace. It is the hope and assurance of eternal life, and joy in the Kingdom of God forever. While I sang into the wind that beautiful old hymn, "Place your eyes upon Jesus, look full in His beautiful face. . .", I realized again what wealth we have in the Saviour, and how destitute this land is without that knowledge.

"Then later in Moriah Chapel, where the revival broke out 100 years ago, the deacon who showed us around told us about the river's tide. He said that just as it empties out the river so completely, so has the life flowed out of the chapels and churches of Wales. But with his eyes afire with hope, he said that indeed just as the tide goes out of the river, it surely is coming back in.

"Just now I sit here watching the tide flowing in, when only a while ago when I sat down to write this it was still going out. Besides the main course right in front of me, the half kilometer wide sand flats are being invaded by great tongues of the river as the tide sweeps in before my eyes . . nearly 50 yards since the beginning of this paragraph. The resting seagulls leisurely enjoying the ride!

"And so, please pray with us, 'Let Your tide come upon this land, Lord Jesus! We know that the rivers of living waters are waiting to be poured out once again. May the Holy Spirit be poured out upon our lives and our lands.'"

And may people heed the words of Jesus in Mark 1:15, "The time is fulfilled, and the kingdom of God is at hand. Repent, and believe in the gospel."

Dick & Gladys


------------------------------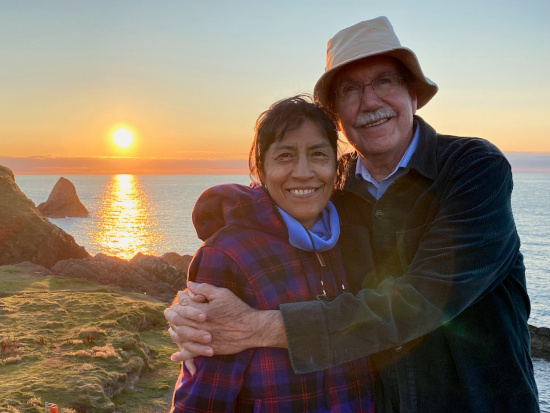 Dear Praying Friends,
Forty-nine years ago today my life and eternity were changed forever! I received the priceless gift of salvation at The Lord's Land near Mendocino, California, amidst a staggering conviction of my sin and an overwhelming revelation of God's total forgiveness, unfathomable goodness, and boundless and exhilarating love. I found myself surrounded by my new brothers and sisters praying and worshiping God when I "came to", and it has been an incredibly blessed and adventurous life ever since.

After five years the Lord had a wonderful surprise for us and Gladys and I were married, and the rest, as they say, is history. And now, somehow we find ourselves arriving in our golden years, and we can only marvel at all that God has done for us. His faithfulness and sustenance have kept us thus far, and our times securely are in His hands.

These words of David in Psalms 73:25-6,28 take on a profound new significance at this stage of the game. "Whom have I in heaven but You? And there is none upon earth that I desire besides You. My flesh and my heart fail; but God is the strength of my heart and my portion forever... But it is good for me to draw near to God; I have put my trust in the Lord GOD, that I may declare all Your works.
From our early days in our Christian community in Guatemala to amazing groups of praying saints that have shared with us here in Wales, we have experienced the power of these words in Psalm 74:12, "For God is my King from of old, working salvation in the midst of the earth."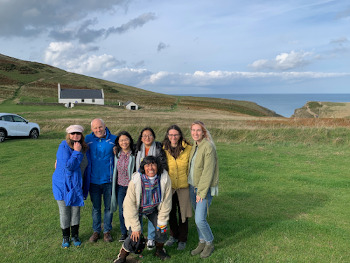 And as we continue in prayer with millions of saints around the world for revival, we know He is working in the foreground and behind the scenes to bring people to Himself.
Two weeks ago we had the opportunity to visit with a very dear old friend from those early days in California, and then, in response to a very kind invitation, we got to spend several days with friends in North Wales. We realized it was the first opportunity that we've had any time away since we moved into our new home in August last year. The mountainous surroundings are stunning, and we couldn't get enough of the views and walks in the open air.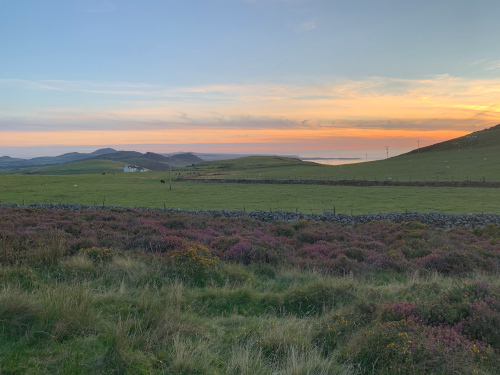 We arrived home tired but refreshed, and hope to be able to spend more time in the north to visit more friends and be mutually encouraged in the Lord as we see the day approaching.


We look forward to what the Lord has prepared in the days and years ahead. As the instability of the world around us plunges onward, we grow more secure and thankful for the fact that our lives are in his hands and that "God is the strength of our hearts and our portion forever."
It is this amazing reality of eternity with God that is the goal of our prayers and longing for the coming outpouring of the Holy Spirit on all flesh. Our bodies are showing the telltale signs of age, and we continue with challenges as do most folks that have made it this far. Nobody told us when we started out on this adventure with Jesus that the closer we come to the pearly gates, the bumpier the road gets!


But even so, "Therefore we do not lose heart. Even though our outward man is perishing, yet the inward man is being renewed day by day. For our light affliction, which is but for a moment, is working for us a far more exceeding and eternal weight of glory, while we do not look at the things which are seen, but at the things which are not seen. For the things which are seen are temporary, but the things which are not seen are eternal."


Thank you for redeeming the time with us in prayer for Wales and the nations, that all might know the love of Jesus Christ for themselves forever,


Dick & Gladys


------------------------------




Use these links to see archived updates:






© 2005 - 2022 WalesAwakening.org