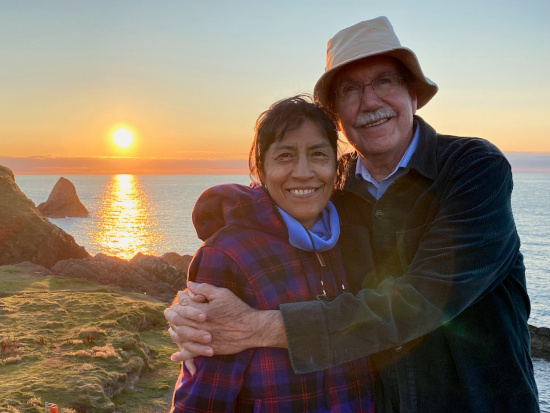 Dear Praying Friends,
Forty-nine years ago today my life and eternity were changed forever! I received the priceless gift of salvation at The Lord's Land near Mendocino, California, amidst a staggering conviction of my sin and an overwhelming revelation of God's total forgiveness, unfathomable goodness, and boundless and exhilarating love. I found myself surrounded by my new brothers and sisters praying and worshiping God when I "came to", and it has been an incredibly blessed and adventurous life ever since.

After five years the Lord had a wonderful surprise for us and Gladys and I were married, and the rest, as they say, is history. And now, somehow we find ourselves arriving in our golden years, and we can only marvel at all that God has done for us. His faithfulness and sustenance have kept us thus far, and our times securely are in His hands.

These words of David in Psalms 73:25-6,28 take on a profound new significance at this stage of the game. "Whom have I in heaven but You? And there is none upon earth that I desire besides You. My flesh and my heart fail; but God is the strength of my heart and my portion forever... But it is good for me to draw near to God; I have put my trust in the Lord GOD, that I may declare all Your works.
From our early days in our Christian community in Guatemala to amazing groups of praying saints that have shared with us here in Wales, we have experienced the power of these words in Psalm 74:12, "For God is my King from of old, working salvation in the midst of the earth."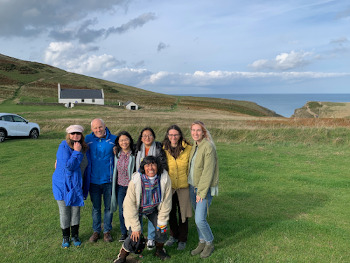 And as we continue in prayer with millions of saints around the world for revival, we know He is working in the foreground and behind the scenes to bring people to Himself.
Two weeks ago we had the opportunity to visit with a very dear old friend from those early days in California, and then, in response to a very kind invitation, we got to spend several days with friends in North Wales. We realized it was the first opportunity that we've had any time away since we moved into our new home in August last year. The mountainous surroundings are stunning, and we couldn't get enough of the views and walks in the open air.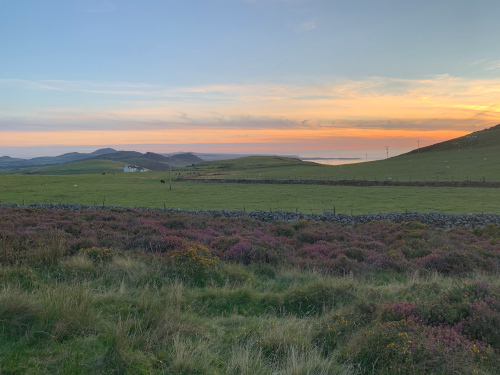 We arrived home tired but refreshed, and hope to be able to spend more time in the north to visit more friends and be mutually encouraged in the Lord as we see the day approaching.


We look forward to what the Lord has prepared in the days and years ahead. As the instability of the world around us plunges onward, we grow more secure and thankful for the fact that our lives are in his hands and that "God is the strength of our hearts and our portion forever."
It is this amazing reality of eternity with God that is the goal of our prayers and longing for the coming outpouring of the Holy Spirit on all flesh. Our bodies are showing the telltale signs of age, and we continue with challenges as do most folks that have made it this far. Nobody told us when we started out on this adventure with Jesus that the closer we come to the pearly gates, the bumpier the road gets!


But even so, "Therefore we do not lose heart. Even though our outward man is perishing, yet the inward man is being renewed day by day. For our light affliction, which is but for a moment, is working for us a far more exceeding and eternal weight of glory, while we do not look at the things which are seen, but at the things which are not seen. For the things which are seen are temporary, but the things which are not seen are eternal."


Thank you for redeeming the time with us in prayer for Wales and the nations, that all might know the love of Jesus Christ for themselves forever,


Dick & Gladys


------------------------------


Dear Friends & Prayers:
When the Hebrews were about to cross over the Jordan into the promised land, they were given apparently contradictory instructions. "When you see the ark of the covenant of the LORD your God, ...then you shall set out from your place and go after it... Do not come near it, that you may know the way by which you must go, for you have not passed this way before." Joshua 3:3-4
It seems that the Lord's instructions to Joshua apply to our times as well. I can't remember a period when there has been so much turbulence and unrest in so many places around the world, and it can be quite unsettling. I don't need to elaborate on this as we are all aware of it.
And it is from this place where we have not been before that our instruction is clear—to keep our eyes on the Lord. We are invited and commissioned to stay in close fellowship with Him at all times, although He might appear to be miles away from our personal, social, or national circumstances. That is part of the glorious mystery of belonging to Him.
Another important application of not having passed this way before is our ongoing prayer for revival. We carry a yearning in our hearts for people to know Jesus for themselves. This is what the Lord also desires as we read in 2 Peter 3:9, "The Lord is... not willing that any should perish but that all
should come to repentance." He longs for them to embrace His son. We don't yet know when the extraordinary coming move of God will happen or what it will look like, but we know Who does, and so just try to stay as close as we can. It's kind of like Joshua not wanting to leave the tabernacle, even when Moses went back to camp for lunch, in case he might miss "something." (Exodus 33:8)
There is a beautiful phrase in Psalm 32:8, "I will instruct you and teach you in the way you should go; I will guide you with My eye." How exactly that works is also part of the mystery, but as the indwelling Holy Spirit instructs our hearts and thoughts, He also can show us spiritual things through our natural eyes. Think about words of knowledge as we pray for someone or visions the Lord might give that come through a particular scene or view. It was just such an experience the Lord gave me in 1999 that led to us moving here in 2005.

I can't resist the urge to include this stunning image of the final harvest. It was part of a presentation by prophetic artist James Nesbit during a recent worship and teaching gathering in Alabama that we heard about from friends here in Wales. You can watch the evening session from Tribe Quantum Live 2022 on YouTube at this link.

As each of us forges ahead in the path God has set out for us, it is wonderful to know that we all are participants in preparing for gathering the coming harvest in one way or another. The scriptures are so full of wisdom and encouragement along the way, and the stories and testimonies are better than any vitamins!

Speaking of testimonies, I've recently gotten a book called The Welsh Revival, Its Origin and Development. It is about the beginnings of the 1859 revival and was written by Thomas Phillips in 1860 who experienced it firsthand and records testimonies of many others. Here's a brief sample that also describes places not passed through before.

"The next Sabbath day Mr Morgan heard Mr Jones preach from 'Woe to them that are at ease in Zion;' and this sermon took so strong a hold of Mr Morgan's mind, that he was at once aroused to the work. A person who was present at this service writes: 'There was no visible effect during the preaching of this sermon; and in the society afterwards, Mr Jones said he had found it very hard to preach. One of the elders got up and said it was a very difficult thing for a man to say 'Amen', under a ministry which he felt condemning him; and as he said these words he sat down as if fainting away. At this moment, there was something (I cannot say what it was, but that it was something that neither I nor any one else present had ever felt before) went through the whole congregation, until every one put down his head and wept!"

I have since discovered that the entire book is available to read online through Google Books, and have just added a link to it on the Resources page that I'm slowly developing on our website at https://walesawakening.org/resources. It is always uplifting to see how when the tide of living water is running low in the church, the Lord's faithfulness meets us at our point of need.


One last note about unfamiliar roads. Both Gladys and I are facing ongoing health challenges, and we really would appreciate your prayers for us in this area. (I'll be happy to supply more details on request.) When we started off on this amazing journey of faith all those years ago, we didn't realize that the closer we come to the pearly gates, the bumpier the road gets!


Thank you for your labors together with us for the coming fulfillment of God's rock-solid promises. "'Eye has not seen, nor ear heard, nor have entered into the heart of man the things which God has prepared for those who love Him.' But God has revealed them to us through His Spirit. For the Spirit searches all things, yes, the deep things of God." (1 Cor 2:9-10 NKJV)

Dick & Gladys


------------------------------


Dear Friends and Praying Saints:
Reading through Stephen's spirit-led account of the patriarchs' history in Acts 7 yesterday morning, I was struck by verses 20-21. "At this time Moses was born; and he was well pleasing to God. And he was brought up for three months in his father's house, and when he was set outside, Pharaoh's daughter adopted him and brought him up as her own son." There was something special about this child that made him so beautiful and attractive to the princess that she took him home. The more I considered and prayed about this, the more I was drawn into a deeper picture.
The precious seed of God's purpose and destiny in Moses paints a prophetic picture or type of Christ coming to save His people. It was this fact of his being beautiful in God's sight (NIV) that overcame any of the many practical reasons why the princess should not have taken him in as her adoptive son. It was the divine shine of God's pleasure in him that captured her heart.
Then I began to consider this characteristic of being well pleasing to God in our own lives. The amazing reality is that we all have the seal of God's love on us. What an enormous privilege that we can actually please Him. Here's the bigger picture. When one of the disciples asks Jesus how He will manifest Himself to them, he answers him in John 14:23, "'If anyone loves Me, he will keep My word; and My Father will love him, and We will come to him and make Our home with him.'" The key here, of course, is the "If anyone loves Me, he will keep My word..."
This is the heart of discipleship – Jesus says in Mark 8:34, "Whoever desires to come after Me, let him deny himself, and take up his cross, and follow Me." He and His father dwelling in us and taking pleasure in our company are the source of our "divine shine."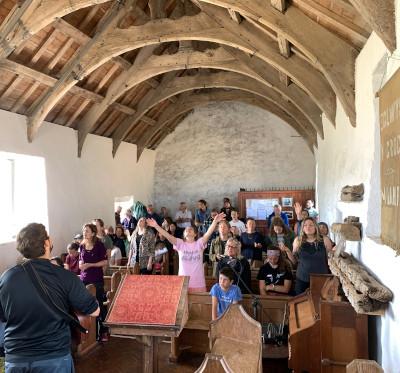 We have been delightfully invaded recently by two more groups who were shining brightly for Jesus. Their determination to become disciples of Jesus is readily apparent and their joy and dedication are explosive. These are people who are sold out for Jesus and whose hearts are filled with a hunger and thirst for righteousness.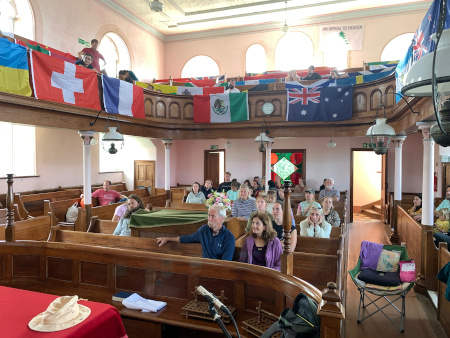 The first group is from Iris Ministries' Harvest School of Missions, and this was the last week of this three-week phase of training here in Wales. Their first three weeks were spent in Mexico, and Sunday they traveled north to Scotland for their final three weeks there. They are currently on the Isle of Lewis in the Hebrides for three days of worship and prayer. What a powerhouse of discipleship in action!
Then on Thursday, we had a quite spontaneous visit from a group of pastors mostly from the USA. They had gotten in touch with a friend from Swansea, a recent student at the Bible College of Wales, who asked if I could share an overview of what took place at Blaenannerch with Evan Roberts.

It has been an action-packed few weeks, and it seems things are beginning to get back into motion as the pandemic thankfully fades away. As good as that may be, the world seems to continue its downward spiral into spiritual darkness — confusion, barbaric warfare and displacement of millions, division, deception, and distrust are profoundly shaking the world around us. People desperately need the truth and love of Jesus to attach them to God's eternal plan of salvation.

Thank you for praying with us for the "new normal" for the Body of Christ. In the words of Jesus, "Let your light so shine before men, that they may see your good works and glorify your Father in heaven."

Dick & Gladys


------------------------------


Dear Friends and Praying Saints:

As I came around this turn on my way into Cardigan the weekend before last, this scene made an interesting impression on me. It was a hazy day and the bright colors of the circus tent made a strong contrast against the dull and humdrum life of the villages and surrounding farmland—the somberness of day-to-day life set against the gaiety and good times of a real circus.

We all know that sometimes the reality of life in the world around us can be harsh and tiring. We also know that much of the fun and entertainment of a circus is contrived and artificial. Many of the happy-looking members of those employed there are far from being really happy inside.

Then it came to me that this actually makes a good picture of our lives in God's family and members of the Kingdom of God. The real picture is what God's word says in Psalm 16:11, "You will show me the path of life; In Your presence is fullness of joy; At Your right hand are pleasures forevermore." And Jesus says in John 11:25-26, "Jesus said to her, 'I am the resurrection and the life. He who believes in Me, though he may die, he shall live. And whoever lives and believes in Me shall never die. Do you believe this?'"

Many people that haven't yet had a personal encounter with the living God consider us Christians as if we live in our own "circus" of man-made collective fantasy. However, the sobering reality is accurately summed up by Jesus' stunning response to Nicodemus' statement in John 3:2-3, "This man came to Jesus by night and said to Him, 'Rabbi, we know that You are a teacher come from God; for no one can do these signs that You do unless God is with him.' Jesus answered and said to him, 'Most assuredly, I say to you, unless one is born again, he cannot see the kingdom of God.'"
It is precisely this reality of today's sin-torn world that comes weighing in on me frequently. The other day I fell apart while reading through Psalm 119 when I got to verse 53, "Indignation has taken hold of me because of the wicked, who forsake Your law." The vast majority of the latest bad news stories are the product of people"... who forsake Your law." I found Charles Spurgeon's comment on this verse to be particularly relevant and challenging.

My soul, do you feel this holy shuddering at the sins
of others? For otherwise you lack inward holiness.
David's cheeks were wet with rivers of waters
because of prevailing unholiness; Jeremiah desired
eyes like fountains that he might lament the iniquities
of Israel, and Lot was vexed with the conversation of the men of Sodom. Those upon whom the mark was set in Ezekiel's vision were those who sighed and cried for the abominations of Jerusalem. It cannot but grieve gracious souls to see what pains men take to go to hell. Sin makes the righteous shudder because it violates a holy law which is in every man's highest interest to keep; it pulls down the pillars of the commonwealth...
Sin to a believer is horrible because it crucified the Savior; he sees in every iniquity the nails and spear....
It is an awful thing to insult God to His face. The good God deserves better treatment, the great God claims it, and the just God will have it, or repay His adversary to his face. An awakened heart trembles at the audacity of sin, and stands alarmed at the contemplation of its punishment.
How monstrous a thing is rebellion! My soul, never laugh at sin's fooleries, lest it comes to smile at sin itself. It is your enemy and your Lord's enemy--view it with detestation, for so only can you evidence the possession of holiness, without which no man can see the Lord.
Tears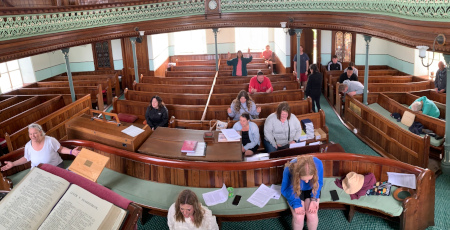 flowed freely the week before last when we met with a group at the chapel in Blaenannerch where Evan Roberts had his life-changing encounter with God that became the catalyst for the Welsh Revival of 1904. There was ample evidence of the workings of God's holiness in powerful intercessory prayer for revival in Wales and the nations.

It was such a joy and privilege to receive these folks from Youth With A Mission who came from Longview, Washington, as part of their training outreach. This was the first time we've had a group visit since before the pandemic forced the world into lockdown in March of 2020. They wanted to visit some of the main revival sites in our area and asked if I could share a bit about what took place here.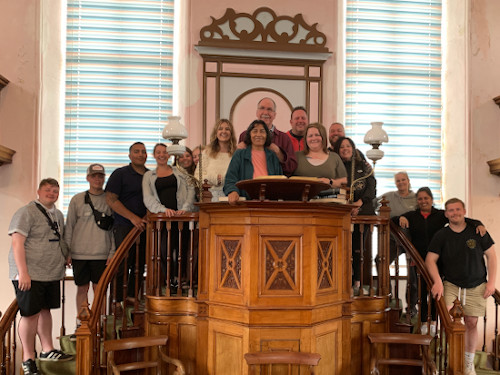 It was wonderful for us to take part in spirit-led prayers and worship with this many people again after more than two years. Their hunger for the Lord and their disposition to serve Him with their lives, and especially in missions, were like vitamins to our souls and great encouragement to our spirits. As we meet more and more of the family of God, once again experience the truth of Psalm 16:3, "As for the saints who are on the earth, 'They are the excellent ones, in whom is all my delight.'"

The icing on the cake was having this on-fire group come and spend time with us in our own home chapel. After telling about our calling and some of our experiences here, they prayed for us for our further work. We are still overflowing with the tremendous blessing it was for us and are extremely thankful to the Lord for such a precious time.
We pray and trust that this update blesses and encourages you and fires us all up to press into the coming of the Kingdom together,
Dick & Gladys