Dear Praying Friends,

We are now into our third week here at the Bible College of Wales and have really enjoyed our time here. The college is in between groups of students, so there are only four people on campus besides ourselves. It has been very peaceful and we get to spend lots of time in the gardens in the amazingly good summer weather.

I hope you have all read the book Rees Howells, Intercessor, and how he was led by the Lord into a challenging life of prayer and faith. Reading the stories of his experiences and growing relationship with God is a powerful source of inspiration and we can't recommend the book enough. You can read the first few chapters here on the publisher's website, and find new and used copies on Amazon or Abebooks as well. There is also an excellent overview of his life and work here on the Bible College website.

We count it an enormous privilege to be here during this time. There is an exciting energy connected with the prayers during the last hundred years, and more recently with the hundreds of students that have gone through the 12-week course of study. This is a real launching ground for the people of all ages who have been prepared and fired up to serve the Lord wholeheartedly either back in their home territory or wherever the Lord may choose to send them in the future. It reminds us of the times during the Jesus movement
in the 1970s when people were sent into ministry after what in many cases were intense encounters with the Lord and His call into discipleship and service.

I like this view from a particular spot in the garden where are you can just make out the white Mumbles Lighthouse on its rocky perch in the distance. It's a good reminder that Jesus is our lighthouse in times of turbulence and need. And He invites us to shine his light for others in the world around us who long for the certainty and hope that is only found in Him.

Psalm 119:105-106 says in The Passion Translation, "Truth's shining light guides me in my choices and decisions; the revelation of your Word makes my pathway clear. To live my life by your righteous rules has been my holy and lifelong commitment." This is a great description of what it means to be a disciple, and how God's word equips us to shine His light and bear the good fruit for which He made us.

As we draw close to our last week here in Swansea, there are still some unknowns about when we will be able to move into our new house in Betws Ifan. Once again we have seen the Lord open doors
to places for us to stay for the whole month of August if need be. However, we still have hopes to be able to actually move by next weekend.


It seems to be a matter of all the right documents getting into the right hands at the right time. We understand that it could all happen in a short matter of days... or it could still drag on for weeks. We are at peace with whichever way things go, but would once again like to ask for your prayers that things work according to God's design and not our personal preferences.


We visited the house last week and saw how the garden is getting overgrown. We found some shears and did some pruning in the hot sun. It was very nice to make a little headway on the outside jobs, and we felt like they were the first steps of making this place our home. Once again we gave thanks to the Lord for His provision of this lovely house which, by faith, we will be living in before too much longer. It will be nice to get settled in and get back to our times praying in the chapel which we have missed.

Thank you for your continued interest and your prayers for Wales, and the nations in need of His great light,

Dick & Gladys


------------------------------


Dear Friends and Prayers:
Two weeks ago today most of our belongings were moved from our home into a storage container nearby and we moved across the road. This is the last sunset photo from there. At a time when it was very hard to get any storage at all, God's provision opened a place up for us only two miles away. This was a huge blessing for us because the sale of our new house still is not finalized, and this is right on the way there when we get the go ahead to move in. It has also enabled us to organize and store the remaining items very conveniently.
Gladys and I have been constantly aware of God's goodness to us throughout this whole process. We have both felt overwhelmed at times by the amount of stuff we have accumulated and have had to deal with, and our hearts overflow with gratitude for the Lord's care for us.

We are coming to the end of our first 20-day stay here in our friends' cottage in Cilgerran, and on Saturday we will be moving on to stage two. When I last wrote, we hoped that wouldn't be necessary, but once again have seen the Lord's faithfulness in opening another door for us. Our friends from the Bible College of Wales in Swansea have kindly offered us the opportunity to stay there on the campus for the next several weeks. Even the detail of the timing makes us admire God's handiwork—the current students graduate this Thursday and then vacate the premises on Friday just in time for our arrival on Saturday.

This is an interesting time of transition for us, and we are looking forward to discovering just how the Lord works all things out for His purposes. We have lots of friends in the Swansea area and will enjoy the opportunity to have times of fellowship that have been missed during the pandemic.

A phrase that comes to mind is "from transition to position." It seems that life itself is actually a constant transition from one stage to the next, from infancy and childhood on into adulthood and career, family, etc. It is a long and elaborate chain of transitions. But when a person comes to faith in Jesus, he or she comes to a place of permanence and position. God translates us into the Kingdom of His dear son, and that placement by His grace is forever. He seats us in heavenly places for all eternity.


During this very difficult year and a half, countless people around the world have suffered loss and heartbreak, and transition has come unexpectly and painfully for millions. It is our trust and our prayer that millions also will have come to discover that "Through the LORD's mercies we are not consumed, because His compassions fail not. They are new every morning; great is Your faithfulness. 'The LORD is my portion,' says my soul, 'Therefore I hope in Him!'" (Lamentations 3:22-24)


Dick & Gladys


------------------------------


Dear Friends and Praying Saints,
This is a very quick email to say that two weeks ago we were told that we needed to vacate the premises where we have been living these 14 years by the 25th of this month! So as you can guess it has been sort of a mad rush for the past couple of weeks.
Presently we are about 90% packed of things Inside the house, and are ready to tackle the outdoor garden sheds and garage. There's a lot to do still, but the Lord has given us some wonderful grace and strength to do what needs to be done, plus the occasional helping hands. There will be a few more of those to come before all is said and done.
The mover is due to come on Monday the 21st, and we are asking you to pray with us for a miraculous expediting of the legal matters which would enable us to move directly into the new house. As things stand though, we have rented a 20 foot container nearby and will be putting things in storage until the negotiations are finalized,.. BUT our God is able!

As of the 20th we have 20 days temporary lodging in the cottage across the street where we first stayed 22 years ago. After that we are not sure but again know that God will provide as he always has.
I want to keep this short but just wanted to say thank you so much for your ongoing prayers. We are excited, as we see this is a major shift in our work of intercessory prayer here. After having been praying for all these years mostly at the gateway to the Southwest part of Wales, now we will be looking over the hills up into the Northeast to cover the rest of Wales. So on we go, and expectation is growing on all fronts for the impending move of God and extraordinary workings of the Holy Spirit in the days yet before us.

Isaiah 17:7-8 (MSG)

"

Yes, the Day is coming when people will notice The One Who Made Them, take a long hard look at The Holy of Israel. They'll lose interest in all the stuff they've made—altars and monuments and rituals, their homemade, handmade religion—however impressive it is.

"

May the blessings of God's grace and presence accompany you each moment of every day,

Dick & Gladys


------------------------------


Dear Friends:
It is with great joy and gratitude that we share the wonderful news that we have found a new place to live! We want to thank each one of you that have prayed with and for us during these last 8 months. And it comes as no surprise that the Lord's answer came at just the right moment.

The house is located in a tiny village called Betws Ifan, about 2 miles from Beulah where we spent our first two years here starting in 2005. You can imagine our surprise to learn that the name means Ivan's Oratory (place of prayer) or Chapel. We have yet to learn more of the history but the fact that this has been a place of prayer for many centuries clearly shows God's hand.

The entrance to this old and very small church is directly across the street from Church View, the name of what will be our new home. The moment I walked into the churchyard, my tears began to flow as I was moved on by the presence of the Holy Spirit and the power of intercessory prayer. And that very morning I had been on my prayer perch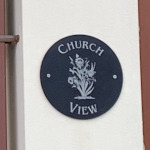 looking out over our river valley and was thinking how much I would miss the bird songs. And when we walked into this newfound place of prayer we were greeted by this wonderful chorus of birds! I hope you'll take a minute (literally) to have a look and listen to the video at this link. And when Gladys placed her hands on the brightly colored stained glass windows and was giving thanks to the Lord, He spoke to her heart and told her "this is a city of refuge!"

That same evening after this first viewing, we went up the hill to pray about this new possibility. While we were there I received an email from an old friend who we'd not been in touch
with for a while and so knew nothing of our activities. He said, "As I have been praying for you both this afternoon father says 'My dear son and daughter - I tell you what you cannot see - there is movement from heaven regarding your situation. I am unlocking the locked, I am melting the stubbornness to fall into line with My will and plans... I will not fail you - but will delight you beyond measure.'"

While at the chapel the next morning we got the call from our friends saying that their offer had been accepted. And exactly as our friend had heard from the Lord, we were delighted indeed! Then just this morning we heard that a final detail having to do with the results of the survey and inspection has been agreed upon, so the legal process begins. This will probably take a few months due to the very busy property market, and we hope to be moved in before the end of the summer. The Lord indeed is faithful and is never late.

As you can tell by the irregularity of our emails, we have been very busy in the search for a new place to live. As we drove from place to place, we reminisced about the previous time when we had to leave our rented house in Beulah. And now here we'll be just a few hills away. So this great news has brought us a great sense of peace and relief from the pressure that had been mounting. And knowing we will be settled in this new place until awaited and much prayed-for revival breaks out is yet another reminder of Jeremiah's words in Jer. 32:15, "For thus says the LORD of hosts, the God of Israel: 'Houses and fields and vineyards shall be possessed again in this land.'"

Last week the members of our chapel got together late one afternoon to give a good spring cleaning in preparation for this past Sunday's service. It was the first meeting since before the lockdown started early last year, so it was a special occasion. A bit different because no singing was permitted and we couldn't take communion, but just the fact of joining together for recorded worship and a live sermon seemed to be a step back towards normalcy as the pandemic hopefully winds down here.

We continue to look to the Lord for His intervention in the hearts of men, besides the obvious physical needs in so many places. This scripture in Isaiah 26:8-9 is a good guide for our prayers. "Yes, in the way of Your judgments, O LORD, we have waited for You; the desire of our soul is for Your name and for the remembrance of You. With my soul I have desired You in the night, yes, by my spirit within me I will seek You early; for when Your judgments are in the earth, the inhabitants of the world will learn righteousness."


Thank you for prayers and labors for Jesus, our hope and Savior,


Dick & Gladys


------------------------------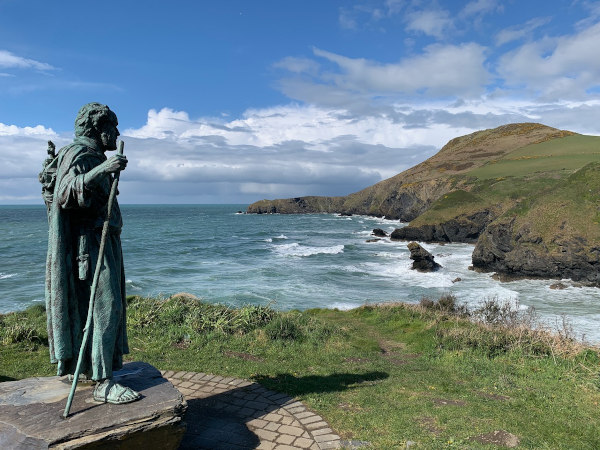 Dear Praying Friends,

Thank you so much for your prayers that we requested two weeks ago about a purchase offer on a house we had hoped would be our new home. We were disappointed to hear last Thursday that a sale had been agreed with someone else. However, we know that the Lord is our shelter and our provider and where one door closes He will surely open another for us.

So now once again we find ourselves like St. Carannog, the 6th-century founder of nearby Llangranog, looking for a place to make our new home. In this process, the Lord is strengthening our trust and peace because we know that He is far greater than what might seem to be awkward circumstances for us. It's as if we are taking a refresher course in faith and confidence

Now that the sale of our current home is going forward, we feel more pressed to find a place soon. Although buying a house can be a lengthy process, especially now during the pandemic-induced frenzy of house sales, we know our time in this particular house is coming to an end. We have been looking at several properties since we got the news Thursday, and do appreciate your continued prayers for Lord's provision for us in the very near future.

We had the enormous privilege of having our Danish friends staying across the street in the cottage that was our first lodging in Wales 22 years ago. They were required to self-quarantine for ten days before starting a course of study in Swansea, and we were glad to be able to provide them with the whole place to themselves rather than being confined to one room with us. God graciously provided awesome weather during their stay, and they were more than delighted to busy themselves in the garden that has needed some tender loving care since before the pandemic started last year.

It was a real joy to have almost daily fellowship outdoors as we made deliveries of food and other things they needed during their stay. Having come from a similar background of communal type discipleship experience, it was amazing to discover how much we had in common, and testimonies and prayers flowed so naturally, it was like being with life-long friends. We enjoyed the reality of the scripture in Psalm 133: "Behold, how good and how pleasant it is for brethren to dwell together in unity!"
A couple of Sunday mornings ago it was snowing like crazy, and an hour later the sun was shining down through a clear blue sky with cottony white clouds. The contrast was startlingly beautiful and reminiscent of what life is going to be like at times for us inhabitants of this earth. Through ups and downs and zigs and zags, how refreshing and perplexing to know that the Lord remains the same yesterday, today, and forever!

During the last several weeks we have accompanied some dear friends in prayer for loved ones with serious illnesses and then watched them suffer loss and grief. And at the same time we rejoice with others at the news of pregnancy and newborn infants. We see yet again how changes come to everyone, and the contrasts are as startling as they are diverse. Sorrow and joy, and mourning and dancing seem to strangely go hand-in-hand.

Solomon said in Ecclesiastes 9:11, "... The race is not to the swift, nor the battle to the strong, nor bread to the wise, nor riches to men of understanding, nor favor to men of skill; but time and chance happen to them all." And yet in this flux of endless change, the Lord is our rock and solid ground. We know that in all our comings and goings, our lives are hidden with Christ in God. In the great
scheme of things, He alone is our life and length of days. This is the bedrock of our existence.


In John 11:25-26 Jesus says, "I am the resurrection and the life. He who believes in Me, though he may die, he shall live. And whoever lives and believes in Me shall never die. Do you believe this?" This question that Jesus asked Mary is the most pertinent of all. How people respond to Jesus' offer of safe passage into God's eternal kingdom is of utmost importance. His blood shed for us is the only vaccine against the terminal disease of sin, far more devastating than any temporal pandemic.


People's decision to accept or reject this truth is at the core of why we continue to pray for revival. Hebrews 6:19-20, "This hope we have as an anchor of the soul, both sure and steadfast, and which enters the Presence behind the veil, where the forerunner has entered for us, even Jesus..."

May the Lord continue to bless you and fill you with the power of this mighty hope, and may you be free-flowing channel of the love of God to those around you.


Dick & Gladys


------------------------------




Use these links to see archived updates: