Dear Friends of Wales Awakening,
On Sunday morning we were so happy that Gladys could come to Chapel with me. Much to our surprise, I was greeted in the car park by one of the trustees who said that our minister was not going to be able to come to the service, and asked if could I bring a short message from the word. He also asked if I would be comfortable ministering the holy communion – such an honor and privilege.
Several of those present took part in the service with directing, giving readings, and songs. We put into practice what Colosians 3:16, "...teaching and exhorting one another in psalms and hymns..." Just what I was going to mention at the Tuesday meeting.
The pastor's text for his sermon was going to be from 1 Peter 2, and verses 1-3 , "…as newborn babes, desire the pure milk of the word, that you may grow thereby, if indeed you have tasted that the Lord is gracious." So I was given the opportunity to say many of the things which I had hoped to be able to talk about Tuesday night, and lay a foundation for it!
To start the Lord's supper, I prayed the words from the song they have used to start each meeting for generations,"O, anfon di yr Ysbryd Glan…", "oh dear Lord, send the Holy Spirit". It is God's answer to those words that we have been praying for since we moved here in 2005.
Tuesday night there were 14 of us together at the member's meeting at Cilfowyr which we asked to you pray for. I had not been in a church business meeting for than seventeen years, and forgotten what that is like. The main conclusion of all the practical matters and discussions is that the chapel will carry on as they have done until now. Then the formal part of the meeting came to an end, and they gave me the floor to share the baptism video and say a few words. I started off in Welsh but was quickly reminded that they all speak English perfectly well and to just carry-on with that greater freedom to express myself.
Because it was all spontaneous, here are bits and pieces that I remember. I spoke about 10 May being so significant and our completion of 17 years here. I shared about Jeremiah 32 promise of redemption of properties, as people come to the Lord and the the land comes under the stewardship of the body of Christ. I talked about the 1932 baptism of Betty Bowen and it's relevance to the video, and of the matter of life and eternity. I briefly mentioned the importance of revival and the significance of how the 1904 and 1859 Welsh revivals changed the history of the Christian world.
I talked about the future of the chapel, which was the main topic of the meeting, and that I believe that the future would be the chapel filled to the brim with new believers and regenerated believers. I also specifically mentioned the two young men present and underscored the importance of their generation. I spoke about the flags of 45 nations which represent people that have come from those nations believing the revival is going to touch their countries through what happens in Wales.
Through the five minutes I had, there was no visible evidence of any impact or reaction or signs of curiosity or interest. I the
n showed them the video of the baptism, which they all watched, although some were talking on the side as they watched. They said "thank you very much, that was nice", and everyone made their way out the door. I had a few conversations with the groups that formed outside, but there wasn't a comment or question about anything I said.

As I said in my last email, we didn't really know what to expect, and had hoped for more receptivity. But after all the nuts and bolts of the physical operation of things, it wasn't a total surprise. But we walk by faith and not by sight, just like Hebrews 11:1 says, "Now faith is the substance of things hoped for, the evidence of things not seen."

However, we are amazed and thankful at how the Lord opened the door for both Sunday and Tuesday night to be able to share all that I did. And we rest in the fact of what Isaiah 55:11, "So shall My word be that goes forth from My mouth; it shall not return to Me void, but it shall accomplish what I please, and it shall prosper in the thing for which I sent it."

Thank you for your continued prayers for us, for Wales, and the nations,

Dick & Gladys


------------------------------


Dear Friends & Prayers:
As spring really is getting underway now, we are discovering the many lovely flowers and features of the garden in our new home. We've planted some things but are mostly just watching the whole area come into new freshness that we've not seen before.

Isaiah 58:11-12 says, "The LORD will guide you continually, and satisfy your soul in drought, and strengthen your bones;
You shall be like a watered garden, and like a spring of water, whose waters do not fail. Those from among you shall build the old waste places; you shall raise up the foundations of many generations..."

The biggest surprise, however, took place two weeks ago at the first monthly meeting at Cilfowyr Chapel that we've had since January. At the end of the meeting when one of the trustees got up to share about the annual spring cleaning, and that there is going to be a general meeting of the members on Tuesday 10th of May. I was totally blown away to hear that purpose was to discuss the future of the Chapel...and the possibility of closing it down due to the aging and shrinking membership!

I'm sure you can imagine the thoughts that immediately began to race through my mind. Knowing full well that God had everything in hand, I didn't exactly freak out. But it was quite a ride as I entertained a multitude of possibilities in a very short period of time!

The overwhelming evidence of the Lord's goodness and amazing provision over all these years has been a solid anchor for our faith and kept us strong in His grace—from the miraculous provision of our new home to years of unfailing supply of material support, ad infinitum. It would take weeks upon weeks to tell the stories of glory that honor Him and Him alone.

Another "incidental" fact was that only a week before we had the 140-year-old oak door refinished it was ready for Sunday. This was a job that had been on my mind for a few years, and similar to fixing up the even older baptistry a couple of years ago, it seems very prophetic indeed. And then all the many comments from very pleased members of what a great improvement this has made to the overall appearance of the chapel just made it all the more significant.

Then, within a few days, things started getting interesting! It dawned on me that the day of the meeting, May 10th, was the very same day that we left our family, friends, and home to relocate to Wales in obedience to a seemingly illogical mission impossible. After another day or two, I realized that it will have been seventeen years to the date. And that number began to just hang around like a mysterious tickling in my heart.

Then on Saturday morning, while reading and praying at the chapel, I was finally spurred into action and did a search for the word "seventeen". I could barely believe my eyes when I found Jeremiah 32 in the spotlight. The Holy Spirit gave me an immense revelation on that key portion back in August 2010. Verse 15 says, "For thus says the Lord of hosts, the God of Israel: 'Houses and fields and vineyards shall be possessed again in this land.'" That verse kicked off an extraordinary chain of events, including the redeeming of the Bible College of Wales.

But I wasn't prepared for what I discovered next. Verse 9 says, "...weighed out to him the money—seventeen shekels of silver." Then it hit me like a thunderbolt—one shekel = one year! On the date of the meeting, May 10th, the price will have been PAID IN FULL!!! I was quite overwhelmed, as you might imagine, and just tried to take it all in as the "download" from the Holy Spirit washed over me. While still in the afterglow of this revelation, I tried to capture as much as I could express at the time in a short video. (If you'd like to watch these 3-minutes, please email me and I'll send you the link!)

So we have a special and important request. Would you please pray with us for the meeting, and if so led, even during the specific time. It will take place this coming Tuesday, May 10th,
at 6 pm British Summer Time (UTC +1). We had an informal discussion after the spring cleaning last Tuesday, and everyone wants to keep on meetings as usual, so that is not an issue, praise God! But specifically, we are asking for prayer about what to share. Also, I will be speaking to the members present in Welsh, so please pray for a "...spirit of power, love, and a sound mind!"


These arched-shaped panels decorate the balcony all the way around the chapel. I've counted them lots of times over the years, but never was able to find any meaning to the number—that is until this Tuesday morning. There are 62 panels, and the Lord directed me to Isaiah 62:1 which says, "For Zion's sake I will not hold My peace, and for Jerusalem's sake I will not rest, until her righteousness ...and salvation are as a lamp that burns." So those will be my opening words and we are trusting the Spirit of God to take over from there...


Thank you so very much for your prayer support during this crucial time. We don't know what to expect, but we are certain that His plans will not be thwarted. And we look forward to discovering what it says in Hebrews 7:24-25, "Eye has not seen, nor ear heard, nor have entered into the heart of man the things which God has prepared for those who love Him."

Our most sincere thanks for your interest and prayer support. And thank you also for keeping Gladys' health situation in your prayers. She needs a breakthrough.

May God bless you and keep you holding on to Him during these unprecedented times. "Trust in the Lord, and do good; dwell in the land, and feed on His faithfulness." (Psalm 37:3 NKJV)

Dick & Gladys



------------------------------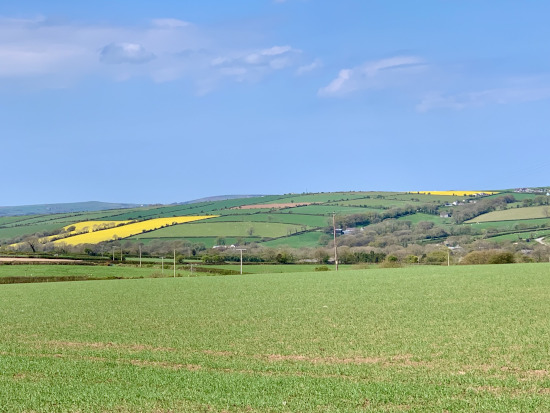 Dear Praying Friends:
We recently were reading through Psalm 35 when David was crying out to the Lord for help in the midst of heavy tribulation. In verse 3, his plea to the Lord stood out on the page, "Say to my soul, 'I am your salvation.'" We are accustomed to hearing David speak to his own soul frequently, like in Psalm 42:5 saying, "Why are you downcast, O my soul?"
But in this instance, he is asking God to speak directly to his soul—to give him a "Rhema" word. What a massive difference! It's like these golden sunlit fields in comparison to the beautiful but ordinary shades of green."Say to my soul, 'I am your salvation.'"
Two weeks ago we enjoyed our first international visitors since the lockdown began over two years ago, apart from our family visit back in November. It was a welcome indication that things are actually starting to open up again somewhat.
Ole and Bente are from Denmark, and we first met at the Bless Wales event in 2019. Then they were our "self-quarantined" neighbors last year in Cilgerran before attending the spring term at Bible College of Wales in Swansea. We had some precious days of fun, fellowship, and prayer together before they continued their exploratory prayer holiday through Wales, England, and Ireland.
Their stay with us was a special blessing and encouragement for another reason also. Back in January, I mentioned that both Gladys and I were going through some health issues. Each of us has seen some improvement in one area, but other things have made the last month extremely difficult, especially for Gladys.

We very sincerely appreciate your prayers for us both. We both have learned more than ever how completely dependent we are on the Lord and His grace. And we are exceedingly thankful the Lord sustains us and speaks to our souls with His salvation.
It is very hard to believe that the barbaric devastation in Ukraine is still going on today. That continues to weigh heavily on our hearts, and makes our personal situations seem trivial by comparison. We have found, however, that our growing dependency on God's covering gives us some insight into how to pray for the millions of bereaved, affected, and displaced people who were just going about their daily lives.

As we look to the Lord and His word regarding everything that is going on, we find strength and hope for every individual and their circumstances. Psalm 34 is one of the countless treasures in Scripture. Verses 15, 19, 22, "The eyes of the Lord are on the righteous, and His ears are open to their cry... Many are the afflictions of the righteous, but the Lord delivers him out. of them all... The Lord redeems the soul of His servants, and none of those who trust in Him shall be condemned."

We pray that all people everywhere in whatever circumstances they find themselves might all learn to cry out to the Savior like David did, "Say to my soul, 'I am your salvation.'" When God speaks to our souls, revival is born anew in our hearts as eternity's gates are opened wide through humble faith in the blood of Jesus.

Dick & Gladys


------------------------------


Dear Friends and Praying Saints:

The three weeks since I last wrote have seemed totally unreal. It's like the dial is stuck on a horror channel on the TV and no matter which way we turn it. The inhumane Russian war against Ukraine is nothing less than insanity. The wanton destruction and callous disregard for millions of human lives are heartbreaking proof positive that the "developed" modern world is in more desperate need of Jesus than ever before.

As we've continued and intensified our prayers during this distressing turbulence, something in Psalm 23 has grown significantly pertiment. I'd like to highlight that here to help focus our prayers.

A Psalm of David

1 The Lord is my shepherd; I shall not want.
2 He makes me to lie down in green pastures;
He leads me beside the still waters.
3 He restores my soul; He leads me in the paths of righteousness for His name's sake.
4 Yea, though I walk through the valley of the shadow of death, I will fear no evil;
For You are with me;
Your rod and Your staff, they comfort me.
5 You prepare a table before me in the presence of my enemies;
You anoint my head with oil; my cup runs over.
6 Surely goodness and mercy shall follow me all the days of my life; and I will dwell in the house of the Lord forever.

In the first three verses David is talking about the goodness of the Lord. But in verse 4 his circumstances change drastically when he comes into danger, and he
begins to speaks directly to Him. This is a profound and significant shift. David's outlook on everything changes because his very life is on the line. What a beautiful picture of trust and confidence to run to the Father and know he is loved and cared for without measure.


As millions flee for their lives and their world has been turned upside down, we can pray that they find this direct and very personal relationship with the living God. May their lives be changed forever as they are translated into the kingdom of God through the precious blood of Jesus.


Jesus says in John 8:12, "...I am the light of the world. Whoever follows me will never walk in darkness, but will have the light of life." Our prayer is that thousands upon thousands respond to His invitation and experience the transcendant power of faith in our Heavenly Father.


Dick & Gladys


------------------------------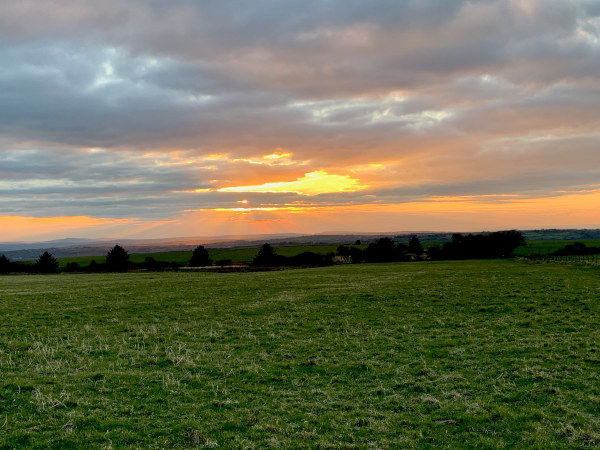 Dear Praying Saints and Intercessors:

In the early hours of Saturday morning, I had a beautiful dream that repeated itself over and over. Somehow I found myself suspended above Ukraine and my arms were extended around most of the country from east to west, and I was embracing it as if somehow we were a father and child. It was all farmland with rolling green fields and wooded areas and there was such an amazing sense of warmth and peace in the embrace that I did not want to let go.
Each repetition of the dream brought a new viewpoint, and what I saw of the landscape and the people in my arms I would embrace, and again cradle everything to myself, to my heart. There was a satisfying sense of providing safety and security to the whole of the countryside. There was not even a hint of anything out of order in spite of the things that are going on in the physical realm.

Ukraine is home to the most fertile and productive farmland in Europe, and its beauty added to the joy of the dream—safe in God's arms of love. Jesus said in John 16:33, "'These things I have spoken to you, that in Me you may have peace. In the world you will have tribulation; but be of good cheer, I have overcome the world.'"

As we opened the Scriptures this morning, these verses in Exodus 19:3-6 painted the same picture. "And Moses went up to God, and the LORD called to him from the mountain, saying, 'Thus you shall say to the house of Jacob, and tell the children of Israel: You have seen what I did to the Egyptians, and how I bore you on eagles' wings and brought you to Myself. Now therefore, if you will indeed obey My voice and keep My covenant, then you shall be a special treasure to Me above all people; for all the earth is
Mine. And you shall be to Me a kingdom of priests and a holy nation...'"

As we prayed into this, I remembered another vivid dream I had very early this morning. Once again I was looking down on the Ukrainian countryside from above and I saw vast numbers of sheep. For some reason, the number of 9 million sheep came to mind. They were divided into 10 huge flocks and were roaming around in an expansive area of prairie and desert and mountains. Each of these huge flocks was apparently on their own as if in open range with no one looking after them.
Then I saw a massive yet gentle hand reach down from above and settle in among the hills, and with the other hand, the Lord gently steered each one of the flocks towards his open palm. One by one they were herded closer to his hand though at the same time, here a little and there a little, until they all were gathered into the palm of God's hand. Somehow that vast number didn't even cover his hand. What stood out to me was the love and the tenderness that poured out of the heart of the Good Shepherd as he brought his flock to safety, cradled into the hollow of his hand. (Psalm 95:7)

This most overwhelming fact and glorious hope is encapsulated in the words of King David in Psalms 8:4, "What is man that You are mindful of him, and the son of man that You visit him?" And these words of Jesus in Luke are even closer to the heart, "How often I wanted to gather your children together, as a hen gathers her brood under her wings, but you were not willing!"

I wanted to share these dreams to encourage and empower your prayers for Ukraine in this painfully crucial time. And to take it two steps further, James 4:5-6 says, "Or do you think that the Scripture says in vain, "He yearns jealously over the spirit that He made dwell in us? But He gives more. Therefore He says, 'God resists the proud, but gives grace to the humble." And 2 Peter 3:9 says, "The Lord is not slack concerning His promise, as some count slackness, but is longsuffering toward us, not willing that any should perish but that

all

should come to repentance."

As we join our prayers with hundreds of millions around the globe for consolation and salvation, no matter which side of "the fence" they're on, or even if they don't know there

is

a fence, let's remember that every person's eternity is in the balance. That's what Jesus came for.

Dick & Gladys


------------------------------




Use these links to see archived updates: