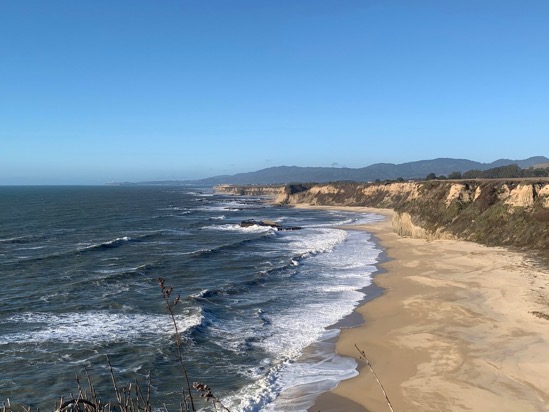 Dear Praying Friends and Saints:
A belated welcome to 2020! Not only do we enter another new year, but we embark on a new decade as well. Leading up to beginning of a new year we always hear prophetic words and promises about what is to come, and even moreso now at the start of this new decade. I'm sure we all have heard more than one of them. And yet somehow the years slip by without any great fulfillment of much of it, and we find ourselves back into the day-by-day of one more journey around the sun.
While reading though the first chapters of Luke, I found a few verses that spoke strongly to me, not about things that will come to pass, rather about things that are. John the baptist's father, Zachariah, spoke out by the Holy Spirit in Luke 1:78-79 saying, "Through the tender mercy of our God, with which the Dayspring from on high has visited us; to give light to those who sit in darkness and the shadow of death, to guide our feet into the way of peace."
Then shortly after this wonderful declaration, Simeon says in Luke 2:29-31," Lord, now You are letting Your servant depart in peace, according to Your word; for my eyes have seen Your salvation which You have prepared before the face of all peoples." These imperishable truths set the backdrop for the big picture. Everything else, be they days, years, decades, or centuries, are small matters on the stage of God's eternal kingdom–like so many waves on those golden shores.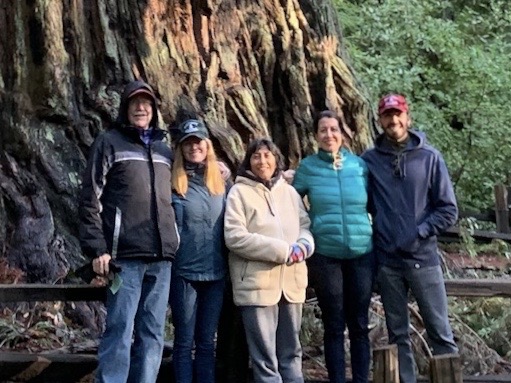 The second chapter of our family visit found us landing in San Jose, California, on Christmas Day where Richard and Emily live. They met us our with daughter Grace and so it was a very happy moment when we all found each other in the baggage claim area!
Although both Grace and Richard have visited us in Wales on their own, we hadn't seen Emily, our 2nd daughter-in-law, since their wedding in October, 2018. So that made our time very special indeed. Richard's birthday was that Friday, and we went to see the redwood forest on the western slopes of the California coastline. Gladys and I hadn't been among those giant redwoods for many long years, and I had forgotten what a special place they create. I clearly remember the awe and wonder these ancient living monuments inspired in me almost fifty years ago when I was searching for the Lord I did not yet know.
Then on Monday we all drove north past Sacramento to join our oldest son Peter, his wife Allie, and then, for the first time, meet her parents, and our co-inlaws, Matt & Lorena. We had such fun getting to know one another and discovering yet another facet of our growing family. Lorena is Mexican born and speaks fluent Spanish, so she and Gladys hit it off big-time and really had fun together. We all did in fact, and also got to savor some amazing home cooking and good times around the table.

During our time in California we also enjoyed an added dimension of family. We made a surprise visit to the Verbo congregation in Redwood City on our first Sunday morning, and had such fun meeting some friends from long ago from this group of Spanish churches that Gladys and I helped start up in Guatemala in the late 1970s. We also spent two wonderful days with Francis and Suzie Anfuso. I knew him when we were both very young Christians, and we've reconnected a few times since then. They spent a week with us in Wales nine years ago, when they came to make an excellent documentary about the Welsh revival called Awakened, which you can watch at this link.

The way that we love and cherish our own natural families point to this broader element of family—God's eternal family. What lies at the heart of revival is His great desire and purpose bring people of know Him, to embrace His Son, and" to give light to those who sit in darkness and the shadow of death, to guide our feet into the way of peace."
May God bless you and your loved ones richly during this new year as we pray together for His coming Awakening,

Dick & Gladys


------------------------------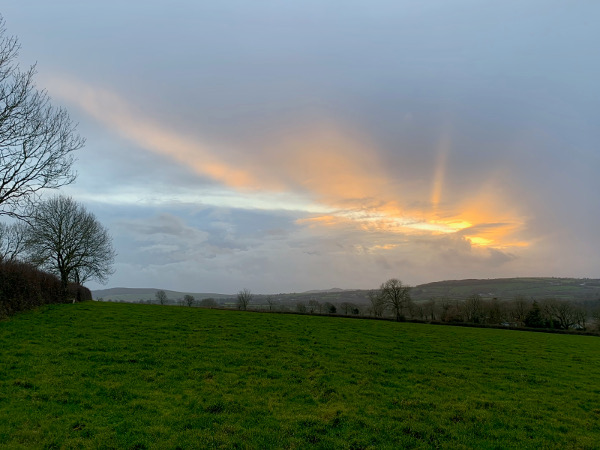 Dear Friends and Prayers:
At this particular time of the year, the words of Jesus in John 8:12 have special significance. "...I am the light of the world. He who follows Me shall not walk in darkness, but have the light of life." However, these profound words go far beyond just this time of year. They carry us into a whole new dimension of living. It is way different than unwrapping a one-time gift. Day by day throughout the year we can discover things in His light that we've never seen before.
God's greatest gift to us, besides Jesus Himself, is His word. This is the key to discovery, the doorway of revelation. Through the guidance and teaching of the Holy Spirit we are transformed by Jesus' words of life. Just like He says in John 8:31-32, "...If you abide in My word, you are My disciples indeed. And you shall know the truth, and the truth shall make you free." In this amazing freedom Christ gives, we are constantly unwrapping and unpacking His truth and being changed, not only in our understanding but who we are and how we behave.
We have a clear exhortation in Romans 12:2 that says, "And do not be conformed to this world, but be transformed by the renewing of your mind, that you may prove what is that good and acceptable and perfect will of God." During this Christmas season the world around us is pushing very strongly in the direction of commercial consumption with the giving of presents, etc. And this is a marvelous opportunity to let the light of life shine though us with words of truth and hope in a word full of passing fancies and short-lived pleasures of presents of effervecsent "newness".
We arrived in New Orleans, Louisiana, on Tuesday night for a holiday family visit! We will be here with our middle son Mike and his wife Lauren until Christmas Day.
Then we fly out to San Jose, California, to join our youngest son Richard and his wife Emily, and daughter Grace who arrives from New York the day before. We will then join our oldest son Peter and his wife Allie at her parents home to the north of Sacramento. So, as you can well imagine, we are really looking forward to seeing all of our children again, although not all in the same place.

After so many years now in Wales, these visits become dearer and dearer to our hearts, and we are very thankful to the Lord for His goodness. We are also grateful for different weather and scenery too. Although its looks a lots like home here today with grey skies and a constant drizzle, we've already seen more sunshine since Tuesday that we have seen in weeks!

We pray and trust that you have a warm, joyous, and meaningful Christmas with your loved ones, and pray that the Light of Life shine brightly through you and around you with fullnes and grace.

Dick & Gladys


------------------------------


UPDATE: Conservatives win UK election in landslide victory!
Dear Saints:
This is a quick note to ask you to please pray for the general election tomorrow, December 12th, here in the United Kingdom. It is not at all united just now, and the political and media storm is running overtime as they come down to the wire tomorrow morning when polling stations are open from 7 AM - 10 PM (GMT) here.

There are some valid arguments on all sides of the political arena among Christians and non-Christians alike. And any personal inclinations aside, we are asking for your sincere prayers that the Lord's will be done and that whatever way things go, that there will be effective doors opened for the spreading of the gospel and the furtherance of His kingdom.

We can all be pretty good at giving God our counsel, but we also know how that winds up too! A good theme for this situation can be found in Isaiah 55:8-9, "'For My thoughts are not your thoughts, nor are your ways My ways,' says the Lord. 'For as the heavens are higher than the earth, so are My ways higher than your ways, and My thoughts than yours thought.'"
The situation here in the UK is not limited just to here. Around the world, we see unrest, strife, and physical warfare. But the political instability and confusion here are a daunting challenge. It is all part of the same long-standing battle that has been going on between two kingdoms ever since the garden of Eden. 

John 1:1-5 says it all. "In the beginning was the Word, and the Word was with God, and the Word was God. He was in the beginning with God. All things were made through Him, and without Him nothing was made that was made. In Him was life, and the life was the light of men. And the light shines in the darkness, and the darkness did not [overcome] comprehend it. "


Last week I shared a glimpse of this same sunset. Then the next day a friend to the north of here sent me this! Such a great picture of the fulfillment of God's promises. We see in part, but then we will see in full.

Obviously, just one election in this nation is not going to override God's ways. But we want to encourage you to please pray with us for the people of England, Northern Ireland, Scotland, and Wales. May they respond to the subtle leadings of God in spite of the fact many don't even believe he exists, nor much less understand anything about what His ways are.

And so we simply pray with faith the words of Jesus, "Thy kingdom come, Thy will be done, on earth as it is in heaven." Thank you,


Dick & Gladys


------------------------------


Dear Praying Friends:
This amazing sunset was the icing on the cake tonight after what has been another series of days brimming over with blessings and highlights. One of them was what we read a few mornings ago in 2 Peter 1:16-19, "...We saw his majestic splendor with our own eyes when he received glory and honor from God the Father... We ourselves heard that voice from Heaven when we were on the holy mountain. Because of that experience, we have even greater confidence in the message proclaimed by the prophets. You must pay close attention to what they wrote, for their words are like a lamp shining in a dark place—until the Day dawns, and Christ the Morning Star shines in your hearts."
In recent days the darkness of the world swirls around our heads with news of unrest, unrighteousness, and tragedy. All too easily we can get caught up in the angst of the world, but Peter's exhortation is to pay close attention to God's words.

And Jesus himself said, "Seek ye first the kingdom of God..." This makes it very clear where our heart belongs. And if our home is where our heart is, then even though the world around us seems to be shaking itself off its hinges, we are firmly planted By the living water. He is our rock and Prince of Peace, and through Him, we can reach out to those in need around us with truth and life.

Another highlight for us was attending the graduation of the Bible College of Wales. This was the ninth batch of students to finish the 12-week course, and the joy and excitement were just wonderful to behold. They really were "ABLAZE" with the love and the empowerment of God. How thrilling to see them from such diverse places and backgrounds being back into the fields of harvest, like seeds of a dandelion carried off by the wind of the Holy Spirit

We had a special connection with this class because of times we got to spend with them at the college campus, as well as their visit to the "Bend me!" Chapel at Blaenannerch, and afterwards at our own Cilfowyr Chapel. And another extra bonus was our friend Paulina from Guatemala, here in the inset receiving her diploma from Pastor Yang, director of BCW. Her father, along with his four siblings, had been among my students there over 35 years ago.

And then Paulina's aunt, one of the those five, also came to the graduation with her husband, the pastors of the Cornerstone Church in Almeria, Spain. Also with them was the family of another young student from Spain who we connected with while she was here. One more addition to the mix was the Mexican pastor from the Spanish-speaking Cornerstone church in Long Island, NY, who we met last year. It was such a joyous time to share
stories and hear news from so many years ago, and also meet new friends in the family of God and rejoice in His love and goodness, and all in Spanish. It was a priceless and privileged time and a genuine taste of heaven on earth!


And skipping over far too much to relate here, today we finished off with a wonderful visit by another one of the graduating class and her friend of thirty years who came to help her celebrate. She also just "graduated" from her professional career, and so they are both spending time here in Wales just taking in of the Lord's goodness, and looking towards the next chapter of their lives in His service. Please pray for all these precious saints, thank you.

All we can do is rejoice at the immense goodness of the Lord and His faithfulness to bring to completion all the good works that He has started in countless lives of saints around the globe. We realize the extraordinary privilege He has given us of such wonderful connections with the family of God from so many nations of the world. Kingdom stories are multiplying across the earth today, and people are being drawn to His glory. So together we can boldly proclaim among the nations along with King David, "The Lord is my light and my salvation; whom shall I fear? The Lord is the strength of my life; of whom shall I be afraid?"


May you be overjoyed and encouraged in the strength of His might and the depth of His mercy,


Dick & Gladys


------------------------------


Dear Friends of Wales Awakening:
The beginning of Luke's Gospel is always a delight to read through, taking us afresh into the greatest story ever told. This time was no exception, and Mary's visit to her cousin Elizabeth is always a highlight. This 2007 painting by Corby Eisbacher beautifully catches the joy and wonder of that prophetic moment. (instagram.com/artbycorby)
Luke 1:41-44 tells us, "And it happened, when Elizabeth heard the greeting of Mary, that the babe leaped in her womb; and Elizabeth was filled with the Holy Spirit. Then she spoke out with a loud voice and said, 'Blessed are you among women, and blessed is the fruit of your womb! But why is this granted to me, that the mother of my Lord should come to me? For indeed, as soon as the voice of your greeting sounded in my ears, the babe leaped in my womb for joy.'"
I was bowled over by verse 43, "But why is this granted to me, that the mother of my Lord should come to me?" Elizebeth's words perfectly capture the astonishment that God's grace has come to us also! And we have a far greater privilege. Elizabeth received the mother of Jesus come under her roof, but in our days we are His roof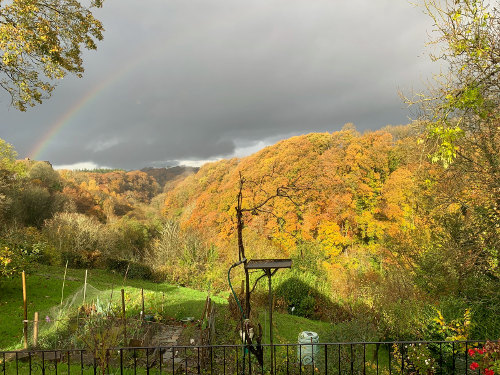 —we are His dwelling place! Jesus himself told us this in John 14:23, "If anyone loves Me, he will keep My word; and My Father will love him, and We will come to him and make Our home with him."

As the magnitude of that reality sunk into my spirit, it instantly brought me to tears of thankfulness and awe at God's amazing love and mercy. And I easily joined in with David's words in Psalm 8:4, "And what is man that You are mindful of him, and the son of man that You visit him?"

As we continue in our prayers for this nation, what our souls long for is that God would grant people the privilege of knowing His love. When Elizabeth was filled with the Holy Spirit, she received direct revelation from God of what was actually happening at that very moment—she knew the King of Glory had come into her home. And so we cry out for each and every one that Christ died and rose again for, that all will receive the revelation that they can be His home for a lifetime, and that He will be their home throughout all eternity.

Last week we enjoyed a brief visit from our friend Janet Phillips who visits Wales several times a year in her work with C
ommunity Bible Studies, Int'l. This time she was accompanied by Patricia, a new traveling and prayer partner. It was great to catch up on Janet's activities and get to share some of the adventures the Lord has her on, and swap testimonies of all the He is doing in each of our spheres of activity. Please pray for the rest of their time here as they seek to see more people getting established in the word of God.


It is always a joy to hear stories about God's faithfulness, and how His people around the world are being drawn into a greater desire to know Him better and to serve Him more faithfully. For example, later this week we will be attending the graduation at the Bible College in Swansea. We really look forward to seeing this new group of students being released into the fields where the Lord sends them. We admire their dedication and hard work and invite your prayers for them also for clear guidance as they dedicate their lives to His service.


We are grateful that each of us can so easily follow the instruction in Hebrews 4:16 that exhorts us, "Let us then approach God's throne of grace with confidence, so that we may receive mercy and find grace to help us in our time of need."


Dick & Gladys


------------------------------




Use these links to see archived updates: