Dear Friends of Wales Awakening:

Several weeks ago the Lord impressed on my heart the need to set aside time to pray specifically for America. The election is now only three weeks away, and the political heat is turned up as never before. And the current selection of a new justice to the U.S. Supreme Court adds more fuel to the already raging fire.

In the midst of all the noise, the words of a favorite old Bill & Gloria Gaither song have consistently come to mind...
"Kings and kingdoms will all pass away,
But there's something about that name."
On Saturday we were reading about the time when the Assyrian king Sennacherib was threatening Judah and Jerusalem in 2 Kings 18-19. The taunts and shouting described therein have a familiar contemporary ring to them with two sides fighting against one another.

When Sennacherib sent a letter to Judah's king, 2 Kings 19:14-15,19 says, "And Hezekiah received the letter from the hand of the messengers, and read it; and Hezekiah went up to the house of the Lord, and spread it before the Lord. Then Hezekiah prayed before the Lord, and said: 'O Lord God of Israel, the One who dwells between the cherubim, You are God, You alone, of all the kingdoms of the earth. You have made heaven and earth... Now therefore, O Lord our God, I pray, save us from his hand, that all the kingdoms of the earth may know that You are the Lord God, You alone.' "

Whatever be the outcome of this election and its implications for the near future, there is a far more important matter at hand. And this is where Hezekiah's prayer absolutely nails it. "...that all the kingdoms of the earth may know that You are the Lord God, You alone."


All the kingdoms of the earth, be they political parties, ideologies, or actual nations, will all pass away. And it is the same for our brief physical existence on earth. Only God's eternal Kingdom will remain forever, and all those elect Him to be our King and Lord and Savior.


Psalm 95:7 says, "For He is our God, And we are the people of His pasture, And the sheep of His hand. Today, if you will hear His voice…" Our prayer is that people will indeed wake up to this reality and live accordingly. That is the only election that really matters in the long term.


Trusting in His abundant grace for our lives and yours,

Dick & Gladys


------------------------------


Dear Friends in Prayer:

A dearly beloved friend had her nine grandchildren playing outside the farmhouse one evening last week when she suddenly got the news that there had been an accident. While romping around, two little heads had slammed together extremely hard and, somehow, six-year-old William's front teeth had split his tongue open from top to bottom and right up the middle towards the back more than an inch.
A frantic visit to the nearby accident and emergency department of the nearby hospital wasn't enough. Three doctors determined that William would need a pediatric surgeon to repair the severe damage, and the outlook wasn't very promising. The surgeon wasn't able to see him until 7 o'clock the next morning in Swansea, two hours away.
At 4 o'clock in the morning our friend was awake praying when she got this word from the Lord in Jeremiah 32:27, "Behold, I am the LORD, the God of all flesh. Is there anything too hard for Me?" The next morning in Swansea, William's mother had to deliver her little boy unaccompanied through the doors to the hospital staff due to COVID-19 restrictions.
After an anguished wait of only a half an hour, the surgeon himself marched William out the door to announce to an astonished mum that "somehow" his tongue grown together by itself and needed only minor care till completely healed. Overwhelming joy and thankfulness to God would be an understatement.
What an awesome loving God is our heavenly father, stepping into the life of this child and his family and showing His compassion and tender mercies with power and glory. Hearing this testimony of a real-life miracle directly from both mother and grandmother can't help but strengthen our faith. And it will surely encourage yours as well.

And we ourselves have also been the direct recipients of what we consider a miraculous blessing. You probably remember our September 15th update when we told about the surprise of our house being put up for sale. We asked for your prayers, and our amazing God responded in an astonishing way, bringing to mind Psalm 86:10 that says, "For You are great, and do wondrous things; You alone are God."

The very next morning, we got a phone call from some long time friends who had just read our email and felt the Lord directing them to buy the house and to rent it to us! It's a good thing we were sitting down because we both would probably have fallen over at the shock of joy and wonder at God's goodness and their substantial faith and generosity.
During a subsequent visit to look the house over carefully, they realized that there were serious physical problems with it. SO, after some time of discussing the prospects and praying together, they have asked us to locate a suitable property in this area around Cilfowyr Chapel and they will purchase it and rent that one to us instead.


We are still reeling at the magnitude of God's great faithfulness to us. And today when we received the formal notice of the end of our tenancy here, we were once again humbled by the astounding provision the Lord has provided for us, and yet another confirmation of His plans for Wales and our intercessory role here.


Fortunately, there are six months before we need to vacate, and we have already started looking for properties and hope to move before then. We know that if the Lord has made the provision, He knows exactly where it is, but we don't. So we would like to seriously engage your prayers to this end. We need to be relatively close to the chapel, which is the hub of our activities, and in a rural area with enough space to host guests without being a nuisance to neighbors. It's like finding a needle in a massive green haystack, but He is "...El Roi, the God-Who-Sees;" (Genesis 13:16), and we know we can trust Him implicitly

Thank you once again for your continued interest and prayers for us and for Wales. And meanwhile, we can say together with David in Psalm 89:1,
"I will sing of the mercies of the Lord forever; With my mouth will I make known Your faithfulness to all generations."

Dick & Gladys


------------------------------


Dear Praying Friends and Saints:

Monday morning I found myself obliged to weep and pray by this last section of Psalm 80.
"14 Return, we beseech You, O God of hosts; Look down from heaven and see, And visit this vine
15 And the vineyard which Your right hand has planted, And the branch that You made strong for Yourself.
16 It is burned with fire, it is cut down; They perish at the rebuke of Your countenance.
17 Let Your hand be upon the man of Your right hand, Upon the son of man whom You made strong for Yourself.
18 Then we will not turn back from You; Revive us, and we will call upon Your name.
19 Restore us, O LORD God of hosts; Cause Your face to shine, And we shall be saved!"
During the last couple of months, there has been a growing burden in prayer for many serious difficulties around the world. The "vineyard" at the root level has to do with God's people and their influence on the world around us today. Many places are in a conflagration, both politically and otherwise, because God's standards of righteousness, truth, and justice have been completely rejected.
Three times in this Psalm alone comes the petition, "Restore us, O LORD God of hosts; Cause Your face to shine, And we shall be saved!" And that is a plea for revival. Our churches need revival, our communities need revival, and our nations and their governing bodies need revival. And in particular, the nations whose founding principles were based on Godly values need to repent and return from their abandonment of His ways.

Our home had been abandoned for nearly two years when we moved here in 2007, and the back "garden" was totally neglected and overgrown. When I found this old photo recently, the Lord impressed on me that this was like the condition of the church here in Wales and elsewhere. As we read through the prophets we see references to ruins and wasteland and abandonment time and time again.

And yet there is always God's promise of hope and redemption throughout times of His rebuke and discipline. For example, Malachi 3:7 says, "'Yet from the days of your fathers you have gone away from My ordinances and have not kept them. Return to Me, and I will return to you,' says the LORD of hosts…'"

And when I compared what our garden was like thirteen years ago to what it is now, I felt the Lord show me that things are now ready for the coming revival. A place of habitation has been being prepared, and the time is at hand for a new occupancy by people coming into His kingdom.


The church has been shifted from a focus on buildings to groups of people connected in relationships with one another, and with Him. Old nets are being mended and many new ones are being prepared for the great and amazing catch.


We are also praying for and believing there is a shift coming for towns and states and nations and their governance. As the influence of people touched by God's mercy reaches into their communities, the powers of darkness will be weakened and some level of change must come. The changes may not be big, and they may only be for a time, but we trust that through them the Lord will provide a window of opportunity for the salvation of souls.


A good stage is set for our prayers in Psalm 103, "8 The LORD is merciful and gracious, slow to anger, and abounding in mercy… 14 For He knows our frame; He remembers that we are dust… 17 But the mercy of the LORD is from everlasting to everlasting on those who fear Him, and His righteousness to children's children, to such as keep His covenant..." And Jesus proclaims the crowning hope in Luke 19:10, "For the Son of Man has come to seek and to save that which was lost."


With grateful hearts, we stand together with you in prayer that His will may be done on earth as it is in heaven,


Dick & Gladys


------------------------------


Dear Friends and Prayers:
This photo that I took ten days ago immediately came to mind when Saturday's readings included these verses in Isaiah 11:1-2,
"There shall come forth a Rod from the stem of Jesse,
And a Branch shall grow out of his roots.
The Spirit of the Lord shall rest upon Him,
The Spirit of wisdom and understanding,
The Spirit of counsel and might,
The Spirit of knowledge and of the fear of the Lord."

The whole of Isaiah chapter 11, of course, is an amazing declaration of God's plans, and verse 9 is the heartbeat of revival. "They shall not hurt nor destroy in all My holy mountain,
For the earth shall be full of the knowledge of the Lord
As the waters cover the sea."

I don't need to tell you that we are living in extraordinary times. And this picture shows an unusual multiplication of sprouts coming out of what is a very damaged root. I stripped off some sod from our lower lawn a few months ago and this poor root received pretty harsh treatment as you can see. But just look at how it's growing!

Isaiah 53:5 says about Jesus, " But He was wounded for our transgressions, He was bruised for our iniquities..." And yet because of God's amazing gift of selfless love, the kingdom of heaven has been filled over the centuries. Now in our times, we are beginning to see hints of multiplication of newness of life in the church. As individuals take to heart Jesus' call to discipleship in Luke 9:23, "...If anyone desires to come after Me, let him deny himself, and take up his cross daily, and follow Me", this multiplication of His character in His
followers everywhere will good fruit for eternity. This is another key aspect of the coming revival we are praying for.

The church at large has been through some pretty rough times lately, and especially now with the virus lockdowns, etc. And yet the Spirit of the Lord is bringing about a newness and vitality among the family of God that is very encouraging. We see new relationships brought into being that didn't exist before, and "online" churches receiving visitors from different nations. And just yesterday I had a friend messaged saying that in a prayer meeting they had a word that "the dam might be about to burst!"
I just re-seeded grass in the plot where I took the sod from—the top part was what it looked like Sunday afternoon, and the bottom was yesterday, Monday! Such amazing growth in such a short period of time. This is a picture of what we are praying for and beginning to see. We see young people giving their lives to the Lord and saying, "Here I am, send me." There have been baptisms at beaches and baptisms in rivers, and we know of at least one fast-growing open-air church that has started up in San Francisco.
Even last week's surprise of our housing situation is loaded with promise and portent. We want to express our thanks to so many of you who have responded with your prayer and encouraging words—a season of change, a better situation, a place of love and hospitality, etc. One word of particular significance is from Exodus 23:20-21 that says, "See, I am sending an angel ahead of you to guard you along the way and to bring you to the place I have prepared. Pay attention to him and listen to what he says."


We will miss the lovely and ever-changing views, but know that there is a better place just around the corner. God's grace has gone way before us and we have seen an ongoing series of exceptional developments that assure us that He is "on the case" for us. He has kept us in His wonderful peace and sense of joyful expectancy. Because of His overwhelming goodness, we look forward to each coming day.

But of course, our greatest and most joyful expectancy is that of Christ becoming the eternal dwelling place of innumerable multitudes in the coming revival. This is His unchanging promise from Isaiah, "

For the earth shall be full of the knowledge of the Lord as the waters cover the sea.

"

Dick & Gladys


------------------------------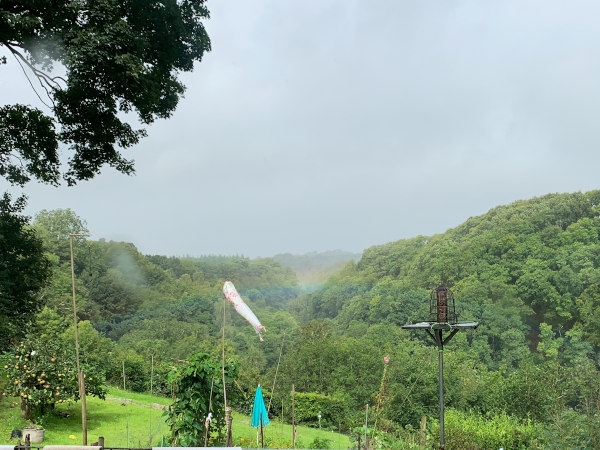 Dear Praying Friends:

We got a totally unexpected phone call from our landlord this afternoon and she let us know that she is planning to put our house up for sale! This wonderful place has been our home for 13 years now, and has been a large part of our lives here. We've hosted so many precious praying saints over the years and enjoyed so much of God's love. An so, of course, we are wondering just what He is up to now.
Last week I took this picture of the lowest-lying and closest rainbow we've ever seen here. Do you suppose that maybe God was giving us a glimpse of something? One thing we know for sure is that He has always been faithful and that continues day by day. We don't need to try and figure out His plans, but only continue to grow in our dependence on Him.
We simply wanted to share this news with you and ask for your prayers that His guidance in the coming months would be clear and we would be
sensitive and obedient. We are at peace knowing that God's ways are perfect.

We had another surprise that was of a very different nature—an unexpected visit from our very dear old friend Elinor. We've known her for over a decade and haven't seen her for several years, and so we had a very joyful few hours. We were still glowing from our time together when the phone rang just minutes after she left. This was yet another proof that the Lord's ways and timings are perfect.

Thank you so much for your continued interest and your prayers for us, for Wales, and for the nations. It is getting exciting!

May you know God's presence and His blessings in your lives each day,

Dick & Gladys


------------------------------




Use these links to see archived updates: