Dear Praying Friends:
Last week we had the privilege of attending the Bless Wales conference in Swansea. Organized by our friends from the Cornerstone Community Church of Singapore, it hosted as many as 900 people in the evening services. It was an awesome time with such an atmosphere of heartfelt and glorious worship and wonderful times of preaching and prayer. And seeing so many friends together reveling in the early fruit of many years of prayer was joyous.
The three-day event was enabled by students of the Bible College of Wales, volunteers from Cornerstone, as well as a fabulous turnout of helpers from local churches here in Wales. It was marvelous to see so many people from Wales and many other nations with such hunger for the Lord and a fervent desire to see Him move in revival power again. The ample times of prayer were powerful, and many attendees made commitments to personal worship and communion with God in prayer.
Of course, there was far more than I can begin to cover here. Dutch Sheets spoke about God's timings—the "chronos" seasons and the "chiros" times for action and intersection of heaven and earth. Sam Matthews shared some great insights into prayer—waiting and listening in God's presence, and readiness to obey. There was a
sense that the stirrings of God over this land are moving into a new season—a time of fruitfulness. We were aware of a weight of glory brooding over Wales for His purposes.
The last evening session culminated with an invitation for all the pastors and their wives to come up on stage for prayer and impartation. The time was charged with intensity and enfolded in worship as words of faith and declaration were spoken over them and joined by all present. Prayers also were extended to include ministers and believers everywhere in Wales. It is time for action.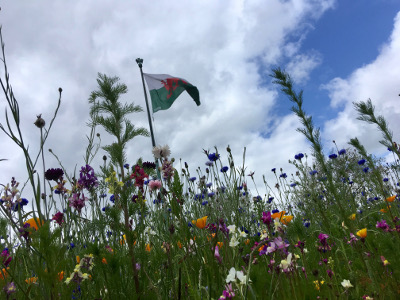 I think everyone came away from the conference with more than we could take in during out time together. There is much to digest, and we trust the Lord will continue to bring elements of what we received back into focus and continue to work deeply in the lives of all who took part.
It is time for God's people to flourish in their relationship with Him and to manifest His kingdom reality in the midst of a very unstable world around us. The life of the nation must come into the context of Psalm 24:1, "The earth is the Lord's, and all its fullness,
The world and those who dwell therein."
The Lord has given our friend Emyr Mathias a particular way of making this declaration very public. Several years ago he built a large wooden cross and has carried it through many places in Wales. Most notable was a pilgrimage he made from St. David's Cathedral in the southwest to the top of Mt. Snowdon in the north. We may recall my writing about it in September, 2019.
Last November at the Pembrokeshire Prayer Breakfast the Lord directed Emyr to carry the cross around this county where we live, and he took it to heart.
That very evening he called me up and asked what I thought about having the commissioning service at Cilfowyr Chapel where we pray. The very next morning was our communion service, and I got the go-ahead from the pastor and members to have it at our chapel.

So on Saturday the 29th of June, in just 3 weeks, we will gather at Cilfowyr from 10 a.m. for a 10:30 start. Our pastor and other ministers will take part, and all are cordially invited to join us. (Directions are available at this link.) From there, empowered by our prayers and the strength of the Lord, Emyr will set off for an eleven day walk around Pembrokeshire as shown on this map.

We look forward to the participation of many old and new friends in this sending off. And we also pray the Lord will touch many lives with an open witness to the Lordship and saving grace of Jesus Christ. Emyr has many seen salvations, healings, and reconciliations with God through this bold ministry, and we anticipate many more testimonies as people are drawn to the cross along the highways and byways of Pembrokeshire.

We are so thankful for the Lord's handiwork among us, and pray that we apply our faith and diligence to walk in what he has called each one of us to do. "For we are His workmanship, created in Christ Jesus for good works, which God prepared beforehand that we should walk in them." Ephesians 2:10

Every blessing in Jesus' name,

Dick & Gladys


------------------------------


Dear Friends of Wales Awakening:
The last couple of weeks have just zoomed by as Gladys and I have gone and returned from two beautiful weeks in Mallorca, the Spanish island in the Mediterranean. All of our trips in the last several years have been involved around our direct family, and this is the first time just the two of us actually been away for quite some time.
It was such a blessing to be once again in a place where all the people speak Spanish, and especially for Gladys. Because that is her first language, in a sense it was almost like coming home. We hadn't visited Mallorca for nearly four years, and it was a real delight to just be surrounded by the familiar culture and the warmth of the people—not to mention that climate was an ideal temperature as well!


We certainly did have times for just the two of us alone, which was wonderful. But the beauty about God's family is that we are never really alone. We returned to see some old friends in Mallorca that we have known since 2011. And just to meet up with and embrace this wonderful Brazilian family that we have known since our first trip in 2011 was absolutely precious.
One of the things that we really love is just the fact that God's family is everywhere. And once we have made connections, we always just belong to each other in spite of years of being apart. It never really matters where we are or how long it has been since seeing one another, that sense of belonging never changes, because we all belong to the same Father.
Our brothers and sisters, like ourselves, are always in a state of flux—sometimes enjoying great intimacy the Lord, sometimes dealing with difficulties, just as Jesus promised. But by His grace we can be growing through it all. It was a real joy to be able to encourage them in the Lord, and in a small way help them to deal with
changes that have been going on in their lives.
Mallorca is a place of such phenomenal natural beauty that we couldn't help but think wouldn't it be nice to be here in the long wet winter months rather than Wales. But we have actually run into snow here in November once in the mountains. The fact remains, however, that as easy as it is to think wouldn't it be nice to do this or to do that, we know beyond a shadow of a doubt that the very best place for us to be is right where the Lord has us. We even thought to ourselves, "wouldn't it be fun to stay for an extra week." But we are so glad to be home again, and we are already delighting in what God is doing here in our left.
A couple from Denmark that got in touch with us a few months ago have come to the Bless Wales conference that started this morning in Swansea. Live videos are available through Wednesday night UK time at this link.
They had wanted to meet up, so yesterday afternoon I spent some time with them at the chapel. They wanted to hear about our experiences here over the years. I learned about their calling to intercession for the nation of Denmark for many years.
They brought us a flag from their country which we installed with prayers among the other host of flags that we have. It still overwhelms to us to realize that Christians from more than 40 countries that have come to pray for their nations with us. They all firmly believe that Wales has a key part to play in the move of God in their own people! All this of course is of great encouragement to us as we continue on watching God's amazing plan develop.

They shared that the heart of their calling this verse in Jeremiah 6:16, "Thus says the Lord: 'Stand in the ways and see, and ask for the old paths, where the good way is, and walk in it; then you will find rest for your souls. But they said, "We will not walk in it."'" They are praying that their Danish people come to see God's grace and that He bring them into a place of being connected with the Lord and his ways. We talked, prayed, and wept together about the situation with church today in Denmark, and elsewhere. We prayed for the need for individual believers to have a personal connection and time with God, to sit in his presence, with his word, and to receive the anointing that makes tears flow and that can change hearts and nations.

Thank you for praying with us that God's kingdom touch the earth with power and saving grace,

Dick & Gladys


------------------------------


Dear Friends and Prayers:
This Monday was the annual "Cymanfa Ganu", an event when several local chapels get together for a joint session of hymn singing. The morning session for is just for the children, then an early afternoon session for the children and adults together, and a final session with just adults. This is very much a part of the Welsh culture and the singing is wonderful and moving.
To our great surprise, at the end of the monthly meeting in April, I was asked to represent our Cilfowyr Chapel and do the opening reading and prayer for the children's morning session. And of course it must be in Welsh! I politely declined because my Welsh is very limited, but they said I could think about if I changed my mind they would be most pleased.
I felt prompted by the Lord to accept the challenge and also was reminded of being asked to share the word briefly last October, and felt that somehow this might be "a next step" to something. After a chat with our pastor Gareth, who said I could just read it off rather try and speak spontaneously in Welsh, I went for it. He kindly helped me by composing a prayer fitting for the occasion and coaching me a little.
So Monday morning, with nerves ajangle, up I marched into the pulpit and read aloud my contribution. I was pleasantly relieved to hear some positive feedback afterwards, and so thank the Lord for his goodness!
I include both Psalm 23 and the prayer here for your enlightenment and so you can get an idea of the challenge.
SALM 23
1 Yr ARGLWYDD ydy fy mugail i; mae gen i bopeth dw i angen.
2 Mae'n mynd â fi i orwedd mewn porfa hyfryd; ac yn fy arwain at ddŵr glân sy'n llifo'n dawel.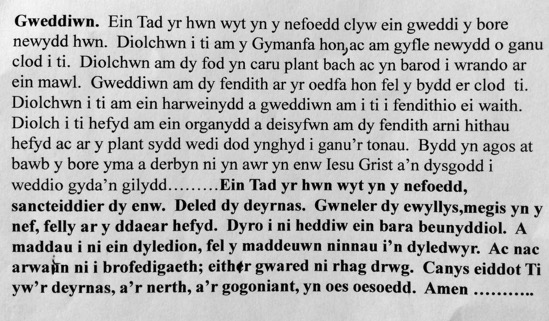 3 Mae'n rhoi bywyd newydd i mi, ac yn dangos i mi'r ffordd iawn i fynd. Ydy, mae e'n enwog am ei ofal.
4 Hyd yn oed mewn ceunant tywyll dychrynllyd, fydd gen i ddim ofn, am dy fod ti gyda mi. Mae dy ffon a dy bastwn yn fy amddiffyn i.
5 Rwyt ti'n paratoi gwledd i mi ac mae fy ngelynion yn gorfod gwylio. Rwyt ti'n tywallt olew ar fy mhen. Mae gen i fwy na digon!
6 Bydd dy ddaioni a dy ofal ffyddlon gyda mi weddill fy mywyd. A byddaf yn byw eto yn nhŷ'r ARGLWYDD am byth.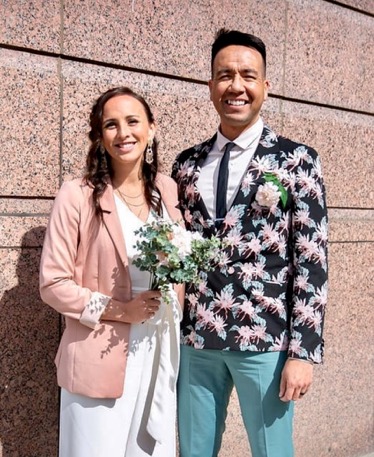 On the home front, our recent and very happy family news is that last Wednesday our oldest son Peter married his fiancée Allie Cohen at a small civil ceremony at the Courthouse in Billings, Montana. So there are now three (3) Mr. & Mrs. Funnells among our children.

It was a doubly special week because just three days later Allie received her Masters degree from the University of Montana in Billings so we are so very pleased and proud of them both.

We look forward to another big family celebration next year when they are well settled in San Diego where they will move in July. In all likelihood Peter will finish the last stint of his 20 years with the US Marine Corps there, and pursue his further education as a youngster of 42, thanks to the G.I. Bill.

God has been so good to us and faithful to look after our family over the years. Indeed we have much to be thankful for.

With love, grace and blessings in the wonderful name of Jesus,

Dick & Gladys


------------------------------


Dear Friends and Prayers:
A few weeks ago when I went on a men's retreat at Bardsey Island, Gladys spent the weekend with our friend Moira who lives on their farm to the south of us. On Sunday morning she offered to help out in the Sunday school and her offer was gladly received.
She said at first the kids kept looking at her as if she were from a different planet rather than just from another country and culture. But Gladys being her warm and friendly self, they warmed up to her soon enough and all wound up having a great time together. But here comes the best part.
Last week Moira called to share a report she heard the following Sunday. One of the children had gone home and was talking about his fun time in the class with a visitor. When the mom asked what her name was, he couldn't remember. When she asked where she was from, the reply was, "She was from heaven!"
You can be sure we all had a very good laugh about that. But as I've been reflecting on that over the last week, the Lord has really been speaking to me through this child's innocent response. How do we actually impact those around us in our day to day lives?
In Matthew 5:13 Jesus said, "You are the salt of the earth; but if the salt loses its flavor, how shall it be seasoned? It is then good for nothing but to be thrown out and trampled underfoot by men." And then in verses 14-16 He makes the challenge more personal. "You are the light of the world. A city that is set on a hill cannot be hidden. Nor do they light a lamp and put it under a basket, but on a lampstand, and it gives light to all who are in the house. Let your light so shine before men, that they may see your good works and glorify your Father in heaven."
So it's time for a little introspection in this darkening world around us. Just how do we trim our lamps? Paul makes this practical suggestion in Philippians 2:14-15, "Do all things without complaining and disputing, that you may become blameless and harmless, children of God without fault in the midst of a crooked and perverse generation, among whom you shine as lights in the world."
And Paul mentions another important key in Ephesians 5:25-27—our time in God's word. "...just as Christ also loved the
church and gave Himself for her, that He might sanctify and cleanse her with the washing of water by the word, that He might present her to Himself a glorious church ...that she should be holy and without blemish." So let's get our lamps in order!

We also recently enjoyed a 3-day visit from some wonderful folks from Spokane, Washington. Although we had never met, the mutual connection goes back to Shady Grove Church in Dallas, and once again we experienced the blessing of the Body of Christ—instant friends!

It was a joy to be able to host them and send them to some places of historical revival significance. We also had some precious times of prayer and fellowship, and so were enabled "...to comprehend [together] with all the saints what is the width and length and depth and height—to know the love of Christ..." as in Ephesians 3:18-19.

May God strengthen each one of us as we earnestly seek first the kingdom of God and His righteousness,

Dick & Gladys


------------------------------


Jesus is the Alpha and the Omega!


Colossians 1:13-18 He has delivered us from the power of darkness and conveyed us into the kingdom of the Son of His love, in whom we have redemption through His blood, the forgiveness of sins. He is the image of the invisible God, the firstborn over all creation. For by Him all things were created that are in heaven and that are on earth, visible and invisible, whether thrones or dominions or principalities or powers. All things were created through Him and for Him. And He is before all things, and in Him all things consist. And He is the head of the body, the church, who is the beginning, the firstborn from the dead, that in all things He may have the preeminence.

This 1970s Easter song by Second Chapter of Acts is as joyful and inspiring as ever! You can hear it at this link.

God bless you and your loved ones this Easter,
Dick & Gladys


------------------------------




Use these links to see archived updates: