Dear Friends:
Last week we returned from a brief family visit after our extended trip in the spring. As you might have guessed already, we had a very special reason to travel again. We are grandparents for the first time! Our youngest son Richard and his wife Emily are the new parents of Sylvie Grace, born May 19th in Portland, Maine.

Of course we had seen photos and done video calls too, but holding and cuddling her was a joyful and life-changing encounter. There were tears and wonder, thankfulness and admiration. The phrase from Psalm 139:14 came rushing to mind, that we are indeed "fearfully and wonderfully made..."

And the word "generations" now takes on a sweetly tangible and more intimate significance when we read Psalms 100:5 which says, "For the Lord is good; His mercy is everlasting, and His truth endures to all generations." To take this beautiful little girl in our arms and watch her grow and change even in the short week we were there was a very lively and clear testimony of God's goodness and faithfulness.

Not long after first meeting our little Sylvie Grace, it occurred to me that this heart-warming joy provides us with certain insight into the nature of God's love for us. We had waited longingly for years for a grandchild, and to me at 75 that seemed like a long time indeed. And now here she is and it's like some sort of internal fireworks going off in rejoicing! And surely the Lord has a similar but far greater joy when His children's children are born again into that direct and personal relationship with Him through faith placed in the redeeming work of Jesus at Calvary. While it's true that we can live out
what Psalm 145:4 says, "One generation shall praise Your works to another, and shall declare Your mighty acts." But God has no grandchildren. And when our children become directly His children, we all become one generation—siblings forever in His eternal kingdom!

We spent a second week in New York with our daughter Grace on our way home. It was a great chance to catch up since our time together at Thanksgiving last year. And now she and our other kids are suddenly aunts and uncles, and that adds another special dimension to our family as well. She enjoys her job with UNICEF making a life-changing difference for thousands of malnourished children around the world. She also loves being a Brooklynite, and we had a good time meeting some of her friends, taking in a very loud outdoor concert with a featured Guatemalan singer, and a special exhibit at the Brooklyn Public Library a few blocks away.
Gladys likes visiting and experiencing life in the big city too. Having grown up in Guatemala City, going out her door meant finding people and activity everywhere. Brooklyn is much busier than Guatemala ever was, and the cultural variety is staggering by comparison. But after our years of living in rural West Wales, and with several more decades under our belts, the phrase, "It's a great place to visit but..." takes on a whole different meaning.

The pace of life and its demands for survival on every level is a challenge for people living here in "The Big Apple". For the materialistic world, this is the epitome of the proverbial "rat race". Go as hard as you can, as fast as you can, to get as much as you can, and get as high as you can while you can, because that's all there is to life.

And for those who aren't so driven, getting through life with a reasonable degree of happiness is acceptable and desirable. But when the going gets tough because of financial pressures, family or relationship difficulties, health problems, or old age, what then? After it all, the generations come and go. Did we leave a mark anywhere—perhaps our name on a stone or even a monument? Who will ever know or remember? What was it really all about?

Well... there IS A NAME that makes all the difference—JESUS! Isaiah 9:6 tells us all about Him. "For unto us a Child is born, Unto us a Son is given; and the government will be upon His shoulder. And His name will be called Wonderful, Counselor, Mighty God, Everlasting Father, Prince of Peace." He is the One who makes us one in His eternal family.


Driving back across the bridge into Wales is like coming home to the reality of why we've been here all these years. Our prayers for revival—the revealing of the reality of Jesus Christ and His sacrifice for our entrance into His kingdom—are spurred on by the needs we see each place we visit. And we know what God does here will not only touch the many nations where people are praying for actively Wales, but all of the earth with His glory.

Jesus makes His purpose very clear in John 10:10, " I have come that they may have life, and have it to the full." Thank you for continuing to pray with us for the fulfillment of His plans!


Dick & Gladys


------------------------------


Dear Praying Saints and Intercessors:


Somehow another month has raced by and our hearts are full of so much that has happened through God's unwavering goodness. His words continue to strengthen and guide us as we look to Him for everything.

Praying through the scriptures a few days ago at the chapel, these words from Jeremiah 17:16 really encouraged us. " As for me, I have not hurried away from being a shepherd who follows You, nor have I desired the woeful day; You know what came out of my lips; it was right there before You." The cry of our hearts before the Lord is always before Him. Isn't that amazing?

Like a small trickle of water joining other streams, our prayers flow together into a vast sea of prayer that has reached heavenwards all through the ages. The "great a cloud of witnesses" of Hebrews 12:1 exhorts us, saying, "Therefore we also, since we are surrounded by so great a cloud of witnesses, let us lay aside every weight, and the sin which so easily ensnares us, and let us run with endurance the race that is set before us."

We find more wonderful encouragement to pray in Jeremiah 24:7. The Lord says, "Then I will give them a heart to know Me, that I am the Lord; and they shall be My people, and I will be their God, for they shall return to Me with their whole heart." As we pray for the outpouring of revival, we are really crying out for revelation by the Holy Spirit to the hearts of the lost.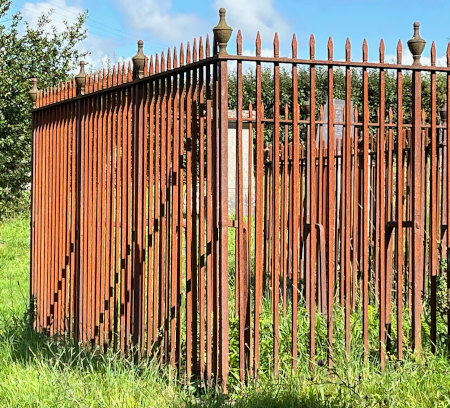 This present "enlightened" world has people locked up behind bars—held prisoners to sin and death, yet they just don't understand or believe. Daniel Nash*, Charles Finney's main intercessor, wrote in 1826, "Oh, what a world! How much it hates the truth! How unwilling to be saved!"

But we are still learning about the power of our prayers, both direct and collective. Look at this amazing example from Judges 2:4, "So it was, when the Angel of the Lord spoke these words to all the children of Israel, that the people lifted up their voices and wept." This is what we long to see, outpouring, awakening, and revival in the hearts and souls of loved ones, friends, and nations.


On the home front, we have been busy with a flourishing garden, weeds generously included, and the fullness of summer greenery and even some sunny weather has been delightful, though significantly cooler than Central America and Louisiana! It has also been getting busy with visiting friends and other people of prayer, and it's nice to see
things moving back towards what we were accustomed to a few years ago.

We are also aware of how the Lord is moving among young people and drawing them not only into salvation and relationship with Himself, but to a place of surrender and discipleship as well. Just last week we had the opportunity to spend some precious time with a group of six young Germans who are in training with YWAM, Youth With A Mission. It gave us great joy to hear their enthusiasm for the Lord and their earnest seeking how to let their lives become instruments in His hands rather than following the goals and ambitions of the temporal societies around us.


Although the world around us continues in its tumultuous instability, we know that God's plans will not be thwarted. Our foundation is that He is the Prince of Peace and sustainer of all those whose hearts are fixed on Him and who seek to walk in His ways and shine His light on those around us wherever we happen to be.

May experience the fullness of Jesus ' words in John 16:33, "These things I have spoken to you, that in Me you may have peace. In the world you will have tribulation; but be of good cheer, I have overcome the world."

Dick & Gladys


------------------------------


Dear Friends:
Thanks for bearing with us through such a long silence! We have been home for a week now and are just starting to get our feet back on the ground after an incredible journey. I was away for nearly three months, and Gladys left five weeks ahead of me.
Our time was so filled to overflowing with people and places and experiences it would be impossible to summarize. And even to think about a list of some highlights becomes an instant blur—sort of like a time-lapse photo! Perhaps in the coming months I'll be able to cover a few specific events that come to mind.
Meanwhile, throughout our adventures, the foundation of God's word and His unchanging goodness and presence were the platform from which we took it all in. The ever-changing scenes and encounters and discoveries only served to emphasize the fact that the Lord is our bedrock and and everything else is given context and meaning because of Him and His centrality in our lives.
Everywhere we went there was loud and clear evidence of the need for the Gospel and the redeeming blood of Jesus to bring people into the life-giving eternal relationship with our Creator. Each area we visited had its own local culture and feeling. Men's ideas of how things should work, and don't, were on painfully clear display in Nicaragua. Guatemala was in the throes of a presidential election, and the clash of ideas and tenuous political allegiances was just more fuel for the fires of uncertainty. Add to this the massive increase in population and resultant nightmare traffic, stretching the infrastructure to its limits and beyond, set things up for quite the challenge.
Our challenge as God's people is to pray as in Isaiah 62:1-2, "For Zion's sake I will not hold My peace, and for Jerusalem's sake I will not rest, until her righteousness goes forth as brightness, and her salvation as a lamp that burns. The Gentiles shall see your righteousness, and all kings your glory..." The small parts we saw are representative of an entire world living in times of increasing disarray and instability. And it seems that people everywhere are responding to the overwhelming need for prayer.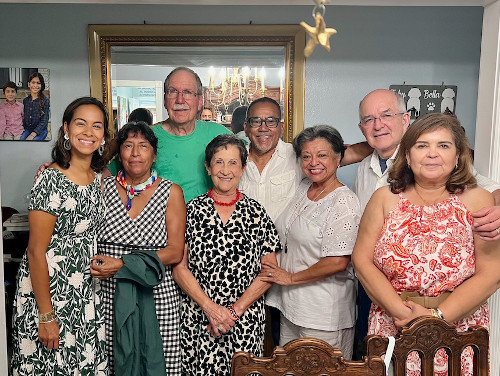 It was wonderful for us to meet many people, and especially young people, along the way who taking this challenge on board and making their lives available to God for His purposes.
For both Gladys and myself, the most notable and comforting reality of our travels was the gift of love among friends and family. Most of our time was spent with both old and new friends connected with our work with missions over the years. Every countless get-together was yet another dose of love for us, and it just went on and on. And then our very precious times with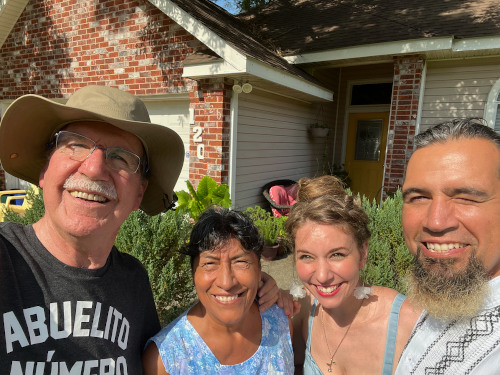 Gladys family in Guatemala and our son Mike and daughter-in-law Lauren in Louisiana were joyfully special indeed.

It was all like a taste of heaven, and we will continue to be reminded through each memory that the true and only treasure that outlasts this fleeting world of generations is Jesus Christ. He is our life and length of days.

May the Lord bless you and us as together we "Prepare the way for the people, build up the highway... take out the stones and and lift up a banner for the peoples." (Isaiah 62:9)

Dick & Gladys


------------------------------



Dear Friends of Wales Awakening:

We just want to say thank you so much for your continuing prayers and thoughts for us, as we go and come among so many wonderful people. We've met many new friends, and God has opened the doors for us to speak about the love of God, and has arranged countless divine appointments which just leave us with ours mouths open in wonder at his goodness!

While visiting the Verbo congregation in Bluefields, Nicaragua, I shared about the beginnings of the ministry and the great destruction from the earthquake. The Lord made it very clear to my heart that even though people can be living in the greatest of comfort, with all of the benefits of good finances and political freedom, if they don't know Jesus, they are in worse condition than those who were so badly affected by the earthquake of 1976 in Guatemala! The more we travel and see, the more this reality becomes evident and stirs our hearts to deeper intercession for this incoming move of God, which will touch the nations of the earth with God's grace and forgiveness and acceptance, in Jesus' name.

For the time being, I will post things on Facebook and the page will be publicly available if you just follow this link. You will not need to have an account with Facebook.
https://www.facebook.com/walesawakening

With our love and blessings,

Dick & Gladys


------------------------------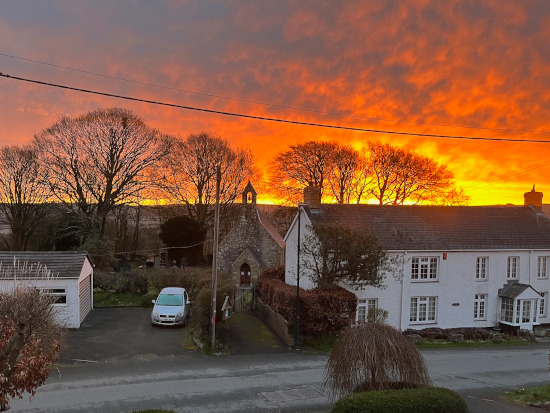 Dear Friends and praying Saints:
Morning views like this can't help but fill our hearts with admiration for our God's handiwork. We can never sufficiently express our thankfulness for His goodness. In fact, for the last few weeks, I've found myself overwhelmed to the point of tears, and the words of this beautiful song by Bethel Music seem to pour over me.
I love You, Lord
For Your mercy never fails me
All my days, I've been held in Your hands
From the moment that I wake up
Until I lay my head
Oh, I will sing of the goodness of God

And all my life You have been faithful
And all my life You have been so, so good
With every breath that I am able
Oh, I will sing of the goodness of God...
This time of year is always a treat as the spring unfolds around us, and encourages us to keep our hearts attuned to the many things that remind us of His goodness. There are countless ways that God's goodness surrounds us in our daily lives, and if we were to try and make a list, I'm sure we would soon run out of room!
Another very special manifestation of God's goodness is that we are taking off on a huge and wonderful adventure! In fact, Gladys has already been in Nicaragua for three weeks, and I will be joining her in twelve days!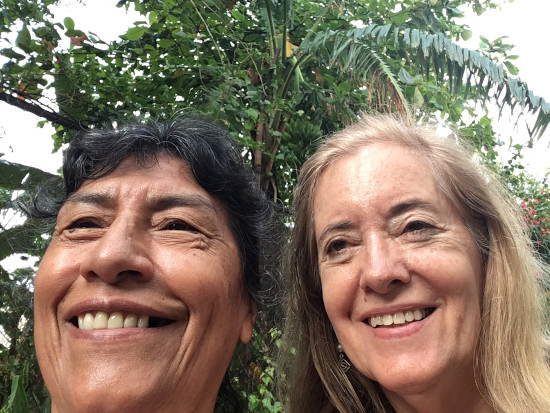 Here she is with our old friend Myra Trolese in Managua where she stayed for her first ten days. With her husband Bob, they led a missionary group from our church in Guatemala to start a work there in 1980. Bob was one of my longest-time friends who went home to be with the Lord about a year and a half ago. You may recall my writing about it back then.
From there Gladys went to Bluefields, on the east coast of Nicaragua, to join more old friends. Ed and Ligia Jaentschke head up the Verbo ministries out there. Gladys used to go into Guatemala City with Ligia from the community we all lived in to study English. She is enjoying fellowship in the many activities of the church there, and being able to speak Spanish with just anybody is a real delight.
Just like these very curious sheep, we wonder what things the Lord has prepared for us on our travels.
We will spend the whole month of May in Guatemala visiting Gladys family and old church friends both in the capital and the highlands. And then we fly to New Orleans to visit our son Mike and his wife Lauren and also spend time with many friends and loved ones from what used to be our home church many years ago.

We are thrilled and so thankful for the Lord's provision for this adventure, and we deeply appreciate your prayers that He would give us grace and sensitivity to make the most of every opportunity to "...be ready to give a defense to everyone who asks you a reason for the hope that is in you, with meekness and fear;" (1 Peter 3:15)

Dick & Gladys


------------------------------


Dear Saints and Revival Prayers:
Two weeks ago we had the privilege of praying with friends in the Welsh Assembly building in Cardiff. We were the only ones there and had an extraordinary time of intercession in a room dedicate to prayer. The contemporary design is stunning, and provides a way for the public to observe the sessions without interfering in the proceedings. It gives the impression of being accessible but untouchable, as if to say, "out with the old, in with the new."
Tragically, this legislative body has done exactly that—abandoned a centuries-old traditional Judeo-Christian heritage and exchanged it for a godless and humanistic progressivism.
This exalted "transparency" seems aloof to the existence of God's eternal kingdom, and provides a great picture of the power of prayer. Happily there are many Christian members of the assembly, and there is a very active network of people engaged in supporting them and their efforts to uphold standards of godly righteousness amidst a downward trend of atheistic delusion.
This is the increasingly evident condition of the world around us, and should fuel our prayers as never before. Reading yesterday in The Passion Translation of Luke 24:30-31, this portion totally undid me. "Joining them at the table for supper, he took bread and blessed it and broke it, then gave it to them. All at once their eyes were opened and they realized he was Jesus!" Oh, how we need the Lord to open the eyes of the desperately needy people of this world grasping for hope in the quicksand of impending mortality. Ezekiel 12:2 says, "Son of man, you are living among a rebellious people. They have eyes to see but do not see and ears to hear but do not hear…" What a priceless gift that Jesus came to bring sight to the blind and to open deaf ears!
The Holy Spirit invites everyone in Hebrews 3:3-8, "Today, if you hear His voice, do not harden your hearts as you did in the time of rebellion…" And what we are gloriously seeing now, as the outpouring that started at Asbury continues to spread across the U.S. and other nations with tens of thousands of hearts turning to Jesus, is the fruit of God's own heart reaching down into humanity with salvation and joy.
These past several weeks have been a whirlwind of activity for us, with way more to share than I have room for here. One of the highlights was a breakfast for ministers heard at the Bible College of Wales. You may recall that before the pandemic, there was a conference called Bless Wales that took place in Swansea. And they are organising another for this May, and this precious time of worship in the presence of God was in preparation for the event.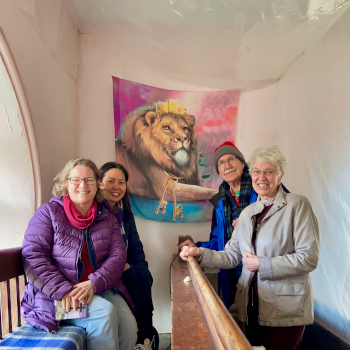 You can find more information about it at this link.

Then we were delighted to have our very dear Janet with her two friends from Community Bible Studies come spend a few hours with us. We met and prayed together at our Cilfowyr Chapel, where Janet and her husband John have a generations-old connection. And afterwards we went to the house where Gladys was waiting for us with a delicious Guatemalan style chicken soup.

We are so aware of the workings of the Lord in multiple ways and places with countless "divine appointments" and opportunities to share Jesus. It has all been wonderfully overwhelming, and we are so thankful for His care for us at every turn.

May the words in Exodus 19:4-5 be strength to each one of us as together we serve the Kings of kings. "You have seen what I did to the Egyptians, and how I bore you on eagles' wings and brought you to Myself. Now therefore, if you will indeed obey My voice and keep My covenant, then you shall be a special treasure to Me above all people; for all the earth is Mine."

Dick & Gladys


------------------------------




Use these links to see archived updates: