Dear Praying Friends:
Last week we had the privilege of attending the Bless Wales conference in Swansea. Organized by our friends from the Cornerstone Community Church of Singapore, it hosted as many as 900 people in the evening services. It was an awesome time with such an atmosphere of heartfelt and glorious worship and wonderful times of preaching and prayer. And seeing so many friends together reveling in the early fruit of many years of prayer was joyous.
The three-day event was enabled by students of the Bible College of Wales, volunteers from Cornerstone, as well as a fabulous turnout of helpers from local churches here in Wales. It was marvelous to see so many people from Wales and many other nations with such hunger for the Lord and a fervent desire to see Him move in revival power again. The ample times of prayer were powerful, and many attendees made commitments to personal worship and communion with God in prayer.
Of course, there was far more than I can begin to cover here. Dutch Sheets spoke about God's timings—the "chronos" seasons and the "chiros" times for action and intersection of heaven and earth. Sam Matthews shared some great insights into prayer—waiting and listening in God's presence, and readiness to obey. There was a
sense that the stirrings of God over this land are moving into a new season—a time of fruitfulness. We were aware of a weight of glory brooding over Wales for His purposes.
The last evening session culminated with an invitation for all the pastors and their wives to come up on stage for prayer and impartation. The time was charged with intensity and enfolded in worship as words of faith and declaration were spoken over them and joined by all present. Prayers also were extended to include ministers and believers everywhere in Wales. It is time for action.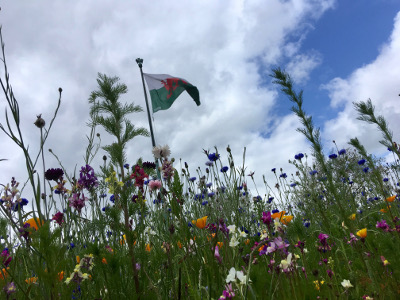 I think everyone came away from the conference with more than we could take in during out time together. There is much to digest, and we trust the Lord will continue to bring elements of what we received back into focus and continue to work deeply in the lives of all who took part.
It is time for God's people to flourish in their relationship with Him and to manifest His kingdom reality in the midst of a very unstable world around us. The life of the nation must come into the context of Psalm 24:1, "The earth is the Lord's, and all its fullness,
The world and those who dwell therein."
The Lord has given our friend Emyr Mathias a particular way of making this declaration very public. Several years ago he built a large wooden cross and has carried it through many places in Wales. Most notable was a pilgrimage he made from St. David's Cathedral in the southwest to the top of Mt. Snowdon in the north. We may recall my writing about it in September, 2019.
Last November at the Pembrokeshire Prayer Breakfast the Lord directed Emyr to carry the cross around this county where we live, and he took it to heart.
That very evening he called me up and asked what I thought about having the commissioning service at Cilfowyr Chapel where we pray. The very next morning was our communion service, and I got the go-ahead from the pastor and members to have it at our chapel.
So on Saturday the 29th of June, in just 3 weeks, we will gather at Cilfowyr from 10 a.m. for a 10:30 start. Our pastor and other ministers will take part, and all are cordially invited to join us. (Directions are available at this link.) From there, empowered by our prayers and the strength of the Lord, Emyr will set off for an eleven day walk around Pembrokeshire as shown on this map.
We look forward to the participation of many old and new friends in this sending off. And we also pray the Lord will touch many lives with an open witness to the Lordship and saving grace of Jesus Christ. Emyr has many seen salvations, healings, and reconciliations with God through this bold ministry, and we anticipate many more testimonies as people are drawn to the cross along the highways and byways of Pembrokeshire.
We are so thankful for the Lord's handiwork among us, and pray that we apply our faith and diligence to walk in what he has called each one of us to do. "For we are His workmanship, created in Christ Jesus for good works, which God prepared beforehand that we should walk in them." Ephesians 2:10
Every blessing in Jesus' name,
Dick & Gladys