Dear Friends of Wales Awakening:
We have enjoyed incredibly beautiful weather during recent weeks, and so it was almost impossible not to take an alternative route home from our nearby butcher shop last Friday. The road we chose took us by this old baptistry, and of course we stopped to have a look.

Although the baptistry itself is still filled with last autumn's leaves and winter's fallen twigs, the surrounding area is kept immaculate. There was a quiet sense of peace and purpose there, and during our short time there, I began to connect the dots. Remembering the events around our baptistry at Cilfowyr Chapel last year, which you can read about here, this is just another piece of God's intricate plans for this tiny nation.

Which in turn brings us around to the bigger picture—revival is coming to Wales. God's plans have not changed. And as His word says in 2 Peter 3:9, "The Lord is not slack concerning His promise, as some count slackness, but is longsuffering toward us, not willing that any should perish but that all should come to repentance." Accordingly, all the interest in, and prayers for Wales from around the world during the years we've been here are still very much on target.
So while the world around us, including all the news and social media, are fixated on the coronavirus, it is of utmost importance that we maintain the right perspective, not only for our own wellbeing but for especially for those around us. The earth still grows green, the sun does still shine, although there are clouds and storms, and The King of Heaven is still firmly on His throne.

Time and time again throughout the scriptures we see this truth clearly stated as here in Psalm 29:10-11,
  "The Lord sat enthroned at the Flood,
   And the Lord sits as King forever.
   The Lord will give strength to His people;
   The Lord will bless His people with peace."

It can be difficult to not be dragged into all of the disconcerting daily news about the virus, or the economy, or whatever else is clamoring for, and receiving, the world's attention. But the core of our being can be safely established in Jesus' words in Luke 12:32, "Do not fear, little flock, for it is your Father's good pleasure to give you the kingdom."

This season will surely pass, as have so many other difficult times throughout history. But while we are going through this now, let's keep our eyes and hearts centered on God's perspective. And let's remember to be faithful to our job description, as Paul writes in 2 Corinthians 5:20, "Now then, we are ambassadors for Christ, as though God were pleading through us: we implore you on Christ's behalf, be reconciled to God." We won't know many people around us are ready to become part of His flock until we extend the invitation.

And that brings us back to the theme of revival. This is not just our desire, it is God's plan! One of our recent readings spoke to us both very clearly. Joshua 21:45 says, "Not a single one of all the good promises the Lord had given to the family of Israel was left unfulfilled; everything he had spoken came true." In like manner, He has spoken of this coming revival to literally thousands around the globe. So many people have heard His promises through words and visions, and there are countless testimonies of this, including our own.
During these unexpected and troubling troubling times, our prayers are that people by the tens of thousands turn to the only solid foundation—that they might come to know Him as "This hope we have as an anchor of the soul, both sure and steadfast, and which enters the Presence behind the veil, where the forerunner has entered for us, even Jesus…" (James 6:19-20)
May God bless, empower, and use you to help reach out to others with the love of Christ,
Dick & Gladys
Dear Praying Saints:
Some friends recently organized a Facebook group called The Church across Pembrokeshire to help people stay in touch during the Coronavirus lockdown affecting Wales and the UK, as well as so many other nations around the world. They have organized different people to give a brief meditation and prayer each morning.
I was asked to share a few thoughts, but also to introduce ourselves briefly and tell people that don't know us about our calling to pray for revival here.
So I thought I'd pass along this link to the video for those of you who are not on Facebook or haven't seen this if you are.
You do not need to have a Facebook account to watch it, so to check it out just click on this link.
We pray that you and your loved ones are all well, and that during this very unusual season your fellowship with the Lord is growing richer day by day. In such times this promise in John 14:23 takes on a special significance. "Jesus answered and said to him, 'If anyone loves Me, he will keep My word; and My Father will love him, and We will come to him and make Our home with him.'"
Dick & Gladys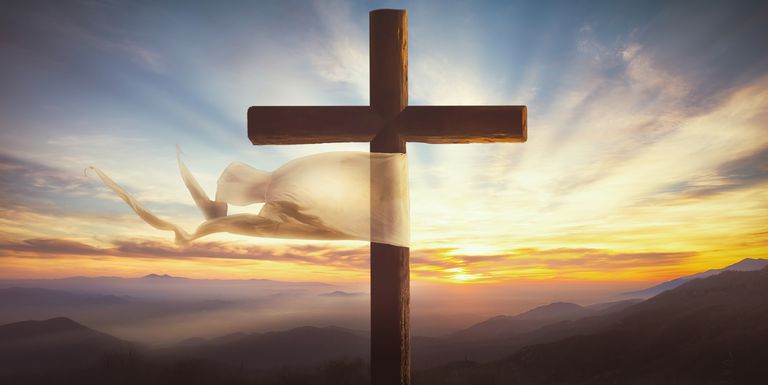 Dear Praying Friends and Saints:
As a young Christian, I had an experience that changed my life forever. I thought I would share it with you today to encourage you and provoke some reflection on the significance of this day.
I had been saved for just over six months and was living on a discipleship ranch called The Lord's Land, in Mendocino, California. It was Good Friday in 1974, and I had just gone to bed in the brothers' dorm, the lights had been turned off a while earlier and all was quiet.

I remember lying there in the warmth and quiet and thinking contentedly about the day's activities. And then suddenly I found myself in a different place. I was standing in a wood at night and there was a large circular clearing right in front of me. In the middle of the clearing was a massive cross, it must've been 30 feet tall and it was made of a searing white light, almost as if it were made of lightning, but it was a steady brilliance. I was overwhelmed by its glory and was immediately drawn into a place of wonder and worship. After a few moments of breathtaking adoration, I began to look at my surroundings.

The clearing itself and the woods around the edge were lit up by the light coming from the cross. I noticed that I was not alone, but was accompanied by lots of forest animals. There were deer and squirrels and rabbits and raccoons on the ground below, and owls and other birds in the branches of the trees. They weren't paying any attention to me, they were all looking at the cross, transfixed in worship just as I was. It was as if I was joined with all of creation in worshiping and longing for the consummation of this awesome sight, which lasted for some time.


Then suddenly it once again everything changed. I found myself suspended in the air directly behind Jesus nailed to the cross. I was weeping with love and heartbreak, and I had a handkerchief and I was reaching around and wiping the sweat and the blood and the tears from his face. And then in an instant, I was directly in front of him, my face only a few feet away from his. As I gazed into his eyes I was overwhelmed by love and compassion and sorrow. And as he looked into mine I was profoundly touched by his love and forgiveness and tender mercy towards me.

I found myself saying to him, "Lord You need me. How You need me." I immediately was confused by the words that came out of my mouth, because I had wanted to say, "Lord I need you. How I need you." As I struggled to formulate the words again correctly, the Lord wordlessly spoke to me. He told me that the words that I had spoken were correct, they were his words, and that in fact, he did need me. All he was saying was that I love him and serve him and obey him. And he made me understand that as I, and others also, dedicate ourselves to do this, more and more people in this world would learn to know of his love and find salvation and joy and eternal life. And there was absolutely nothing in this world that I wanted more than to do precisely this in return for his immeasurable love and supreme sacrifice for me. There could be no greater and more lasting joy.

And then everything changed again. I found myself back in the woods at night, but it was a different place and a different feeling. In the distance, I could hear a sound which I recognized as something or someone running. I strained my eyes to see through the trees in that direction, trying to distinguish any movement. Soon enough I could make out a figure running towards me, and as it grew closer I could see it was a man running straight at me. As he got closer I could see it was a large and ancient soldier wearing a helmet and armor with a spear in his hands. Before I had time to think or do anything he was on top of me and ran me through with his spear and I died a very quick and painless death.

Frightened, I reached out to touch the sides of my bed to make sure I was still where I thought I was, but the vision did not change. I was back in the same place in the forest and another figure was running at me. This time it was a different soldier with a sword in one hand and a shield and the other. Before I knew it he was on top of me and had run his sword right through my heart. Again I died painlessly and then was again back in the woods. This scene was repeated several times, and each time the warrior was different. The weapons and armor were different, the features and skin tone was different, but the result was the same—I died every time.


As suddenly as this experience started, it was over. There I was back in my bunk and nothing around me had changed, other than that by now one or two brothers were softly snoring. Of course, I was quite astonished by all this, but as I prayed and asked the Lord what it was all about I was surrounded with perfect peace. I knew that his call to love God and serve him was clear from the beginning of my walk as a disciple. I also knew it would not always be easy and joy-filled every moment.
Especially now, in light of all that the world is living through, the words of Jesus in John 16:33 take on more immediate significance,"These things I have spoken to you, that in Me you may have peace. In the world you will have tribulation; but be of good cheer, I have overcome the world."
As we pray together for loved ones now struggling with this virus, and many that do not know Him yet, may Jesus' promises in Matthew 28:20 become blazingly real to each one, "…I am with you always, even until the end of the age."
Have a safe, glorious and joyful Easter!
Dick & Gladys