Dear Friends:
It is with great joy and gratitude that we share the wonderful news that we have found a new place to live! We want to thank each one of you that have prayed with and for us during these last 8 months. And it comes as no surprise that the Lord's answer came at just the right moment.

The house is located in a tiny village called Betws Ifan, about 2 miles from Beulah where we spent our first two years here starting in 2005. You can imagine our surprise to learn that the name means Ivan's Oratory (place of prayer) or Chapel. We have yet to learn more of the history but the fact that this has been a place of prayer for many centuries clearly shows God's hand.

The entrance to this old and very small church is directly across the street from Church View, the name of what will be our new home. The moment I walked into the churchyard, my tears began to flow as I was moved on by the presence of the Holy Spirit and the power of intercessory prayer. And that very morning I had been on my prayer perch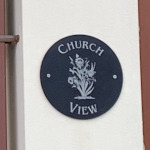 looking out over our river valley and was thinking how much I would miss the bird songs. And when we walked into this newfound place of prayer we were greeted by this wonderful chorus of birds! I hope you'll take a minute (literally) to have a look and listen to the video at this link. And when Gladys placed her hands on the brightly colored stained glass windows and was giving thanks to the Lord, He spoke to her heart and told her "this is a city of refuge!"

That same evening after this first viewing, we went up the hill to pray about this new possibility. While we were there I received an email from an old friend who we'd not been in touch
with for a while and so knew nothing of our activities. He said, "As I have been praying for you both this afternoon father says 'My dear son and daughter - I tell you what you cannot see - there is movement from heaven regarding your situation. I am unlocking the locked, I am melting the stubbornness to fall into line with My will and plans... I will not fail you - but will delight you beyond measure.'"

While at the chapel the next morning we got the call from our friends saying that their offer had been accepted. And exactly as our friend had heard from the Lord, we were delighted indeed! Then just this morning we heard that a final detail having to do with the results of the survey and inspection has been agreed upon, so the legal process begins. This will probably take a few months due to the very busy property market, and we hope to be moved in before the end of the summer. The Lord indeed is faithful and is never late.

As you can tell by the irregularity of our emails, we have been very busy in the search for a new place to live. As we drove from place to place, we reminisced about the previous time when we had to leave our rented house in Beulah. And now here we'll be just a few hills away. So this great news has brought us a great sense of peace and relief from the pressure that had been mounting. And knowing we will be settled in this new place until awaited and much prayed-for revival breaks out is yet another reminder of Jeremiah's words in Jer. 32:15, "For thus says the LORD of hosts, the God of Israel: 'Houses and fields and vineyards shall be possessed again in this land.'"

Last week the members of our chapel got together late one afternoon to give a good spring cleaning in preparation for this past Sunday's service. It was the first meeting since before the lockdown started early last year, so it was a special occasion. A bit different because no singing was permitted and we couldn't take communion, but just the fact of joining together for recorded worship and a live sermon seemed to be a step back towards normalcy as the pandemic hopefully winds down here.
We continue to look to the Lord for His intervention in the hearts of men, besides the obvious physical needs in so many places. This scripture in Isaiah 26:8-9 is a good guide for our prayers. "Yes, in the way of Your judgments, O LORD, we have waited for You; the desire of our soul is for Your name and for the remembrance of You. With my soul I have desired You in the night, yes, by my spirit within me I will seek You early; for when Your judgments are in the earth, the inhabitants of the world will learn righteousness."

Thank you for prayers and labors for Jesus, our hope and Savior,

Dick & Gladys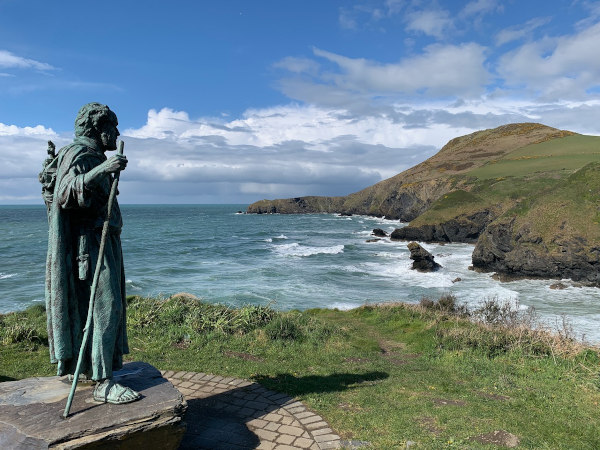 Dear Praying Friends,

Thank you so much for your prayers that we requested two weeks ago about a purchase offer on a house we had hoped would be our new home. We were disappointed to hear last Thursday that a sale had been agreed with someone else. However, we know that the Lord is our shelter and our provider and where one door closes He will surely open another for us.

So now once again we find ourselves like St. Carannog, the 6th-century founder of nearby Llangranog, looking for a place to make our new home. In this process, the Lord is strengthening our trust and peace because we know that He is far greater than what might seem to be awkward circumstances for us. It's as if we are taking a refresher course in faith and confidence

Now that the sale of our current home is going forward, we feel more pressed to find a place soon. Although buying a house can be a lengthy process, especially now during the pandemic-induced frenzy of house sales, we know our time in this particular house is coming to an end. We have been looking at several properties since we got the news Thursday, and do appreciate your continued prayers for Lord's provision for us in the very near future.

We had the enormous privilege of having our Danish friends staying across the street in the cottage that was our first lodging in Wales 22 years ago. They were required to self-quarantine for ten days before starting a course of study in Swansea, and we were glad to be able to provide them with the whole place to themselves rather than being confined to one room with us. God graciously provided awesome weather during their stay, and they were more than delighted to busy themselves in the garden that has needed some tender loving care since before the pandemic started last year.

It was a real joy to have almost daily fellowship outdoors as we made deliveries of food and other things they needed during their stay. Having come from a similar background of communal type discipleship experience, it was amazing to discover how much we had in common, and testimonies and prayers flowed so naturally, it was like being with life-long friends. We enjoyed the reality of the scripture in Psalm 133: "Behold, how good and how pleasant it is for brethren to dwell together in unity!"
A couple of Sunday mornings ago it was snowing like crazy, and an hour later the sun was shining down through a clear blue sky with cottony white clouds. The contrast was startlingly beautiful and reminiscent of what life is going to be like at times for us inhabitants of this earth. Through ups and downs and zigs and zags, how refreshing and perplexing to know that the Lord remains the same yesterday, today, and forever!

During the last several weeks we have accompanied some dear friends in prayer for loved ones with serious illnesses and then watched them suffer loss and grief. And at the same time we rejoice with others at the news of pregnancy and newborn infants. We see yet again how changes come to everyone, and the contrasts are as startling as they are diverse. Sorrow and joy, and mourning and dancing seem to strangely go hand-in-hand.

Solomon said in Ecclesiastes 9:11, "... The race is not to the swift, nor the battle to the strong, nor bread to the wise, nor riches to men of understanding, nor favor to men of skill; but time and chance happen to them all." And yet in this flux of endless change, the Lord is our rock and solid ground. We know that in all our comings and goings, our lives are hidden with Christ in God. In the great
scheme of things, He alone is our life and length of days. This is the bedrock of our existence.

In John 11:25-26 Jesus says, "I am the resurrection and the life. He who believes in Me, though he may die, he shall live. And whoever lives and believes in Me shall never die. Do you believe this?" This question that Jesus asked Mary is the most pertinent of all. How people respond to Jesus' offer of safe passage into God's eternal kingdom is of utmost importance. His blood shed for us is the only vaccine against the terminal disease of sin, far more devastating than any temporal pandemic.

People's decision to accept or reject this truth is at the core of why we continue to pray for revival. Hebrews 6:19-20, "This hope we have as an anchor of the soul, both sure and steadfast, and which enters the Presence behind the veil, where the forerunner has entered for us, even Jesus..."
May the Lord continue to bless you and fill you with the power of this mighty hope, and may you be free-flowing channel of the love of God to those around you.

Dick & Gladys