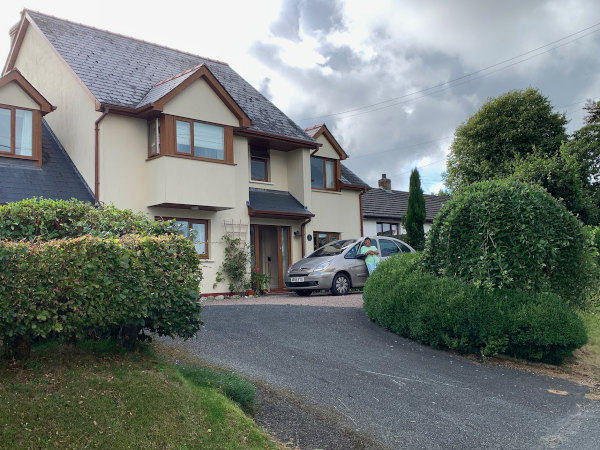 Dear Friends of Wales Awakening:

As hard as it seems to believe, we have actually been in our new permanent home for 3 weeks now! It was one year ago that we first received the news that we would need to relocate, and it has been a long-drawn-out process to get to this point. We are extremely thankful for God's amazing grace which has sustained us through this whole adventure of faith and patience.

The last few months have been a blur of movement and activity, and now to find ourselves in one place again is a real delight. We spent our first two weeks in camping mode with suitcases and boxes and some basic furniture in the house. Then last week all our things were moved in from the storage unit, and the fun began.

This is a large house and there is something to do everywhere we look. But we know that settling in here will take time, so we aren't rushing into things. It is an exciting challenge, and we are enjoying just being here at long last!

From the day we arrived until now, every single day we have been amazed to see how the Lord has taken care of us.. From large matters down to the smallest details, His faithfulness to us is just wonderful, and assures us again and again that He indeed is Lord of All!
One thing that stood out to me is that our predominant view from our old house and the chapel had been towards the south and west, and now our best view is to the north and the east. We also have had many encouraging words from different people about this "new chapter" in our lives, and some have also mentioned this new direction of view as prayer-related. And during the time of waiting for the purchase to be completed, the Lord gave a particular word to Gladys that this house was 'For My purposes."
In our first weeks, even before our things were moved, we had already had friends join us for dinner, entertained a young friend, now married with children. And last week we had our long-time friend and regular houseguest Ali help us unpack a few "kitchen" boxes and find places for things. These and other visits are what really make this seem more like home, and we know that God's love and purposes are the keys to what is yet to come.

We are still having some very warm summer-like days, although they are getting noticeably shorter now. And the early morning fog condenses on and highlights these spiderwebs on our boxwood bushes, but they soon "disappear" when the sun comes out.

This brings to mind these scriptures from Psalm 103:1-2, " Bless the Lord, O my soul; and all that is within me, bless His holy name! Bless the Lord, O my soul, and forget not all His benefits." The Lord's blessings and benefits are many indeed for us all, but easily in the "heat of the day", we lose sight of that amazing truth. This is a good reminder to set our hearts in His direction early in the day and know that "the mercy of the Lord is from everlasting to everlasting on those who fear Him." (vs.17)

As we settle in here I hope to get back to my "regular" writing schedule. Thank you for your prayers for us, for Wales, and for the nations in such need of God's saving grace,
Dick & Gladys Funnell