Dear Friends and Praying Saints:

The three weeks since I last wrote have seemed totally unreal. It's like the dial is stuck on a horror channel on the TV and no matter which way we turn it. The inhumane Russian war against Ukraine is nothing less than insanity. The wanton destruction and callous disregard for millions of human lives are heartbreaking proof positive that the "developed" modern world is in more desperate need of Jesus than ever before.

As we've continued and intensified our prayers during this distressing turbulence, something in Psalm 23 has grown significantly pertiment. I'd like to highlight that here to help focus our prayers.

A Psalm of David

1 The Lord is my shepherd; I shall not want.
2 He makes me to lie down in green pastures;
He leads me beside the still waters.
3 He restores my soul; He leads me in the paths of righteousness for His name's sake.
4 Yea, though I walk through the valley of the shadow of death, I will fear no evil;
For You are with me;
Your rod and Your staff, they comfort me.
5 You prepare a table before me in the presence of my enemies;
You anoint my head with oil; my cup runs over.
6 Surely goodness and mercy shall follow me all the days of my life; and I will dwell in the house of the Lord forever.

In the first three verses David is talking about the goodness of the Lord. But in verse 4 his circumstances change drastically when he comes into danger, and he
begins to speaks directly to Him. This is a profound and significant shift. David's outlook on everything changes because his very life is on the line. What a beautiful picture of trust and confidence to run to the Father and know he is loved and cared for without measure.

As millions flee for their lives and their world has been turned upside down, we can pray that they find this direct and very personal relationship with the living God. May their lives be changed forever as they are translated into the kingdom of God through the precious blood of Jesus.

Jesus says in John 8:12, "...I am the light of the world. Whoever follows me will never walk in darkness, but will have the light of life." Our prayer is that thousands upon thousands respond to His invitation and experience the transcendant power of faith in our Heavenly Father.

Dick & Gladys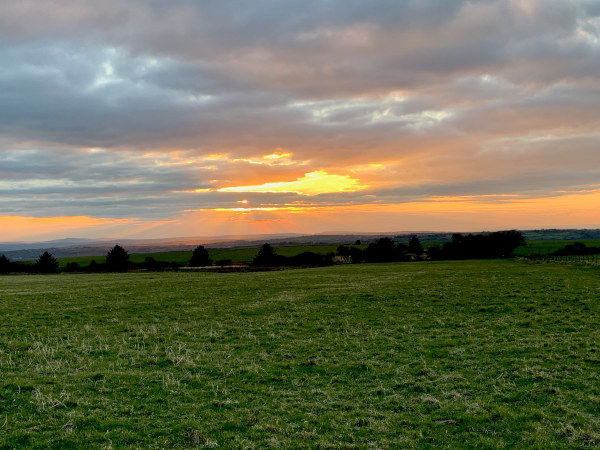 Dear Praying Saints and Intercessors:

In the early hours of Saturday morning, I had a beautiful dream that repeated itself over and over. Somehow I found myself suspended above Ukraine and my arms were extended around most of the country from east to west, and I was embracing it as if somehow we were a father and child. It was all farmland with rolling green fields and wooded areas and there was such an amazing sense of warmth and peace in the embrace that I did not want to let go.
Each repetition of the dream brought a new viewpoint, and what I saw of the landscape and the people in my arms I would embrace, and again cradle everything to myself, to my heart. There was a satisfying sense of providing safety and security to the whole of the countryside. There was not even a hint of anything out of order in spite of the things that are going on in the physical realm.

Ukraine is home to the most fertile and productive farmland in Europe, and its beauty added to the joy of the dream—safe in God's arms of love. Jesus said in John 16:33, "'These things I have spoken to you, that in Me you may have peace. In the world you will have tribulation; but be of good cheer, I have overcome the world.'"

As we opened the Scriptures this morning, these verses in Exodus 19:3-6 painted the same picture. "And Moses went up to God, and the LORD called to him from the mountain, saying, 'Thus you shall say to the house of Jacob, and tell the children of Israel: You have seen what I did to the Egyptians, and how I bore you on eagles' wings and brought you to Myself. Now therefore, if you will indeed obey My voice and keep My covenant, then you shall be a special treasure to Me above all people; for all the earth is
Mine. And you shall be to Me a kingdom of priests and a holy nation...'"

As we prayed into this, I remembered another vivid dream I had very early this morning. Once again I was looking down on the Ukrainian countryside from above and I saw vast numbers of sheep. For some reason, the number of 9 million sheep came to mind. They were divided into 10 huge flocks and were roaming around in an expansive area of prairie and desert and mountains. Each of these huge flocks was apparently on their own as if in open range with no one looking after them.
Then I saw a massive yet gentle hand reach down from above and settle in among the hills, and with the other hand, the Lord gently steered each one of the flocks towards his open palm. One by one they were herded closer to his hand though at the same time, here a little and there a little, until they all were gathered into the palm of God's hand. Somehow that vast number didn't even cover his hand. What stood out to me was the love and the tenderness that poured out of the heart of the Good Shepherd as he brought his flock to safety, cradled into the hollow of his hand. (Psalm 95:7)
This most overwhelming fact and glorious hope is encapsulated in the words of King David in Psalms 8:4, "What is man that You are mindful of him, and the son of man that You visit him?" And these words of Jesus in Luke are even closer to the heart, "How often I wanted to gather your children together, as a hen gathers her brood under her wings, but you were not willing!"
I wanted to share these dreams to encourage and empower your prayers for Ukraine in this painfully crucial time. And to take it two steps further, James 4:5-6 says, "Or do you think that the Scripture says in vain, "He yearns jealously over the spirit that He made dwell in us? But He gives more. Therefore He says, 'God resists the proud, but gives grace to the humble." And 2 Peter 3:9 says, "The Lord is not slack concerning His promise, as some count slackness, but is longsuffering toward us, not willing that any should perish but that
all
should come to repentance."
As we join our prayers with hundreds of millions around the globe for consolation and salvation, no matter which side of "the fence" they're on, or even if they don't know there
is
a fence, let's remember that every person's eternity is in the balance. That's what Jesus came for.
Dick & Gladys