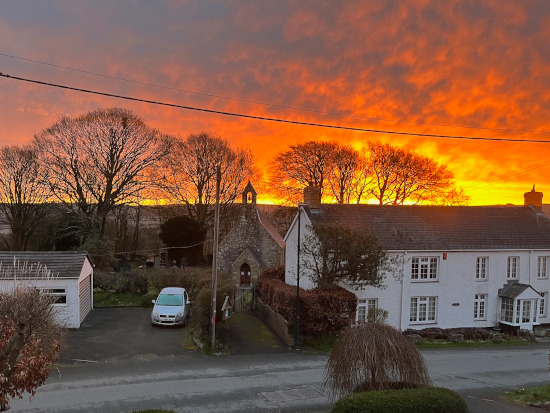 Dear Friends and praying Saints:
Morning views like this can't help but fill our hearts with admiration for our God's handiwork. We can never sufficiently express our thankfulness for His goodness. In fact, for the last few weeks, I've found myself overwhelmed to the point of tears, and the words of this beautiful song by Bethel Music seem to pour over me.
I love You, Lord
For Your mercy never fails me
All my days, I've been held in Your hands
From the moment that I wake up
Until I lay my head
Oh, I will sing of the goodness of God

And all my life You have been faithful
And all my life You have been so, so good
With every breath that I am able
Oh, I will sing of the goodness of God...
This time of year is always a treat as the spring unfolds around us, and encourages us to keep our hearts attuned to the many things that remind us of His goodness. There are countless ways that God's goodness surrounds us in our daily lives, and if we were to try and make a list, I'm sure we would soon run out of room!
Another very special manifestation of God's goodness is that we are taking off on a huge and wonderful adventure! In fact, Gladys has already been in Nicaragua for three weeks, and I will be joining her in twelve days!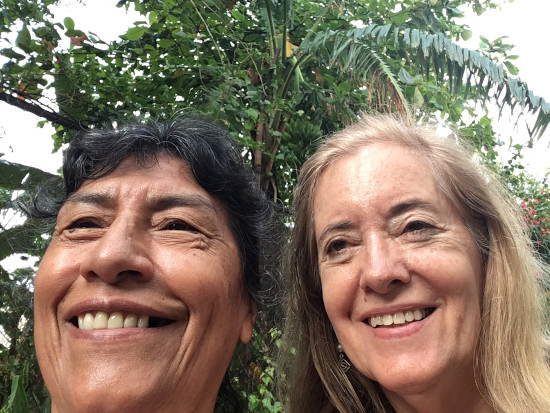 Here she is with our old friend Myra Trolese in Managua where she stayed for her first ten days. With her husband Bob, they led a missionary group from our church in Guatemala to start a work there in 1980. Bob was one of my longest-time friends who went home to be with the Lord about a year and a half ago. You may recall my writing about it back then.
From there Gladys went to Bluefields, on the east coast of Nicaragua, to join more old friends. Ed and Ligia Jaentschke head up the Verbo ministries out there. Gladys used to go into Guatemala City with Ligia from the community we all lived in to study English. She is enjoying fellowship in the many activities of the church there, and being able to speak Spanish with just anybody is a real delight.
Just like these very curious sheep, we wonder what things the Lord has prepared for us on our travels.
We will spend the whole month of May in Guatemala visiting Gladys family and old church friends both in the capital and the highlands. And then we fly to New Orleans to visit our son Mike and his wife Lauren and also spend time with many friends and loved ones from what used to be our home church many years ago.
We are thrilled and so thankful for the Lord's provision for this adventure, and we deeply appreciate your prayers that He would give us grace and sensitivity to make the most of every opportunity to "...be ready to give a defense to everyone who asks you a reason for the hope that is in you, with meekness and fear;" (1 Peter 3:15)
Dick & Gladys